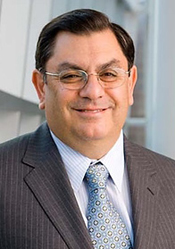 A Message from the Dean
Greetings from the UB School of Management.
August marked the anniversary of my fourth year as dean, and I am pleased to say that it has been the best year yet. We now have a vision for the future that is supported by a far-reaching financial plan, and that plan allows for growth in virtually every area of the school.
A key example of that growth is our partnership with UB to invest more than $525,000 in our Center for Entrepreneurial Leadership. You can read about the exciting updates planned for the center, and with their recent move to UB's Downtown Gateway, the CEL now has a significant presence in the heart of a region where innovation is flourishing.
Our inaugural class of LeaderCORE MBAs completed the two-year program and are now certified in the competencies that employers are seeking in the graduates they hire (see Start-Ups). Other good news about the school abounds, as you will read in Start-Ups, including a story about a grant from the Gerstein Fisher Research Center and Gregg Fisher '92. And don't miss the articles in Insights about exciting faculty research as well as some well-deserved awards and promotions.
As always, you will see that alumni are a central theme in Buffalo Business. Our cover story, "Business Goes Mobile," highlights how many of our graduates are using their ingenuity to help businesses advance using mobile technologies. Then, read how two of our newest graduates have secured highly prestigious postgraduate assistantships. Next, travel back a few decades with "The Story of a Great Class" in Stepping Up , about the Class of '61, the winners of our Alumni Class Challenge.
You'll also see a new look in what used to be Alumni News. The updated Alumni Impact section will now reflect the many positive ways our graduates impact the school. With our wonderful alumni, we have enough material to fill these pages indefinitely.
Thank you for all you do to support the school, and stay tuned for more good news. The best is yet to come!
Sincerely,
Arjang A. Assad
Dean