Start-Ups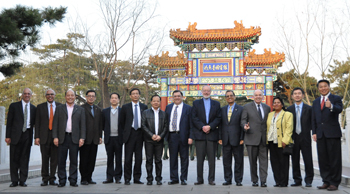 Members of the UB delegation pose in front of the State Guesthouse of the Chinese government in Beijing. They are David Draper, farthest left; Rajan Batta, next to Draper; and beginning eighth from left, Arjang Assad, Richard Lee, Satish Tripathi, Stephen Dunnett, Kamlesh Tripathi and, far right, Edward Dong.
Assad joins Tripathi on China visit
Arjang Assad was one of two deans who joined UB President Satish K. Tripathi and a campus delegation on a trip to Beijing, China, last spring. Tripathi is visiting 20 cities in 20 months to meet with UB alumni and share his vision for the university's future.
UB hosted a reception for Chinese alumni that drew more than 150 attendees, including a group of Buffalo Executive MBAs who were in Asia at the time as part of their international residency. In addition, a special event was held for alumni of UB Dalian program at the prestigious State Guesthouse for the Chinese government in Beijing, hosted by Dean's Advisory Council member Edward Dong, an MBA graduate of that program.
Pride among Chinese alumni was much in evidence. "They are eager to tell stories about their experiences at UB and what for them was a very wonderful period in their lives," said Stephen C. Dunnett, UB vice provost for international education.
The delegation also visited academic exchange partners, and the trip brought a new agreement with Renmin University in Beijing, renewing a partnership from many years ago. The agreement includes a broad exchange arrangement, as well as a dual MBA program that allows UB students to study at Renmin University and vice versa, obtaining two MBAs, one from each school, if they choose a two-semester exchange option.
"This renewed collaboration allows us to build upon a celebrated historical association with Renmin University and take our partnership into the 21st century," said Assad. "We'll be able to embark on new initiatives and offer students exchange opportunities with one of China's top business schools."
Free tax service brings more than $1.35 million back to WNY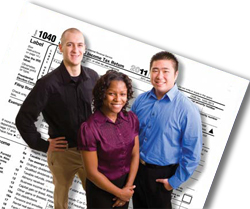 In 2012, 126 IRS-certified accounting students from the School of Management brought $1,353,406 back into the Buffalo community through the Volunteer Income Tax Assistance (VITA) program.
UB's chapter of Beta Alpha Psi, the international honors organization for accounting and finance students and professionals, led the initiative that provided nearly 2,200 hours of tax service, preparing more than 900 tax returns for individuals and families with annual incomes below $50,000.
"We're especially pleased that nearly $262,000 of the total was a result of the Earned Income Credit, which targets families most in need of additional financial support," said School of Management student Anna Qu, co-chair of Beta Alpha Psi's VITA committee.
"We could not be more proud of our students and the impact they have made on the community with this initiative," said Arjang Assad, dean of the School of Management. "Despite their class loads and other responsibilities, these students worked virtually every weekend from January through early April to make this program the outstanding success it has been."
Cumulatively, School of Management student volunteers have brought more than $4 million in tax refunds back into the Buffalo community over the past four years by preparing more than 3,000 tax returns for low-income families. Approximately $725,000 was from the Earned Income Credit.
Grant supports investment research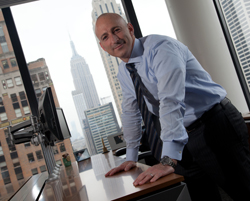 Fisher
Thanks to a grant from the Gerstein Fisher Research Center, a group of School of Management students will investigate financial issues important to investors.
The Gerstein Fisher Research Center is a division of Gerstein Fisher, a New York City investment management firm founded by School of Management alumnus Gregg Fisher '92, CFA, CFP®, who serves as president and chief investment officer.
The grant will establish the Gerstein Fisher Research Collaborative in the School of Management's Department of Finance and Managerial Economics, where select undergraduate and graduate-level finance students will explore investment topics under the supervision of faculty members, including Derek Mohr, assistant professor, and Gerstein Fisher investment professionals.
"Gregg Fisher's support will advance the research our department is already carrying out with the center," said Kee Chung, chair of the school's Finance and Managerial Economics Department. For example, with the center's help, Cristian Tiu, assistant professor, is examining such topics as the crowding effect in hedge funds.
The six inaugural Gerstein Fisher Research Scholars were selected based on academic merit, interest and commitment to the finance profession. In close collaboration with Gerstein Fisher, they will study issues that can be directly applied to the portfolio strategies of individual investors, such as the effects of special dividends on stock prices, the reduction in stock splits and investing strategies.
In addition to procuring this grant, Gregg Fisher also has helped fund the school's student-run T. Kelly Investment Group by personally providing financial support for the club's annual trip to New York City.
Center for Executive Development holds business training for dentists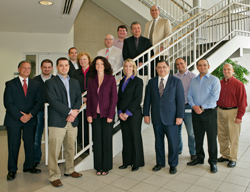 Dental program participants with School of Management Dean Arjang Assad (fourth from right).
In April, the School of Management's Center for Executive Development offered a two-day workshop to help dentists build successful practices.
Held in conjunction with the UB Dental School, the workshop was designed to help dentists understand the most important functions of business and management.
"The School of Management and the Dental School recognize that a significant proportion of dental graduates will have to practice entrepreneurial business skills in order to be successful," said Courtney Walsh, assistant dean for executive education.
"This program supported UB dental graduates from around the country in an effort to enhance their current practices," she said. "The participants were very happy with the practical business knowledge they gained that will help them work better with their accountants and vendors, plus give them more time for their patients."
School of Management faculty members Muriel Anderson, Nick Everest, Charles Lindsey, Mary Ann Rogers and Harold Star, and other experts including Tom Ulbrich, executive director of the Center for Entrepreneurial Leadership, led the sessions that covered such subjects as financial statements, regulatory compliance and risk, workforce management and building brand loyalty.
"The course was excellent and exceeded my expectations," said Kevin Conroy, chief operations officer for High Peaks Dental. "The material offered covered many areas where the dental field has concerns, but little training."
The Center for Executive Development plans to hold the workshop again next year and expand its offerings to other segments of the health care field.
Marketing MBAs offer plans to GM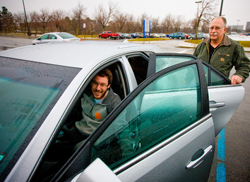 First-year MBA students in Professor Arun Jain's marketing management class tackled a semester-long project in which they developed and presented marketing plans to GM executives for a new hydrogen fuel cell car that will launch in 2015.
Working in teams, students explored all facets of a new product launch, including branding the car, pricing, distribution, grabbing market share and differentiating it from other cars on the road.
The project was launched with presentations from GM executives and car test-drives, including alternative-fuel versions of the Buick Regal, Cadillac CTS and Chevrolet Equinox, Volt, Sonic and Cruze. Throughout the semester, students went on corporate site visits and attended presentations by executives from Fisher-Price, Independent Health, Mentholatum, MED-VAR, Rand Capital, Gelia and Perry's Ice Cream to learn more about how to effectively launch a new product.
To cap the project, three teams of finalists presented their marketing proposals to a panel of judges including Steve Finch, plant manager, GM Tonawanda Engine Plant; Daniel O'Connell, director, fuel cell commercialization, General Motors; Michael Weidman, marketing manager, Chevrolet; Duane Paddock, president and CEO of Paddock Chevrolet and chair, Dealer Council of GM; Daniel P. Penberthy, chief financial officer and executive vice president, Rand Capital Corp.; Jamey Phipps, president and CEO, Gelia; and Joost Vles, process manager, Moog Inc.
The winning team shared a $2,000 prize. The team members were Ross Sarraf, Josh Higgins, Ashish Manjrekar, Burhan Saiyed and Dan Wemmell.
Renowned ethicist speaks on money's influence in Congress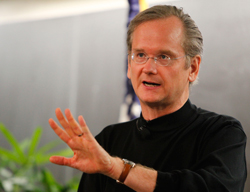 Lessig
Lawrence Lessig, the Roy L. Furman Professor of Law at the Harvard Law School, spoke on institutional corruption and the financial crisis as part of the Gerald S. Lippes Speaker Series.
Lessig, whose most recent book is "Republic, Lost: How Money Corrupts Congress-and a Plan to Stop It," also is the director of the Edmond J. Safra Center for Ethics at Harvard University.
Speaking of the influence of Wall Street on Congress, Lessig said that large campaign contributions by the financial industry have stalled true reform after the financial crisis of 2008. In 2010, the banking sector was the largest contributor to congressional campaigns.
Thus, "Americans believe that money buys results in Congress," Lessig said, citing surveys that show 75 percent of people believe this is true. Consequently, only 9 percent of Americans trust Congress. "There was certainly a bigger percentage of Americans who believed in the Crown at the time of our Revolution than believe in Congress," Lessig said.
The Gerald S. Lippes Speaker Series, co-sponsored by the UB Law School and the School of Management, focuses on current issues and topics related to business and finance. It is funded through the generous support of Gerald S. Lippes, JD '64, a founding and senior partner in the Buffalo law firm Lippes, Mathias, Wexler and Friedman.
School of Management Certifies Inaugural LeaderCORE Class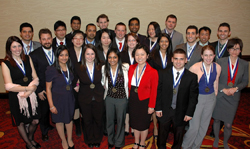 In March, the School of Management awarded LeaderCORET certification to 27 MBA students, the inaugural group to complete LeaderCORE (Certification of Readiness and Excellence), an exclusive, comprehensive program that spans the entire two years of the UB MBA experience.
They are: Aditya Anand, Mohammedali Badani, Vibhuti Bansal, Clare Carroll, Katarzyna Dec, Turner Gutmann, Julia Jornsay-Silverberg, Anthony LaRosa, Yihui Li, Jie Liu, Mindy Long, Sara Macie, Emily Mazur, Shruthi Parameswaran Nambi, Makesh Nayar, Anthony Nicodemi, Rafael Pignataro, Harshit Purwar, Sairam Ramakrishnan, Joshua Randle, David Saunders, Arkuti Shastri, Junghoon (Paul) Song, Young Yang, Terri Zelasko, Lin Zhao and David Zimmer.
LeaderCORE bridges the gap between academic learning and the workplace, focusing on core competencies-such as teamwork, problem solving, adaptability and integrity-considered vital by the business community for effective performance and successful leadership. The program is integrated into every aspect of coursework, career and professional development opportunities, internships and more.
One of the most differentiating features of LeaderCORE is the certification process. Candidates were required to present and defend their learning portfolios and provide examples of how they have successfully put their newly developed competencies into practice. Each candidate was interviewed by a pair of trained assessors, one from within the school and the other an experienced business executive. The final assessment determines the student's level of certification: proficient, superior or role model.
External assessors praised LeaderCORE as a great differentiator for both the school as an institution and for each of the participants. One such assessor, Joe Kuchera, vice president of human resources at Unifrax, sums it up succinctly: "I am adding LeaderCORE to my radar. This is a talent group I want to hire when possible."