Stepping Up...

Celebrating those who make a difference to the School of Management
School of Management graduates love a challenge-and none more so than members of the Class of 1961. They're the winners of the Alumni Class Challenge, in which we pitted class against class last year to encourage more alumni to participate in the school's annual fund. The fund, which supports scholarships, faculty research and facility improvements, is critical to elevating the School of Management's success as an internationally recognized business school.
We're grateful for every donor and every dollar. And we're proud to keep our promise and celebrate our 1961 graduates-a half-century out of UB, but forever close to our hearts.
The Story of a Great Class
A Retrospective on the Class of '61
By Riley Mackenzie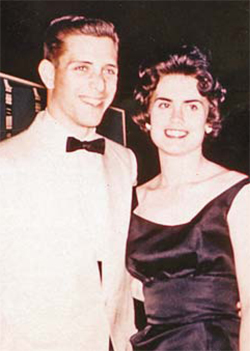 Maybe every generation of college graduates feels itself to be on the threshold of something big. But as they look back on their time on campus, members of the Class of 1961 have the perspective to know that they spent these formative years in a unique moment in history.
It was in November of their senior year that John F. Kennedy was elected president, proclaiming a limitless "New Frontier." America was well past the Korean War, and Vietnam was an obscure distant land. Rock 'n' roll and the women's movement had yet to take hold. And the University of Buffalo was just about to make the momentous leap into the State University of New York system. The Class of 1961 was one of UB's last as a private university.
Memories from that long ago can be elusive. But the 70 men and six women who earned diplomas that year from the School of Business Administration brought with them into life and work the knowledge that they would be forever bound to a special place.
To a one, they're grateful that they were there to experience it.
"It was the end of a kind of Fonzie-Richie-Happy Days time," says Dan Kantor. "It was really prior to drugs-at least I didn't know of any. Looking back, it all seems pretty simple."
For their $500-a-semester tuition, they were getting a crackerjack education in the classrooms-hazy with cigarette smoke-of professors like Robert Riegel, Thomas Schillo and James Wert (who began his senior-year corporate finance class by saying, "I do fail seniors"). They were thoroughly grounded in accounting, finance, industrial relations, marketing, statistics and especially economics. They wrote their papers in longhand sometimes, or pounded them out with manual typewriters on Eagle-A Type-Erase Paper. And they were graduating into an economy eager to hire them; one headline in the Spectrum read, "150 Firms to Interview Job Seekers on Campus."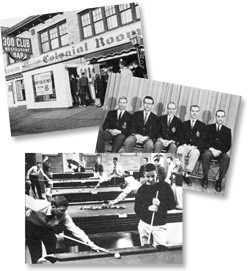 "Buffalo was a great school, a very nice blend of people," says Larry Kalmis. "We worked hard, we studied hard and we played hard."
A lot of that play revolved around the Greek system; they had no houses, but fraternities and sororities gathered at their own cafeteria tables in the Student Union in Norton Hall, their emblems prominent on the wall. And they poured themselves into competition-the Ugly Man contest, Stunt Night with its goofy skits and lines of Rockette wannabes, the Kampus Karnival (admission 60 cents), the elaborate floats they built on flatbed trucks and drove from downtown all the way up Main Street in the Moving Up Day Parade. John Bos remembers his frat's rendition of Doubting Thomas-a giant statue of Jesus next to a waterfall, and the dubious disciple coming forward on pulleys as Jesus raised his arm in blessing. While they staged this scene for the spectators, Bos recalls, they were drinking Thunderbird.
That was one way to blow off steam-to head over to the Everglades Club on Hertel Avenue; the 300 Club, just south of campus on Bailey; and especially Brunner's Tavern, a short hop up Main Street and "a big haunt for the whole school," says Clarke Videan. "It was sort of like Cheers, where everybody knew your name."
Not that it often got out of hand-especially with young women around. Women were required to wear skirts to dinner (it was sport coats for the men) and had their own dormitories with strict curfews and stricter house mothers. (Except for 1960-61, remembers Alex Bodnar, when an epidemic of mononucleosis forced a bunch of coeds out of their dorm and into the second floor of the 11-floor Tower Dormitory. "Some of the young ladies would come home, three sheets to the wind, and I would have to take them to their rooms, calling, 'Man on the floor,'" he says. "We had to make sure that feelings weren't hurt and there were no compromising situations.")



"We worked hard, we studied hard and we played hard."




Larry Kalmis '61





But women and men have ways of finding each other. Every week the Spectrum listed the couples scorecard: who had gotten pinned, who engaged, who married. Videan, who married in his senior year at age 20, remembers going to four consecutive weddings that year. Some young marrieds, nesting off campus, had a child or two by the time they graduated.
There was plenty of diversion of a less romantic sort as well. UB football was big, with games against Army, Lehigh, Villanova, Holy Cross. In 1958 UB won the Lambert Cup, as the top small-college football program in the East, then famously turned down a Tangerine Bowl invitation because the team's two African-American players would be excluded. The campus hosted operas, jazz, classical music; WBFO struggled into existence with a 50-watt transmitter and an all-volunteer crew. There was ping-pong and pool at the Student Union. Most everyone had a part-time job.
Rumblings of the wider world intruded, of course. The presidential election was on people's minds, but most students were under 21 and couldn't vote. The Socialist Labor Party candidate came to campus but made no headway: A mock ballot held on campus gave Kennedy 430 votes, Nixon 413. Gov. Nelson Rockefeller spoke on campus in April 1961 to dedicate a new nuclear reactor. The advocacy group Students Against a Nuclear Environment made some noise. Sporadic shoplifting was reported at the campus bookstore.



"We had great times there. I can't say enough about it."




Robert Miske '61





But in that place, at that time, there was nowhere like UB. By Commencement-Sunday, June 11, 1961-the young men wearing Clark Kent glasses and close-cropped hair, the women in sweater sets and Peter Pan collars, knew they were leaving behind an irreplaceable set experiences.
Says Robert Miske: "We had great times there. I can't say enough about it."
Riley Mackenzie is a freelance writer in Buffalo, N.Y.
A toast to the memories

For one tight-knit band of brothers from the Class of '61, the memories have stayed sharp even as the hair has gone a little gray.

That's because they've built an informal supper club around their kinship as members of the Alpha Kappa Psi business fraternity. Beginning just a few years after graduation, they've been getting together about four times a year-talking business, talking politics and remembering when.

The members, Joe DiMatteo, Steve Ames, Larry Franz, Lee Carlson and sometimes Tom Shear, all live in Western New York or in driving distance. With their spouses and partners, they try new restaurants in the area, or in Florida if they're down for the winter. They even take a yearly trip to Stratford, Ontario, to stretch out in a bed-and-breakfast and take in a few plays.

And those halcyon days centered around Crosby Hall are never far from their minds. "We still tell a few stories once in a while," DiMatteo says.

Adds Carlson: "Our wives have gotten sick of our stories. They keep telling us that we should assign numbers to them-just say 'No. 43' and we would laugh just as hard."
The way we were: 1961

Price of a gallon of gasoline: 31 cents

U.S. life expectancy: 70.2 years

Median U.S. home price: $17,200

Dow Jones Industrial Average: high 734, low 610

First-class stamp: 4 cents

Oscar winner for Best Picture: West Side Story

Grammy winner for Record of the Year: Percy Faith's Theme from a Summer Place

In the news:

In President Eisenhower's final State of the Union address, he warns of the growing power of a "military-industrial complex."
John F. Kennedy becomes the 35th president of the United States.
Ham the chimp flies into space in a test of the Project Mercury space capsule.
The Beatles perform for the first time at the Cavern Club.
President Kennedy establishes the Peace Corps.
The 23rd Amendment to the U.S. Constitution is ratified, allowing residents of Washington, D.C., to vote in presidential elections.
Soviet cosmonaut Yuri Gagarin becomes the first human in space.
The Bay of Pigs invasion of Cuba fails.
Alan Shepard becomes the first American in space.
President Kennedy delivers his challenge to put a man on the moon before the end of the decade.
Russian ballet dancer Rudolf Nureyev defects, requesting asylum in France.
Major League Baseball's All-Star Game is halted in the ninth inning due to rain-the only tie All-Star Game, until 2002, in Major League history.
Six Flags Over Texas theme park opens.
Construction of the Berlin Wall is completed.
Roger Maris of the New York Yankees hits his 61st home run of the season, beating Babe Ruth's record.
Joseph Heller publishes Catch-22.
Cuban leader Fidel Castro announces that his country will adopt socialism.
The Vietnam War begins as the first American helicopters arrive in Saigon with 400 U.S. personnel.
Barbie gets a boyfriend as the Ken doll is introduced.
Born in 1961: Julia Louis-Dreyfus, Wayne Gretzky, Ray "Boom Boom" Mancini, Don Mattingly, George Clooney, Dennis Rodman, Enya, Michael J. Fox, Diana, Princess of Wales, Barack Obama, Dan Marino, Heather Locklear, Meg Ryan, Ann Coulter, Sean Hannity.
And do you remember...

Trolling for dates at Buffalo State Teachers College
The Golden Ball dance
Trips to Point Abino and Toronto
An occasional shower of bras and panties from the women's dorms
The two floors of barroom space at the 300 Club
The Li'l Abner-themed Daisy Mae party
Champagne parties before the dances
Ropes strung across campus in winter for a handhold against the wind
Napping on the couches in the Student Union lounges
Wearing knee-length plaid shorts to play intramural football
Buffalo-brewed Iroquois Beer: "How about that taste!"
The Stunt Night talent show
Homecoming, a 28-20 loss to Colgate
Wearing a "dink" as a freshman
The traffic bottleneck at Main Street and Kenmore and Bailey avenues
15-cent hamburgers at McDonald's on Niagara Falls Boulevard