Accounting Students Chosen for Prestigious Internships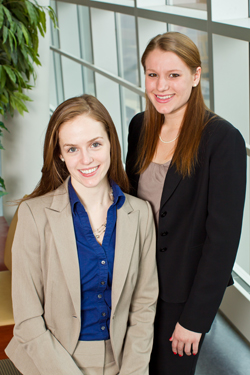 Crawford and Amos (Photo: Tom Wolf)
For a new accounting graduate, an internship with the Financial Accounting Standards Board or the Governmental Accounting Standards Board is the B-school equivalent of clerking for a Supreme Court Justice. And that's just what two graduate students from the University at Buffalo School of Management have accomplished.
Kelly Amos and Kathryn Crawford, who each graduated with a Master of Science in Accounting in May, are two of only 12 people nationwide selected for postgraduate technical assistantships (PTAs) with the Financial Accounting Standards Board (FASB) and the Governmental Accounting Standards Board (GASB).
The FASB sets accounting standards for America's public companies, while the GASB is responsible for the standards used by U.S. state and local governments.
Amos will be one of six GASB PTAs, and Crawford will be one of six FASB PTAs.
"These assistantships are highly competitive, with hundreds of exceptional candidates from the nation's best accounting programs," says Susan Hamlen, associate professor and chair of the School of Management's Accounting and Law Department. "The fact that not one, but two, of our students were selected is an outstanding testament to these students and the strength of our program."
For both agencies, the postgraduate technical assistant internship is a one-year program during which the interns become highly involved with the accounting standards-setting process to reach an in-depth understanding of the roles played by preparers, auditors and users of financial information.
Amos and Crawford will work on major agenda projects, short-term practice and implementation issues, and the post-implementation review of standards issued by the FASB and the GASB.
Crawford has secured a position with Ernst & Young after she completes her one-year assistantship.
"Kate has been an outstanding intern for us while attending the University at Buffalo, and we believe she will be an asset to the FASB," says Michael J. Murray, office managing partner, Ernst & Young LLP. "We look forward to Kate joining us at the completion of her FASB internship as the combination of her training at UB, which is an incredible program, and the FASB experience will enable her to have a valuable impact."
"This is an incredible opportunity," Crawford says. "I am excited to start work at the FASB and I am confident that my master's at UB has prepared me well for the position."
Amos expressed similar sentiments. She served as a financial services audit intern at Deloitte & Touche last summer and has accepted a job offer from the firm when her assistantship at the GASB is over.
"We are very proud of Kelly's accomplishments and know she will continue to learn and develop through her internship with the GASB," says Randy DeYulio, partner, Deloitte & Touche LLP. "The skills and network that are developed through short-term assignments in a policy-setting organization like the GASB are viewed as extremely valuable by the public accounting profession."