Insights...

News about faculty and their research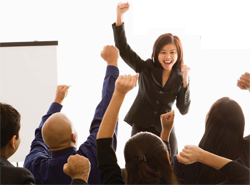 Are charismatic leaders born or made?
Are leaders successful because of their charisma? Or do they develop charisma by being good leaders?
That is the chicken-and-egg question addressed by Prasad Balkundi, associate professor of organization and human resources in the School of Management, in a recently published paper in The Journal of Applied Psychology.
Balkundi and his co-authors studied how leaders interact with subordinates when they work with small groups and how the leader's interaction affects the group's performance.
Several prior studies have shown that the higher the charisma of the leader, the more productive the team. But the nature and factors that predict charisma remain unclear.
"Charismatic leaders are typically depicted as extraordinary individuals capable of inspiring their subordinates," Balkundi says. "However, our research shows that it is often the team members who attribute charisma to their leaders through their informal interactions with them."
The researchers found that team leaders can develop socially relevant aspects of their personalities through frequent interaction with their subordinates, such as the giving and receiving of advice. The leader's willingness to have social interaction with team members leads to positive experiences for the team, which, in turn, leads team members to see the leader as charismatic. This eventually increases team performance.
"While it is true there is a link between charismatic leaders and positive team performance, our research shows that the leader's charisma may not be inherent, but rather a product of their social interactions," Balkundi says.
The practical implications of this research can be to encourage leaders to have more interaction with subordinates in order to build up their "social capital" and be seen as charismatic individuals.
Balkundi conducted his research with Martin Kilduff, Diageo Professor of Management Studies, Judge Business School, Cambridge University, and David A. Harrison, Charles and Elizabeth Prothro Regents Chair, McCombs School of Business, University of Texas at Austin.

Balkundi
Balkundi, Li promoted
Two faculty members have earned promotions to the rank of associate professor.
Prasad Balkundi has been promoted to associate professor in the Department of Organization and Human Resources. He has a doctorate from Pennsylvania State University, an MBA from Xavier Institute of Management in India, and a BTech from Jawaharlal Nehru Technological University in India. Balkundi's teaching and research interests are in social networks, leadership and teams.

Li
Yong Li has been promoted to associate professor in the Operations Management and Strategy Department. He has a doctorate from the University of Illinois at Urbana Champaign and an MBA from the University of Queensland in Australia. Li's teaching and research interests are strategic entrepreneurship, venture capital and emerging markets.
Healthy food choices differ by neighborhood and category, study shows

Trivedi
People can be of two minds when it comes to healthy eating, according to research recently published in the Journal of Retailing.
Minakshi Trivedi, professor of marketing in the School of Management, studied healthy food purchases in both inner-city and suburban neighborhoods.
Trivedi compared food purchases using a method that involved unbundling collective data to look at smaller subsets in order to discover purchasing patterns that might otherwise be overlooked. For example, instead of looking at census data by zip code, the data was segmented to study inner-city and suburban neighborhoods.
The results showed that consumers differ significantly not only in their purchasing patterns across neighborhoods but also across food categories (such as soft drinks, ice cream or milk).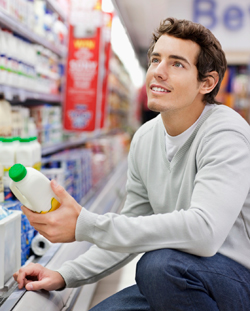 "Healthy consumption over one category may not necessarily indicate healthy consumption over all categories," Trivedi says.
"Some categories, such as milk, seem to elicit stronger trends towards healthy consumption while others, such as ice cream, show a significantly weaker pattern of purchasing alternatives that are deemed healthier," she says.
For example, foods that are added to other types of food, such as coffee creamer, may elicit more healthy choices, because the consumer is unable to perceive a significant difference in taste when the product is added to coffee. However, the same consumer may not wish to compromise on taste when it comes to a "tasty treat" product like ice cream, where the difference in taste would be more noticeable.
Trivedi's research also discovered that neighborhoods with higher incomes bought healthier food compared to lower-income neighborhoods.
The study will be beneficial to retailers who seek to introduce healthier alternatives. In addition, "public policies aimed at promoting healthier purchasing habits may have greater impact if special attention is given to specific categories and regions," Trivedi says.
The UB 2020 Interdisciplinary Research Development Fund (IRDF) provided support for the study.
Lindsey receives SUNY Chancellor's Award

Lindsey
Charles Lindsey, assistant professor of marketing, is a recipient of the SUNY Chancellor's Award for Excellence in Teaching, given to those who consistently demonstrate superb teaching at the undergraduate, graduate or professional level.
A School of Management faculty member since 2006, Lindsey is an expert in consumer behavior and has taught courses on the topic at both the undergraduate and graduate levels. His teaching evaluations have consistently earned quantitative ratings of 4.7 out of 5-highest of any faculty member in the School of Management, a school with a number of recipients of the Chancellor's Award for Excellence in Teaching.
Lindsey has published six leading articles in the past five years in the most prestigious journals in his field. In addition to his full publication agenda and teaching load, he has made 10 conference presentations, six invited presentations, served on the program committee of a prestigious conference in consumer behavior and acts as a reviewer for two leading journals in marketing and one in psychology.
Lindsey is the ninth School of Management professor to receive this award. The other recipients are Professor Emeritus Ronald Huefner, Professor Arun Jain, Professor Jerry Newman, Associate Professor Kenneth Kim, Associate Professor Arlene Hibschweiler, Associate Professor Frank Krzystofiak, Associate Professor Philip Perry and Associate Professor Natalie Simpson.
Owens honored with Plesur Award

Owens
Bradley Owens, assistant professor of organization and human resources in the School of Management, received the Milton Plesur Excellence in Teaching Award from the Undergraduate Student Association last spring.
The award is named for Plesur, a professor in the UB Department of History who died in 1987, and recognizes a faculty member's commitment to students and quality of teaching.
Owens joined the School of Management in 2011 and teaches "Organizational Behavior and Administration."
Undergraduate Kittie Pizzutelli nominated Owens after taking his class last fall. Now one of his research assistants, she says, "We're studying humility and leadership with Professor Owens, and I find him to be an exemplary individual in both those regards."
Owens has conducted postdoctoral work at the University of Michigan, has a doctorate from the University of Washington, and an MPA and bachelor's from Brigham Young University. A member of the Academy of Management, his academic interests include leadership, team processes, race and gender issues and work-life balance.
His research on how racial and gender biases influence customer satisfaction received the Academy of Management Best Paper Award for 2011.
Measuring the quality of quality measurements

Kishore
Researchers in the School of Management have proposed a better way of measuring the capabilities of IT service providers in a study recently published in IEEE Transactions on Engineering Management.
The study was conducted by Rajiv Kishore, associate professor, and H. Raghav Rao, SUNY Distinguished Service Professor, in the school's Management Science and Systems Department, and Matthew E. Swinarski, associate professor, and Eric Jackson, assistant professor, in the Sam and Irene Black School of Business at Penn State Erie, The Behrend College.
For many years, IT service providers have been judged using the Capability Maturity Model IntegrationSM (CMMI) framework developed at Carnegie Mellon University.
Kishore and his fellow researchers have proposed a variation in the CMMI framework for thinking about and measuring capabilities of IT service provider firms. They call it the Quality Distinction (QD) Capability Model, as quality is its main theme.
Building upon the CMMI framework, the QD model also acknowledges the high importance of regularly evaluating and adapting the development and delivery processes of an IT firm. This gives IT managers a better tool to measure the effectiveness of their firm's information technology capabilities.

Rao
"Our model can be used by managers in conjunction with CMMI to gain a more reliable understanding of their IT capabilities," Kishore says. "The high focus on quality in the QD model makes it easier for an IT provider to measure and validate the quality of its products and services."
Kishore says it's also an important signal to employees and customers that the firm values a culture of quality and incorporates quality into their products and services at the outset.
Carnegie Mellon's CMMI framework is based on practical experience gained over the last two decades in actual software and IT project development work in a number of industries. But independent academic research has yielded inconsistent results across different studies with this model.
Because the new QD model is based in theory and also tested with survey data from IT service providers, the researchers believe that the results will be more consistent and, therefore, more beneficial to the companies who use this model to measure their process capability.
"One reason India has become so popular for outsourcing IT work is that many companies there are consistently certified as CMM Level 5, the highest CMMI certification level," Kishore adds. "Companies that use the new QD model in conjunction with CMM should feel even more confident in the quality of their IT providers."
Salamone retires

Salamone
Joseph Salamone, associate professor of organization and human resources, retired in May after 31 years of service in the School of Management.
During his tenure, Salamone received several awards for excellence in teaching, including the Undergraduate Management Association Faculty of the Year award, American Society for Personnel Administration Faculty Advisor award, UB Student Association Excellence in Teaching award and Delta Sigma Pi Award for Outstanding School of Management Faculty.
He served as faculty advisor to the School of Management chapters of Students in Free Enterprise and the Society for Human Resource Management, which has received repeated recognition as one of the best chapters in the nation. He also served on numerous school and university committees for undergraduate programming, internships and academic adjudication.
Salamone was instrumental in developing the Entrepreneurship Training Program, a 20-week program for area high school students that teaches ethical entrepreneurship and features class exercises that encourage team skills and critical thinking, guest speakers and a business-plan workshop. Funded by a grant from the Oishei Foundation, the program is a collaboration between the School of Management and the Meszaros International Center of Entrepreneurship (MICE), a nonprofit foundation co-founded by Salamone and Laszlo (Les) Meszaros, a 1974 School of Management graduate and successful entrepreneur.
As vice president of MICE, Salamone has conducted entrepreneurship training in Budapest, Hungary, and participated in the Hungarian Private Enterprise Fellows program. In addition, he has served as a lecturer for the Japanese Productivity Center and Egyptian Fulbright Scholar program.
"Joe's dedication to fostering the entrepreneurial spirit in young people has been nothing short of remarkable," says Arjang Assad, dean of the School of Management. "We wish him all the best as he embarks on his retirement." Salamone will continue to teach part time in the School of Management.