A Message from the School of Management Alumni Association President | Alumni Association Board
Join the School of Management Alumni Association
Alumni Impact...

Your link to the School of Management Alumni Association
Connect. Network. Achieve.



The Power of You

Arjang Assad, dean of the School of Management
Representing a worldwide force nearly 34,000 strong, the School of Management's alumni are truly one of our greatest sources of pride. In addition to your extraordinary success as business and community leaders around the globe, many of you are a significant resource to the school.

Top photo: Jill Douglas '04, Nancy Duke '99, MBA '00. Second photo: Richard Steinberg, Stephanie Argentine, MBA '00, Cynthia Shore '81, MBA '82. Third photo: Richard Steinberg, Stephanie Argentine, MBA '00, Cynthia Shore '81, MBA '82. Fourth photo: Ezra Staley, JD/MBA '09, Michael Weiner, MBA '90.
That's why we've completely revamped the Alumni News section of Buffalo Business and renamed it Alumni Impact. We'll continue to post all of the School of Management Alumni Association's upcoming events on our website at mgt.buffalo.edu/alumni/events (bookmark it), but we've shifted the format of this section of the magazine to reflect the impact our alumni have on the school.
Stay tuned, in future issues, as we showcase the many ways that you, our alumni, add value to the school. (And watch out, we'll be naming names.)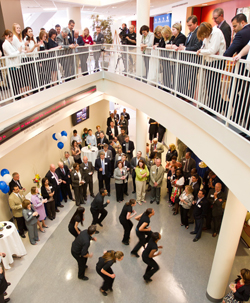 The crowd was surprised by a "flash mob" that sang and danced to "Thank You for Being a Friend."
In May, Dean Arjang Assad hosted a thank-you reception, initially to thank the Class of '61 and the winning class from each decade of the Alumni Class Challenge. As he reflected on the individuals who have contributed their time, expertise and resources to helping the school, however, the guest list grew considerably. Following is an excerpt of his remarks at the event, which will give you an idea of how expansive our alumni involvement is:
Thank you, Corporate Champions. With your help, more than 50 companies have championed teams of MBA students. You provide our MBAs with an inside look at your company that is invaluable to their MBA experience.
Thank you, alumni who respond to surveys from rankings organizations. Your positive comments to Forbes, Financial Times and Bloomberg Businessweek bolster the strong reputation of your alma mater, increasing the value of your degree and helping us to attract high-quality students, faculty and staff.
Thank you to all of you who spend hours here on campus guest lecturing in our classrooms, judging competitions, speaking as keynotes, leading team-building exercises, advising, mentoring and much more.
Thank you, advisory board members from the Dean's Advisory Council, Accounting and Kelly Investment Fund. Your insights and guidance provide a perspective that allows us to stay close to the markets we serve.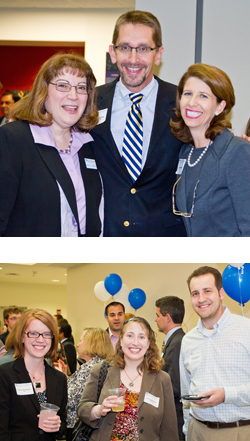 Top photo: Martha Salzman, Keith Stolzenburg '81, MBA 87, CEL 99, Lisa Wardynski. Second photo: Jennifer Blendowski '01, Lynne Depasquale, MBA '03, and Gregory Capodagli '08, MBA '08.
Thank you, mentors, reactors and advisory board members from the Center for Entrepreneurial Leadership. You have helped us create an outstanding program that has garnered attention within UB and throughout the region's small business community and New York State.
Thank you, research partners. Our faculty could not complete their high-quality research without your willingness to share your company, your data and your insights with them.
Thank you, LeaderCORE coaches and assessors. This extraordinary program with your help is making a name for the School of Management in B-school circles and with employers.
Thank you, internship supervisors. You provide the environment that enables our students to apply what they learn in the classroom to real-world problems. Your guidance is invaluable to these students.
Thank you to all of you who have hired our students for full-time employment upon graduation. Their success leads to your success.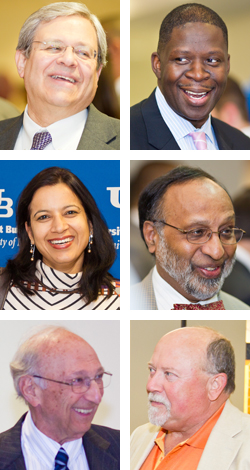 Clockwise, from top left: Thomas Palmer, MBA '71, JD '75, Thomas Beauford, EMBA '08, MS '11, Neelam Dua Kumar, MBA '04, Arun Jain, Lauren Rachlin '48, Robert Patterson, MBA '79.
Thank you to all of our alumni who help the school from afar. You recruit our students and offer summer internships in your companies around the globe. Oceans and borders dissolve as you bring alumni together through our Global Alumni Network Night and other events. You mentor our students by telephone, email and Skype. You attend events like Network New York and admissions and recruitment events to help us attract the best and brightest students.
Thank you for uniting us with your companies to develop programs that help the community. We could not provide such outreach without your involvement.
Thank you for turning to our Center for Executive Development for professional development programs for your managers and senior leaders.
Thank you to all of you who help fund our programs and the school, either directly or through your companies. With less support from the State of New York, and much more to be done, we could not bring the quality programs we offer to our students without you!
Last but not least, thank you School of Management Alumni Association for funding this celebration and for providing more than $50,000 last year to the school, the Career Resource Center, Buffalo Business magazine, student scholarships and more. You are some our most dedicated alumni and we are forever grateful to you for your ongoing commitment to your alma mater.
Thank you-each and every one of you-for being a friend.