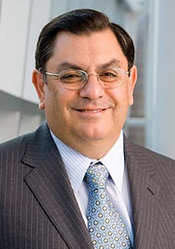 A Message from the Dean
Building Momentum
Itís hard to believe itís been six months since my first letter to you as dean of the School of Management, but it has been a busy and productive period.
In September, we welcomed seven new faculty members to the School of Management, adding both depth and breadth in a number of departments (see Insights). We will continue to add strength to key areas and keep you apprised with updates as we move forward.
I am proud to announce that in February, 54 students received a Master of Science in Management of Information Technology-Enabled Services from the inaugural class of our program in Bangalore, which is jointly conducted with Amrita University.
Since the last issue, financial markets in the U.S. and worldwide have gone into turmoil and many of our faculty and alumni are working to help us understand what is happening and how to fix it. School of Management Professor Isaac Ehrlich was appointed to New York Governor Patersonís Council of Economic Advisors (see Start-Ups); a panel including faculty and alumni experts discussed the U.S. financial crisis on campus in October (see Start-Ups); and our faculty provided extensive commentary for the media on different aspects of the crisis (see NewsBites for a sampling).
Despite the economic challenges that we are all facing, we have some good news to share from the school. We are proud to highlight the impact that three exceptional alumni have had in separate projects working with youth (see cover story).
In our Close-Ups, you can read about an MBA student who helped a billion-dollar health care organization plan for its future staffing needs, and you can follow the stellar career of a CEO who graduated from our Executive MBA program.
Our faculty remain at the forefront of cutting-edge research, and their work continues to garner attention from both scholarly journals and the mainstream media (see Insights and NewsBites).
Whatís most important, however, is that we are just beginning to build momentum. The best is definitely yet to come, and I look forward to sharing more good news with you in the future. As always, I welcome your thoughts and ideas.
Sincerely,
Arjang A. Assad
Dean