Insights...

News about faculty and their research
Foreign aid can be more harmful than helpful

Isse
Foreign aid has done far more harm than good to the countries that receive it, according to research by Hodan Isse, associate professor of finance and managerial economics.
Isse shared her philosophy on the detrimental effects of foreign aid when she spoke at an international conference, "Faith, Citizenship, Democracy and Peace in the Horn of Africa," last October in Sweden.
Focusing on her native Somalia, Isse contends that foreign aid is often a divisive element that promotes hatred as clans vie for control of the aid.
"Government-to-government aid often does not reach its intended recipients," Isse says. Instead, the aid is redistributed among corrupt politicians and warlords, increasing clan divisions and government consumption.
A better way to solve Somalia's economic problems, according to Isse, is to help create wealth by investing in education, infrastructure and health care, which will lead to increased job production and free trade.
"The creation of wealth forces individuals to make hard choices and to be responsive to changing economic conditions," she says. "In addition, it promotes hard work and self-reliance."
Isse says that Somalis need to abandon their tribal and ethnic allegiances and establish a national identity in order to move forward.
"The people of Somalia must realize that without peace, there is no security; and without security, there is no development," she says. "And without development, the social and economic landscape of Somalia will be characterized by poverty, hunger and internal displacement."
Group brainstorming not always the best way to generate ideas

Lindsey
When you need to brainstorm, the best way is to throw a bunch of people into a room and let them toss around ideas, isn't it?
Not according to research by Charles D. Lindsey, assistant professor of marketing, and H. Shanker Krishnan, associate professor of marketing at the Kelley School of Business at Indiana University, which showed that being in a group can actually hinder the number of ideas generated.
"Our study indicated that in some cases, brainstorming is better when individuals do it separately, then come together to share their options," Lindsey says.
The researchers showed soft drink and water brands to a group of people and then, after a period of time, asked them to think of other brands. Individuals had a more difficult time recalling other brands when in a group setting than when they were asked the same question while alone.
One reason for this discrepancy is that when certain options are repeated by various members of a group, the repetition makes it more difficult to recall other options.
"In a group, there is obviously a greater likelihood of people talking to each other, and in certain cases, these interactions can suppress other thoughts," Lindsey says.
"You may be thinking of a certain thing, but then someone else says something and it makes you forget what you were thinking about," Lindsey says, calling this phenomenon "retrieval disruption."
The researchers said that their study could have implications for business as, similar to the phenomenon of "group think," it demonstrates that under certain circumstances, groups do not come up with as many ideas together as they would when working individually.
The study appeared in the Journal of Consumer Research.
New faculty add breadth and depth to school
Seven new faculty members joined the School of Management in September, bringing additional talent and expertise to the school's solid base.
Duvvuri
Sri Devi Duvvuri, assistant professor of marketing, was previously an assistant professor of marketing in the Tippie College of Business at the University of Iowa. She has both a doctorate and master's in marketing from Columbia University and a doctorate in applied economics from the University of Florida. Her research interests include hierarchical Bayesian econometrics, spatial econometrics, choice models, cross-category purchase behavior and applied time series analysis.

Iriyama
Akie Iriyama, assistant professor of operations management and strategy, has a doctorate in strategic management from the Katz Graduate School of Business at the University of Pittsburgh, as well as master's and bachelor's degrees in economics from Keio University in Tokyo. His research expertise focuses on mergers and acquisitions, strategic alliances, venture capital investment and globalization.
Jiang
Zhan (Jan) Jiang, assistant professor of finance and managerial economics, holds a doctorate in finance from the University of Iowa, a master's in mechanical engineering from Southern Illinois University at Carbondale and a bachelor's in mechanical engineering from Tongji University in China. Her research interests include mergers and acquisitions, leveraged buyouts, corporate governance and executive compensation.

Kozhanov
Igor Kozhanov, assistant professor of finance and managerial economics, obtained a doctorate in business administration from the Carlson School of Management at the University of Minnesota, as well as a master's in mathematical sciences and a bachelor's in mathematics from Novosibirsk State University in Russia. His research centers on asset pricing, derivatives and financial economics.

Lakshmanan
Arun Lakshmanan, assistant professor of marketing, received his doctorate from the Kelley School of Business at Indiana University. He also holds an MBA in international business from the Indian Institute of Foreign Trade in India and a bachelor's in engineering from Bangalore University in India. His research interests include price cognition and consumer learning and memory.

Suk
Inho Suk, assistant professor of accounting and law, holds a doctorate in accounting from Purdue University, a master's in statistics from the University of Chicago and a bachelor's in business administration from Korea University. Suk's research interests are in the areas of voluntary disclosure; earnings management around earnings thresholds; accounting information and analysts' forecast revision; capital market efficiency and insider trades; corporate financing and investment decision; behavioral finance theory and managerial behavior; information disclosure and market microstructure; and corporate governance and corporate legal risk management.

Viswanathan
Sridhar (Bob) Viswanathan, assistant professor of operations management and strategy, has a doctorate in operations management from the Eli Broad College of Business at Michigan State University and a bachelor's in engineering from the University of Texas at Austin. Viswanathan's research interests include supply chain risk management, outsourcing and global supply management, and cognition and behavioral issues in operations management.

Exploring the challenges of emergency response
Earthquakes, typhoons, hurricanes and terrorist attacks are increasing the numbers of the world's population who are exposed to disaster, making the need for effective emergency response more important than ever. Yet according to researchers at the School of Management, a lot more research needs to be done.
In a forthcoming study in the Journal of Applied Security Research, three members of the School of Management's Department of Operations Management and Strategy examine concerns for what they call "the well-being and advancement of emergency response." Furthermore, Natalie Simpson, associate professor; Philip Hancock, assistant professor; and Chia-Hung Chuang, doctoral student; identify promising opportunities to better support emergency service organizations and potentially enhance the resiliency of other organizations under emergency conditions.
One of the major problems with earlier research emerged as Simpson and Hancock prepared an invited keynote paper celebrating the 50th anniversary of The Operational Research Society: since World War II, almost all operations research assisting emergency response has focused on the structured problems, or design-oriented issues, of these vital services. Structured problems consist largely of knowns, such as mountains of data concerning the road layouts, elevations and structures within a city, and known unknowns, or uncertainties which can be expressed confidently as statistical distributions. Sophisticated math modeling then works well, assisting in issues such as identifying the optimal location for a new fire station or the best assignment of ambulances throughout an area. Yet, much of activity of emergency response itself, particularly response to large-scale disasters, is semi-structured at best, mixing these well-known elements with highly uncertain elements, or unknown unknowns, emergent factors that are not available when composing solutions in advance.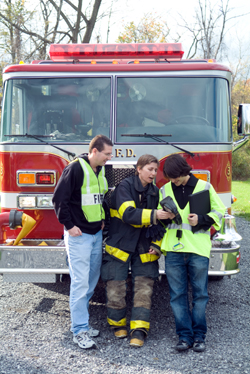 From left, Professors Hancock and Simpson review data with senior Chris Llop at a training exercise. (Photo: Douglas Levere)
"The bottom line is that most of what academics research and managers practice is the management of organization," says Simpson. "Emergency response is inherently the management of disorganization. That's what emergencies do, they temporarily disorganize existing designs. Disorganization is not the equivalent of chaos, but the rules for successful operation are different."
This leads to what the researchers call "some managerial realities of emergency response." One such reality is that applying a traditional planning model to a semi-structured problem can result in so many contingencies that the process is overtaken by the phenomenon of "paralysis by analysis." A second related reality is how disorganized conditions often require planning and implementation to occur simultaneously, addressing emergent factors, even though these activities are normally assumed to be separate and distinct. Such an undertaking, not necessary specific to emergency conditions, was dubbed "hyper-project management" by Simpson in an earlier article in the Journal of Operations Management. Well-managed hyper-projects navigate around paralysis by analysis by linking well-planned subroutines in the moment to respond to some evolving challenge.
Finally, one of the greatest areas of opportunity to support large-scale emergency response is research into the art of temporary organization. Large-scale emergencies like the 9/11 World Trade Center terrorist attack and Hurricane Katrina require multiple agencies to temporarily meld their operations into a single larger organization dedicated to resolving the crisis. In the U.S., spontaneous construction of this larger organization is typically guided by a set of rules known as the Incident Command System (ICS).
In an earlier study, forthcoming in the International Journal of Service Sciences, Simpson and Hancock study the "Incident Commander's problem," highlighting the difficulties of observing this vital organizational process, which is nonetheless spontaneous, transient and relatively infrequent. This work builds on concerns recently noted by researchers elsewhere: where ICS has worked well, its success appears linked to situations in which the practitioners within the various existing organizations were familiar with each other before the emergency, even if only in unrelated social settings.
Hancock finds this power of social networking in the midst of disorganization highly intriguing. "Under normal conditions, the success of your organization is naturally associated with its underlying design," he says. "It appears, however, that during a major disruption, it may be your informal network of contacts that saves you."