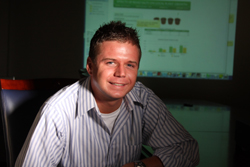 Photo: Tom Wolf
Crunching the Numbers
Close-Up: Matt Jagodzinski, MBA '09
Kaleida Health is a billion-dollar health care organization serving the Western New York community through its five hospitals, in addition to its community health care centers, long-term care facilities, behavioral health programs and Visiting Nursing Association.
But a critical component in planning for the health care giant's future fell into the hands of an MBA student intern from the School of Management. Matt Jagodzinski, a second-year MBA, played a key role last summer in determining plans for the backbone of Kaleida's operations—its nursing staff.
"At Kaleida, we employ thousands of nurses who serve as the primary caregivers for the more than 60,000 admitted patients per year at our five hospitals," says Dan Gerena '95, MBA '99, director of business intelligence. "Since the average age of nurses is in the mid-50s, and because we expect to have increased needs as we develop the Buffalo-Niagara medical corridor, we needed to quantify how many and what type of nurses (pediatric, surgical, cardiac care, etc.) to recruit going forward."
Kaleida's chief operating officer, Connie Vari, recognized the issue as similar to those she studied in the data modeling class of her Executive MBA at the School of Management. Vari reached out to Professor Frank Krzystofiak ("She bribed me with a case of Diet Pepsi," he claims.) to help find an intern who could crunch the numbers.
Jagodzinski was one of a handful of students Krzystofiak recommended, and he was hired immediately upon his interview.
"I knew Matt was tenacious, hard-working and wouldn't need a ton of direction," Krzystofiak says. "He received super-strong peer evaluations from his classmates and has a real intuition for the numbers. He's just one of those students who shine."
Jagodzinski returns the compliment, calling Krzystofiak "The Man" when it comes to the data modeling class, which has a reputation for being very challenging and hands-on.
"Dr. Krzystofiak told us the class would help us use Excel better than 95 percent of the world," Jagodzinski says. "We'd be able to walk out knowing this stuff inside-out.
"We learned how to attack and analyze problems, then take that knowledge and skill set and use it in real-life situations," he says.
And that's just what Jagodzinski did at Kaleida, working primarily with Jim Luciani, senior developer for business intelligence, to develop an application for analyzing nursing numbers and trends.
"I can say without reservation that Matt was a wonderful addition to our team during his short stay here at Kaleida," Luciani says. "He embraced this opportunity and absolutely met every expectation."
"We learned how to attack and analyze problems, then take that knowledge and skill set and use it in real-life situations."

Matt Jagodzinski
Jagodzinski and Luciani analyzed information such as new hires, turnovers, transfers and employees going in and out of the labor force, in addition to factoring in variables such as the number of nurses who are promoted from direct care to management.
"There are almost endless possibilities on how the data can be used," Jagodzinski says. "For example, if Kaleida plans to build a cardiac center and wants to grow their cardiac nursing staff four-fold, it can show where they can draw that staff from, both internally and externally. It also can help them to determine where they should recruit new hires."
Jagodzinski enjoyed the freedom and independence he was given while working on the project. "It's taking everything you've learned and actually doing it. It doesn't get any more hands-on than that," he says.
A Buffalo boy at heart, Jagodzinski was happy to lend his time and energy to a project that will help the local health care community for years to come. He's now busy looking for a job upon graduation, hopefully in his hometown.
"If there's an opportunity to stay in Buffalo," he says, "I'd love to stick around."
- Cathy Wilde