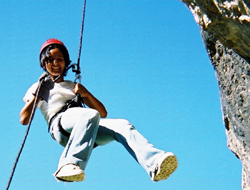 Changing the world, one child at a time
By Jacqueline Ghosen
Help a child, change the world, the adage goes. But how many of us truly make that concept a reality on a significant scale? Three School of Management alumni have, impacting the lives of hundreds, likely thousands, of young people. These alumni are making their mark in different ways and in different places, and here are their stories.
Meet John Alm

Alm
John Alm '73 jokes that he may have flunked out of UB more than any other graduate. He even claims that, at one point, he had a "negative .37" grade-point average. But the truth is that after a couple of false starts and a four-year stint in the Air Force during the Vietnam era, this son of a spot welder and grandson of a coal miner got serious about school, receiving his bachelor's degree from the School of Management and going on to an illustrious career with Coca-Cola Enterprises.
When he retired in 2005, it was as president and chief executive officer of the world's largest marketer, distributor and producer of nonalcoholic beverages, with the last 15 of his 30 years in leadership positions for Coca-Cola Bottling.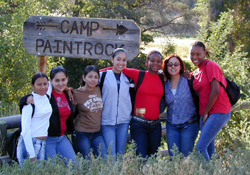 Over many years of sending his own children to summer camp, John Alm saw the impact it had on their lives. But while the camp experience was an amazing lesson in life for all who were fortunate enough to attend, Alm knew that the children who could benefit the most from such programs were often those least able to afford them.
It was around this thought process that the seed of an idea began to grow in Alm's mind. Having lived in Los Angeles for four years, he wanted to help underprivileged youth in that city. But Alm didn't want to just send kids off to some camp. He wanted to be a part of the experience. As a first step, he and his wife, Carolyn, bought a 7,000-acre working cattle ranch in Hyattville, Wyoming, in 1998.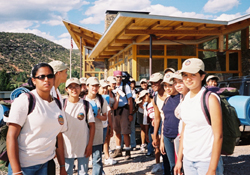 Strategically positioned at the base of Paintrock Canyon, Alm saw the Hyatt Ranch as "the perfect place for students to realize new life lessons and begin to 'paint/create' a future pathway to success."
"We were clueless," Alms says of those first few years. But they hired a director, built the camp, and recruited inner-city college kids to work as counselors on the 14 acres of the ranch that were to become Camp Paintrock.
In its first year, one group of children came for a five-week session. Now, Alm says that the camp hosts up to 72 students in two five-week sessions each summer. The scope of the program grew as well, now providing a four-year youth development program that strives to empower high-potential, inner-city, disadvantaged youth to achieve their full potential by building self-confidence, and broadening horizons with physical and mental challenges in a fun, safe and supportive community.
Program Activities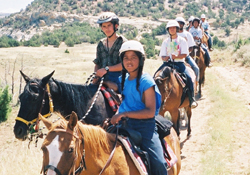 Students enter the Camp Paintrock program in the summer after eighth grade. The goal of the camp is to present these special youth with a completely foreign environment in which to learn. At camp, students work on skills such as leadership, team building, independence, interdependence and responsibility. They learn to overcome new challenges, obstacles and fears. What's most important, however, is that the students are shown how they can relate these experiences to those they may face at home and in the future.
Surrounded by nature, the students gain a new appreciation for life, the environment and the realization of new horizons. And while all of their experiences take place in a fun camp environment, an educational element is built into the program teaching topics such as environmental awareness, geology and botany, as well as equestrian, livestock and wildlife appreciation.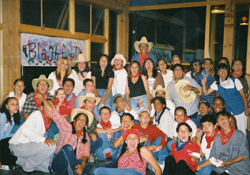 With a staff of three in Los Angeles, the program continues over the next four years with the goal of keeping participants motivated and on course for higher education and personal success. Educational outings, goal setting, community service projects, peer support and mentoring are just some of the components of the follow-up program.
When asked what he finds most rewarding about Camp Paintrock, Alm doesn't hesitate. "Results," he says. And while Alm is reluctant to tie numbers to his program, Paintrock participants have a 99 percent graduation rate from high school compared to about 70 percent overall in L.A.
"One of my most gratifying moments occurred recently," Alm says, "when one of our first participants joined our staff—as a college graduate."
Introducing Bill Steul

Steul
William Steul graduated from the School of Management in 1964 and went to work for The Carborundum Company in Niagara Falls, New York, where he held various financial and information systems management positions. While working, he continued going to school and obtained his MBA from UB in 1968. He joined Digital Equipment Corporation in Maynard, Massachusetts, in 1972 where for more than 22 years he held a number of finance, marketing and business unit management positions, including a four-year assignment in Geneva, Switzerland, as European finance manager. From 1992 to 1994, Steul was vice president of finance and chief financial officer.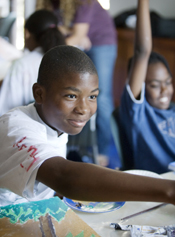 In 1994 he accepted a position at the Boston-based Eaton Vance Corporation, one of the oldest financial services firms in the United States, where he served as vice president, treasurer and chief financial officer before retiring in 2007.
Steul's activities with youth center around Boston's Trinity Church, where he served as an officer from 1999 to 2005. The historic church, with a parish that dates back 275 years, is the parent organization of the Trinity Boston Foundation, which includes Trinity Boston Counseling Center and Trinity Excellence in Education Program (TEEP). Steul now serves on the board of the foundation and co-chairs the TEEP advisory committee.
"There are many youth-oriented programs in Boston, but TEEP is unique because we work with children year after year from seventh grade through high school and beyond."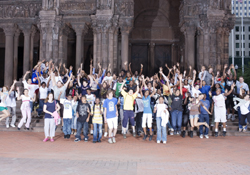 TEEP is a free, out-of-school time program for Boston middle school and high school students, nearly all of whom need academic support and live in neighborhoods with higher-than-average levels of violence and poverty. The program's core values, the "5 R's"—respect, responsibility, restraint, reciprocity and redemption—underpin all activities to provide students with a model for academic success, a strong decision-making framework and guide for leading fulfilling lives.
Serving 100 students a year, TEEP takes a collaborative approach, working with parents, teachers and partners. Middle school students take part in a five-week summer program, two weekend retreats during the school year and a 12-week high school admissions preparation program for eighth graders to help them get into quality high schools. There are also empowerment groups for girls.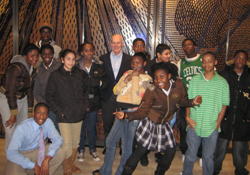 High school participants get jobs as counselors for the five-week summer program and participate during the school year in five weekend retreats, nine monthly workshops, college preparation and career guidance activities, and college visits.
Those participants who are in college receive continued support as needed and are often engaged as mentors to the younger participants. Parents and guardians are also given year-round mentoring and support for crises, court advocacy, housing and health care, and guidance with high school and college selection and application process.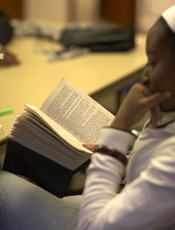 After starting with 30 seventh graders, TEEP is now in its ninth year. More than 400 participants have gone through the program. "We're now seeing 14 of the original kids finish college," Steul says. In Massachusetts, more than 11,000 students leave school without a high school diploma. Steul says that retention is the key to success. "We can feasibly promise all our seventh graders that if they stay with TEEP, we can get them to graduation, college and career," he says.
"What inspires me most is seeing inner-city children stand up in front of groups of adults and describe how TEEP has changed their lives," Steul says. "They tell us how they plan to mentor other children and pursue meaningful professions."
Presenting Tom McCausland
Prior to retiring in 2006, Thomas McCausland, MBA '72, was president and CEO of the Customer Solutions Group for Siemens Medical Solutions, USA, where he oversaw the U.S. operations of one of the most successful divisions of the vast multinational, Siemens AG, headquartered in Munich, Germany. From 1997 to 2001, he grew sales from $1.4 billion to $3.3 billion. Under his leadership, the firm acquired a leading healthcare information technology system and an ultrasound and imaging software maker in order to integrate information systems, services and medical devices equipment. In 2002, he was named Frost and Sullivan's CEO of the Year for the diagnostic imaging equipment market.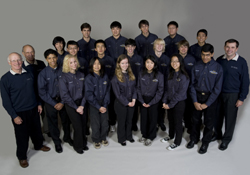 Tom McCausland (far left) is pictured with Siemens representatives and the winners of the 2008 Siemens Competition in Math, Science and Technology.
"Siemens is an entrepreneurial engineering company," says McCausland. "We noticed that our pool of 'human capital' was decreasing, with fewer students in the math and science disciplines from which we recruit. People are our most important asset and this shortage prompted us to ask what we could do as a company to increase the number of students considering careers in math and science."
A number of innovative programs resulted from this corporate introspection, and most of them are administered through the Siemens Foundation, which was founded in 1998 and provides more than $7 million annually in support of educational initiatives in the areas of science, technology, engineering and math in the U.S. McCausland was elected chairman of the board of the foundation in 2004.
Hard Work, High Rewards
In the Siemens Competition in Math, Science and Technology, students have an opportunity to achieve national recognition for science research projects they complete in high school. College scholarships ranging from $1,000 to $100,000 are awarded and the competition attracts nationwide participants, more than 1,800 in 2008. Judges for the competition, including several Nobel laureates, are selected by the College Board, Siemens' partner in the event, and are experts in their respective fields from universities around the country. And for the record, we're not talking about low-level science here. The grand prize individual winner in 2007-08 won for her research on bone growth and the top team won for their research on drug-resistant tuberculosis.
The competition helps high achievers with the goal of creating role models, McCausland explains. "Our hope is that we can develop channels of peers and that the draft effect will pull others along," he says. "We emphasize that students should not be ashamed of being smart."
Regional finalists give presentations to judges and answer questions afterward like polished professionals. When the regional winners arrive in New York for the final competition, McCausland and his wife, Linda, take them bowling to help them relax and break the ice. "I am always amazed when I watch them and discover that underneath it all, they're just kids," he says. "It's really great to see how well-rounded they are."
Reaching Them Earlier

The newest program, in partnership with the Discovery Channel and the National Science Teachers Association, focuses on the K-12 set and includes a competition for middle school students. With snappy graphics like the "Agents of Change" comic-book "Eco Heroes," the Siemens We Can Change the World Challenge encourages younger students to develop innovative green solutions for environmental issues.
"We found that somewhere around fifth grade, students receive messages about their aptitudes," McCausland says. "Based on those messages, they either embrace learning or opt out. We developed this newest program to excite younger students."
Each member of the first-place team receives a $5,000 savings bond, an appearance on Planet Green, the 24-hour eco-lifestyle television network, a chance to present their project to a panel of environmental experts, a discovery adventure trip, a flip camera and a Siemens We Can Change the World Challenge green prize pack.
In addition to its signature programs, the Siemens Foundation also offers advanced placement scholarships, teacher scholarships, merit scholarships and a number of events to stimulate interest in math, science and technology.
"Promoting the foundations of math, science and technology will help us keep our competitive edge in the world economy," says McCausland. "Encouraging students to be innovative is important to America's economic future."
After graduating from the School of Management, Alm, Steul and McCausland went on to different careers in different cities, but ultimately, they took different paths to the same destination—changing the world, one child at a time.
Photo of John Alm courtesy of Coca-Cola Enterprises. Photos of Camp Paintrock by Greg Kovacs, courtesy of Camp Paintrock and the C5 Youth Foundation of Southern California. Photos of TEEP by Ion Sokhos, courtesy of Trinity Boston Foundation. Photo of Tom McCausland and "Agents of Change" graphic courtesy of the Siemens Foundation.