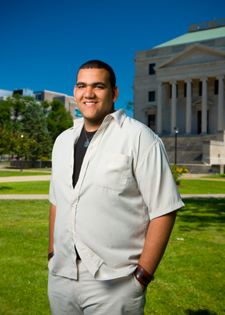 Guadalupe
Start-Ups
Early previews pay dividends for Buffalo student
An introduction to the School of Management through two programs targeted at helping area high school students has reaped rewards for a Buffalo student, currently a freshman at UB.
Adrian Guadalupe got his first taste of life in the School of Management through two programs he participated in while still in high school: the Entrepreneurship Training Program, a 16-week course teaching entrepreneurial skills, and Career Opportunities in the Accounting Profession, a five-day program for minority high school students to explore the field of accounting.
Now, Guadalupe has received a full, four-year tuition scholarship to attend UB through the Buffalo Partnership Scholars Program (BPSP), a joint effort between the university and the Buffalo Public Schools to support students who have demonstrated academic success and a commitment to giving back to the Buffalo community.
"People told me I could do anything I wanted to do, but that didn't really help me," Guadalupe said at the School of Management's Community Leadership Luncheon. "These programs actually helped me decide my career path."
The class valedictorian at Leonardo Da Vinci High School, Guadalupe is one of three students in the inaugural Scholars Program class. As a BPSP student, Guadalupe must maintain a 3.0 grade-point average throughout his four years at UB and is expected to participate in community service activities and leadership training.
Ehrlich named to governor's economic advisory council

Ehrlich
Renowned UB economist Isaac Ehrlich was named to New York Governor David A. Paterson's newly convened Council of Economic Advisors.
Ehrlich is a SUNY and UB Distinguished Professor of Economics, chair of the Economics Department in the UB College of Arts and Sciences and Melvin H. Baker Professor of American Enterprise in the UB School of Management.
The 18-member council also includes Robert Rubin, former United States Secretary of the Treasury and former chairman of the Executive Committee of Citi; Roger Altman, former United States Deputy Treasury Secretary and current chairman and CEO of Evercore Partners; and Joseph Stiglitz, 2001 Nobel Prize winner.
On August 18, the council met to review the current New York state budget and provide Governor Paterson with additional recommendations to address the fiscal crisis.
"In this difficult fiscal climate, I am grateful that so many of our nation's most gifted and renowned economists have agreed to serve on our Council of Economic Advisors," said Governor Paterson.
"The men and women who have joined our council are seasoned experts from around the state and across the nation. Facing deteriorating economic times and declining revenues now, more than ever, we need creative ideas and solutions. I can think of no better collective group to help steer us back to fiscal health, and I look forward to hearing their recommendations," Paterson added.
Ehrlich was very impressed with the way the governor handled the first meeting of the panel of economic advisors. "He is truly interested in the panel's thoughts on how to best utilize the fiscal tools available to the state to solve the short-term challenge without harming long-term prospects for economic growth and improved welfare," Ehrlich said.
Experts discuss U.S. financial crisis to full house

Patankar
A panel of experts discussed the turmoil in the U.S. financial markets last October to a standing-room-only crowd in UB's Center for the Arts.
"The Current Financial Crisis: How did we get here? Where are we going?" was the topic, and the free event attracted more than 200 attendees, including students, faculty, staff and members of the community.

Tiu
Sponsored by the School of Management and the Law School, the panel was the fourth event in the annual Gerald S. Lippes Speaker Series.
Panelists included Gaurav Patankar, MBA '03, global sector analyst for financial institutions at Millennium Partners, subsidiary of Millennium Management; Cristian Tiu, assistant professor in the School of Management's Department of Finance and Managerial Economics; and Jill Yellock, bank examiner at the Federal Reserve Bank of New York.

Yellock
The discussion, moderated by Tom Disare, clinical professor in the Law School, was followed by a lively question-and-answer session.
The Gerald S. Lippes Speaker Series focuses on current issues and topics related to business and finance. The series is part of a larger effort to foster an integrated understanding of the worlds of business and law, and to encourage a collaborative dialogue between business and legal professionals. Funding for the series is provided through the generous support of Gerald S. Lippes.
Beta Alpha Psi chapter receives national recognition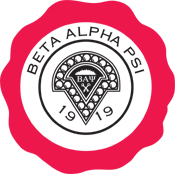 The School of Management's chapter of Beta Alpha Psi received a top prize and several additional awards at the organization's international conference in Anaheim, Calif., in August.
Beta Alpha Psi is an international financial information organization for students and professionals. A team of four School of Management students from UB's Zeta Theta chapter won first place in a best practices competition to formulate and effectively present a strategic framework to maximize Beta Alpha Psi's success over the next 10 years. The members of the winning team were seniors Bill Baxter of Rochester, N.Y.; Ya Pan of Hong Kong, China; Qi Ma of Suzhou, China; and junior Tasneen Hamdani of Indore, India.
"These awards demonstrate the high level of professionalism that our students possess," said Alex Ampadu, associate professor of accounting in the School of Management. "They came together as a team, competed against other top schools from all over the globe and achieved excellent results."
UB's Zeta Theta chapter also received special recognition from the IRS at the conference for having the largest Beta Alpha Psi-run Volunteer Income Tax Assistance (VITA) program in the nation this past tax season, based on the number of volunteers who contributed at least five hours of service. The VITA program at UB surpassed its previous years' results by setting records for total returns filed (393), total refunds distributed ($234,566), and total certified volunteers (138) who collectively contributed more than 1,400 hours of service over the 10-week program.
In addition, Zeta Theta was recognized as a "Superior Chapter" by the international Beta Alpha Psi organization, receiving a plaque and monetary award.
Ahead of the curve in preparing CPAs
Later this year, New York state will change its requirements for accounting students who wish to sit for the Certified Public Accounting exam, with the amount of coursework increasing from 120 credit hours to 150.
But the School of Management's Department of Accounting and Law has prepared well in advance for this, with a curriculum in place for students to earn 150 credit hours through a Master of Science in Accounting degree.
Susan Hamlen, chair and professor in the Department of Accounting and Law, says the MS program is a full-time, one-year program for students who have already completed an undergraduate degree in accounting.
"Although students can meet the 150 hours by taking additional courses as undergraduates or by taking courses on a part-time basis once they have graduated, most recruiters have indicated that they prefer their hires to have already met the education requirement for the CPA before they begin working, and an additional degree is more valuable than merely taking extra courses," Hamlen says.
The Department of Accounting and Law has taken advantage of the new regulations, revamping its MS program with nine new courses developed to enhance the curriculum.
The revised program includes a 15-credit core curriculum consisting of four 3-credit courses in advanced tax, advanced audit, advanced accounting information systems and a financial accounting seminar, plus three 1-credit courses in accounting and auditing research, tax research, and professional ethics and corporate governance. Students complete the program with courses in one of three specialized tracks: financial accounting and assurance; internal audit and risk management; and taxation; or they can create they own self-directed track.
The new MS program will be effective this fall, pending approval from SUNY and the State Education Department.
PhDs honored for research achievements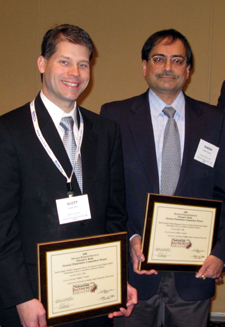 Ellis and Gupta
A current doctoral student and a recent doctoral alumnus from the School of Management received prestigious recognition this past year for their scholarly accomplishments.
Manish Gupta, a doctoral student in the Department of Management Science and Systems, was one of only seven people worldwide, and the only one from North or South America, to receive an Information Security Scholarship from the International Information Systems Security Certification Consortium, known as (ISC)2.
The scholarship offers significant financial assistance to further Gupta's research into developing efficient and constructive risk modeling techniques for the identification and management of IT and security risks.
Gupta also received an award for "Best Paper" at the Third Annual Symposium on Information Assurance held in Albany, N.Y., last June.
Scott Ellis, PhD '07, from the Department of Operations Management and Strategy, won the 2008 Elwood S. Buffa Dissertation Competition, recognizing the best dissertations written in the decision sciences.
Ellis received a cash award and plaque at the Decision Sciences Institute Annual Meeting in Baltimore. His dissertation advisor, Nallan Suresh, UB Distinguished Professor and chair of the Department of Operations Management and Strategy, also was recognized at the event.
Ellis is now an assistant professor of supply chain management at Clemson University.
Visit to Japan extends management reach

Perry
For the past five years, the School of Management has welcomed a group of undergraduate students to Buffalo from the Economics and Business Administration (EBA) program at Konan University in Kobe, Japan, as part of a joint initiative between Konan and UB.
One of the goals of the EBA program is to increase students' fluency in English. To further that goal, last year Professor Kazutoshi Watanabe, director of the EBA program, invited Professor Philip Perry, associate dean of international programs in the School of Management, to visit Konan University and deliver a series of lectures on accounting and finance. Perry was in Singapore last July for the graduation ceremony of UB's Singapore undergraduate and Executive MBA programs, so he took advantage of the relative proximity and visited Konan University for a week.
"The students were just excellent," Perry says. "I can't tell you how much I enjoyed my visit."
In addition to teaching, Perry met with Konan University officials and gave a short address to the Konan students scheduled to visit Buffalo in the 2008-09 academic year. He capped off his visit with some sightseeing, arranged by Watanabe, including a stop at Himeji Castle (built in the early 1600s) and Nijo Castle (with 'nightingale floors,' designed to squeak when walked upon so that no one could surprise the shogun), the Golden Temple (dating from about 1400), and the Ryoanji Temple in Kyoto. Perry hopes to have the opportunity to visit Konan University again soon to further strengthen ties between the two universities.
Celebrating our 10th anniversary
Spring 2009 marks the 10th anniversary of Buffalo Business. Since its inception, your alumni magazine has won multiple awards for excellence in writing and design. What's more important, however, is that Buffalo Business brings you news about the world of business, news about the School of Management and news about each other, helping us all to stay connected.