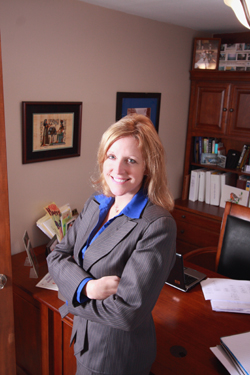 Photo: Tom Wolf
At Home With Work
Close-Up: Sheri Sullivan, EMBA '01
Not many CEOs get to work in their pajamas.
But Sheri Sullivan can.
Sullivan, who earned her Executive MBA from the School of Management in 2001, is chief executive officer of Intercomp-MJP, an international payroll-processing company currently worth $70 million. And she does (almost) all of it from home.
"On a typical day, I get up around four in the morning, stumble downstairs in my pajamas, grab my cup of coffee, go into my office, close the door and pick up the phone," Sullivan says. Then she begins a long day of telephone and video conferencing to check on Intercomp's offices in Moscow, Budapest, Geneva and Dubai.
"I work through the European day until about 1 p.m.," she says, "then I go for a run, take a shower, and go through my e-mail." Her day usually wraps up by 4:30 or 5 o'clock.
One reason she is able to effectively manage an international company from the comfort of her own home is because of what Sullivan calls "the really great technology" available, such as Skype, WebEx, POLYCOM and SharePoint.
Still, Sullivan says, "you can't always effectively manage by helicopter," so she spends about two weeks a month traveling to Intercomp's various locations. There are pros and cons to this aspect of her job.
"On the one hand, I love it. I'm an Air Force brat. When I don't travel I feel like I'm missing something," Sullivan says. "But then I miss my great husband and three great kids. Sometimes I have to make extreme travel arrangements to get home for important events, like my kids' sports games."
Sullivan came to Intercomp after several years with Paychex, where she helped develop and execute a plan to take the multibillion-dollar payroll-processing company into international markets. She set up four Paychex offices in Germany and served as their general manager with responsibility for sales, marketing, operations, finance and human resources.
She was recruited to Intercomp as chief operating officer in 2008, and was named chief executive officer in November of that year. Sullivan is excited about the company's mission and prospects. "We provide a one-stop shop for international payroll to blue-chip, multinational companies," she says. "For example, if a U.S. company has employees in Europe, they can come to us and we will provide all the paperwork, translations, currency exchanges, etc."
Intercomp currently delivers payroll in 14 countries, and Sullivan says it is poised to deliver to 23 countries in fiscal 2009.
"The best thing about my job is that there is a big need in the marketplace for our services and we can provide a comprehensive solution for our clients," Sullivan says. "I like working with clients and working with a great team of people. It's really exciting to see the business grow, and watch the people grow as the business grows."
In the long term, Sullivan looks forward to seeing Intercomp become a major company and going public. Once that is accomplished, she says she would look for the "next challenge," maybe with a nonprofit, or something involving lots of travel.
"But I can never see myself retiring," she says. "I think I'd be bored."
- Cathy Wilde