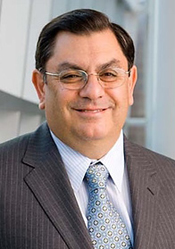 A Message from the Dean
"Global perspective" is not just a cliché we bandy about here at the School of Management. Our graduates enjoy a competitive edge in the world marketplace thanks to the cultural diversity of our students, the strength of our overseas programs and global mindset of our faculty.
International focus is an integral part of how we operate. You'll see evidence in our feature story on how Executive MBA graduates of our Renmin University program in Beijing, China, journeyed across the desert to follow the "Path of Monk Xuanzang" as part of the International Business Schools Gobi Hiking Challenge. Or you can read about the "sky pool" engineering marvel designed by Ng Soon Guan, an alumnus of our Singapore EMBA program. And speaking of our Singapore EMBA, be sure to read how that program was ranked by the Financial Times as one of best in the world, along with our Buffalo EMBA program.
Closer to home, we also were pleased that Bloomberg Businessweek recognized our full-time MBA program in its most recent ranking of B-schools. The ranking demonstrates that our efforts to recruit high-caliber faculty and students are really paying off.
For nearly 25 years, our Center for Entrepreneurial Leadership (CEL) has been making a positive impact on the region's economy. In our cover story, we explore how the CEL is helping a distinctive subset of the entrepreneurship community, family businesses.
You can read in Insights about how our faculty are contributing to the business world with their cutting-edge research, such as Professor Ken Kim's work on the effectiveness of corporate bailouts, and the work that Professors Lakshmanan and Lindsey have recently published about how consumers learn to use new technical products.
You'll also see, as in every issue, examples of how our alumni, such as the winners of our annual alumni awards, are making their mark by sharing their expertise in the business community.
The progress we are making as a school and the success of our alumni are sources of great pride. As we continue to expand our horizons within the global marketplace, we are able to bring our alumni around the world closer together.
Sincerely,
Arjang A. Assad
Dean