Start-Ups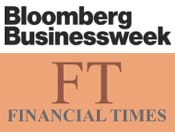 Bloomberg Businessweek, Financial Times rank school
The School of Management has added Bloomberg Businessweek and Financial Times to its portfolio of rankings.
Bloomberg Businessweek in November ranked the University at Buffalo School of Management one of the nation's best business schools in its ranking of full-time MBA programs. The school was ranked No. 57 in the biennial ranking, joining 27 other schools in the ranking's second tier, including Ohio State University, Penn State University, Purdue University and the University of Rochester. The rankings are based on student satisfaction (45 percent), corporate recruiter satisfaction (45 percent) and an intellectual capital rating (10 percent) based on the number of articles published by each school's faculty in 20 publications.
In addition, the School of Management's Executive MBA (EMBA) program was ranked in October as one of the best in the world by the Financial Times. The EMBA program, offered in Buffalo and Singapore, placed No. 51 out of 100. Among the ranking's many components, the EMBA program was No. 23 for graduates' salary growth, No. 7 for percentage of female students, No. 26 for percentage of female faculty, No. 55 for faculty research and No. 16 for percentage of international faculty.
"With more than 500 Executive MBA programs worldwide, we're quite pleased to be recognized in this elite group," said Courtney J. Walsh, assistant dean of executive education. "We're also proud of the continued demand for our EMBA graduates in the current economy."
Programs were ranked in three major categories: career progress, diversity and idea generation.
Earlier in 2010, U.S. News and World Report ranked the full-time MBA program, bringing the number of new rankings for 2010 to three. "We've been working continuously to recruit top faculty and high-caliber students to enhance the quality of our programs and our global reputation," said Arjang Assad, dean of the School of Management. "These rankings are evidence that we are succeeding and that we provide our graduates with a solid return on their investment."
GSSM classroom/lab opens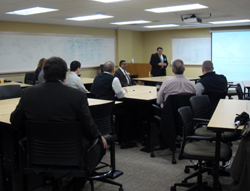 The School of Management in November celebrated the completion of a new laboratory/classroom dedicated to global services and supply management (GSSM). After a breakfast buffet, industry leaders, faculty and staff attended a presentation and interactive session in the new facility, located on the second floor of Jacobs Management Center.
Nallan Suresh, professor and chair of operations management and strategy, and Rajiv Kishore, associate professor of management science and systems, described how their departments collaborate to train managers to lead in the information-based global economy. The GSSM curriculum draws upon the school's international focus and academic strengths to address rapidly emerging service, supply and information technology issues that are the result of an increasingly worldwide business model.
Suresh and Kishore demonstrated how the innovative learning center will be used for education and training, as well as industry projects in both supply chain management and globally distributed services. The center is equipped with cluster-style seating, a cutting-edge desktop system for each seat and a global video-conferencing facility. Laboratory computers are loaded with state-of-the-art software for the analysis and design of globally distributed services and systems, supply chain optimization, and logistics network decisions and optimization. The laboratory also will be used to provide hands-on training to industry professionals.
Afterward, the professors conducted a brainstorming session with supply chain, operations and IT professionals in the room. Experts from area firms such as Moog, Rich Products, Fisher-Price, New Era Cap and ROAR Logistics offered insights, ideas and suggestions for how they envisioned working with the school on these initiatives.
The group then attended a live video-conference guest lecture on trends and opportunities in global process outsourcing by Sanjay Kumar, CEO of vCustomer in Seattle, Washington.
Pharmacy/MBA students leverage skills to place in competition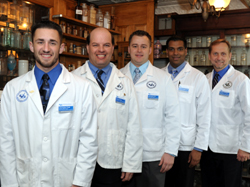 From left: Diehl, Grota, Daly, Sundararaman and Fiebelkorn.
Four University at Buffalo PharmD/MBA students placed in the 2010 Good Neighbor Pharmacy NCPA Pruitt-Schutte Student Business Plan Competition.
Christopher Diehl, Mike Grota, Christopher Daly and Vikram Sundararaman placed fourth out of 35 teams for their business plan, which included the purchase, modification, expansion and modernization of a family-owned business, Forster's Pharmacy in Blasdell. The finalists were announced at the American Association of Colleges of Pharmacy meeting in Seattle.
All four students are enrolled in UB's joint PharmD/MBA program, a five-year program offered jointly by the School of Management and the School of Pharmacy and Pharmaceutical Sciences leading to a Doctor of Pharmacy/Master of Business Administration degree. The team spent more than 500 hours researching the information and constructing a 199-page plan.
"Participation in this competition has helped me discover one of many rewarding career paths a PharmD/MBA can pursue," said Christopher Daly, PharmD/MBA candidate, Class of 2012. "It was a great challenge to combine information we learned in both disciplines and apply it to real-life applications."
"These students fared very well in this highly competitive event and we are immensely proud of them," said team advisor Karl D. Fiebelkorn, associate dean and associate professor in the UB School of Pharmacy and Pharmaceutical Sciences.
"This is an excellent example of how students in our joint degree programs can leverage diverse skill sets to gain a real advantage," said David Frasier, assistant dean and administrative director of graduate programs.
Fed president speaks at UB

Dudley
William C. Dudley, president of the Federal Reserve Bank of New York, gave a lecture at UB in October entitled "How Goes the Recovery? Challenges for the Nation, the Region and the Fed."
The event was sponsored by the School of Management, the UB Office of Economic Engagement and the UB Office of the Provost.
As the 10th president and chief executive officer of the Federal Reserve Bank of New York, Dudley serves as the vice chair and a permanent member of the Federal Open Market Committee, the group responsible for formulating the nation's monetary policy.
In his remarks, Dudley suggested that the Fed may need to provide new support to spur economic growth. "Both the current levels of unemployment and inflation and the timeframe over which they are likely to return to levels consistent with our mandate are unacceptable," he said.
Dudley's lecture was part of a multicity trip that included stops in Ithaca, Syracuse and Rochester to strengthen ties with local community and business leaders and discuss regional economics. While in Buffalo, Dudley toured the GM Powertrain Tonawanda Engine Plant as part of his survey of upstate economic conditions.
Fall lectures bring experts to campus
Nationally renowned corporate restructuring attorney Harvey R. Miller visited campus in October to discuss the General Motors and Lehman Brothers Chapter 11 cases before a packed house at UB's Center for the Arts.
Miller is a senior partner in the international law firm of Weil, Gotshal & Manges based in New York City. Cited by The New York Times as "probably the best-known bankruptcy lawyer in the country," Miller has worked on the largest and most complex bankruptcy cases in the modern era, including General Motors, Lehman Brothers, Texaco, Sunbeam and Bethlehem Steel. He was named one of the 40 "Most Influential Lawyers" of the past decade by The National Law Journal.
Miller's visit was the sixth event in the annual Gerald S. Lippes Speaker Series, which is sponsored by the UB School of Management and the UB Law School. The series is funded through the generous support of Gerald S. Lippes. Additional funding for this year's lecture was provided by the Upstate New York Turnaround Management Association.
Also in October, two financial experts spoke as part of the Helen and Oscar Sufrin Lectureship in Accounting, which brings distinguished business professionals to the School of Management to discuss accounting issues.
Robert L. Goecks spoke on anti-money-laundering initiatives. Goecks is president of Egris LLC, an advisory services practice, specializing in Bank Secrecy Act compliance, anti-money-laundering, Office of Foreign Assets Controls matters and related financial crimes. He is chair of the Anti-Money-Laundering and Counter Terrorist Financing committee.
Thomas P. Mullen discussed mergers and acquisitions. He is a partner in the International Tax Services group supporting the New York Mergers and Acquisitions group at PricewaterhouseCoopers LLP, specializing in structuring cross-border acquisitions, dispositions and combinations.
Funding for the lectureship is provided through the generous support of Leslie Sufrin, CPA, and Gerald Sufrin, MD, a longtime UB professor, in honor of their late parents.
MBAs chosen for national honor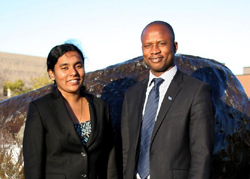 Narayanaswamy and Ajakaiye
Two MBA students from the School of Management were among only eight individuals in the United States chosen by APICS, The Association for Operations Management, to participate in the APICS Future Leaders Program.
Second-year MBAs Ore Ajakaiye and Preetha Narayanaswamy, under APICS sponsorship, visited Las Vegas in October for a full day of training and the APICS International Conference and Expo.
At the conference, they were awarded first place at the Student Poster Session for their submission, "Sustainability: Driving the Strategic Imperative in Supply Chain Management." They shared first place with one other team.
Ajakaiye and Narayanaswamy also are taking part in a year-long mentoring program that provides leadership development opportunities. Under the mentorship of APICS board of directors chair Karl Klaesius, CPIM, CPM, they are working with senior-level operations and supply chain professionals to better understand the knowledge, skills and qualities exhibited by effective leaders in the profession.
The students are receiving additional training in the form of monthly, hour-long conference calls and are serving on a special task force with Klaesius. They will present the task force's findings to the organization's board in October.
Ajakaiye is pursuing a concentration in global services and supply management, and Narayanaswamy is pursuing dual concentrations in finance and supply chains and operations management.
"The fact that the UB School of Management is the only school with two students chosen for this honor is an outstanding reflection on the quality of our MBA program," said David Frasier, assistant dean and administrative director of graduate programs.
Students win PwC xACT Case Competition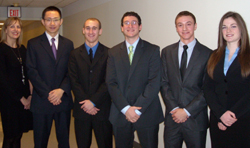 From left: Rogers, Yin, McJury, Epstein, Gengo and King.
A team of four undergraduates and one graduate student in the School of Management won a $1,000 prize for placing first in the seventh annual PricewaterhouseCoopers (PwC) xACT Case Competition.
Sophomores Matthew Epstein and Daniel Gengo, juniors Susannah King and Kyle McJury, and MS student Chunqing (Brian) Yin comprised the winning team.
The competition, sponsored by PwC, is intended to help accounting students hone their analytical, problem-solving and teamwork skills by proposing solutions to a real-world business challenge. This year's case involved the role of accounting consultants in helping a firm to implement international financial reporting standards.
Fifteen teams representing 75 students took part in the competition. Each five-member team was assigned a faculty coach and PwC mentor. Mary Ann Rogers, assistant professor of accounting in the School of Management, was the winning team's faculty coach.
The teams had two weeks to conduct research and develop a 12-minute case analysis, which they presented to a panel of PwC judges. This year's judges were partner David Gaulin '87, MBA '88, senior associate Andrew Peer '06, partner Keith Stolzenburg '81, MBA '87, and senior associate Julie Leavoy '07, who also served as the project coordinator.
IBM business simulation focuses on sales strategies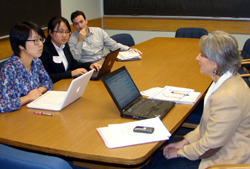 The winning team (from left), Ui Long '12, Yi Wenxuan, MS '11, and Timothy Shanahan, MBA '11, receives feedback from competition judge Christine Mackay.
Students in the School of Management got a taste of the real business world when IBM professionals came to campus in the fall to run a business simulation exercise. The event was organized by the school's Financial Management Association.
Thirty-two undergraduate and graduate students participated in the daylong event, competing against each other in teams. Ui Long '12, Yi Wenxuan, MS '11, and Timothy Shanahan, MBA '11, comprised the winning team.
Each team was given a packet of information outlining the strengths and weaknesses of a mock technology company. Using this information, students created and executed sales strategies and went on several "sales calls," trying to sell their product to the competition's judges.
"The simulation is a negotiation in which students use market intelligence and handle quickly changing industry conditions to persuade the IBM manager to make a deal," said Charles Lindsey, assistant professor of marketing in the School of Management and a competition judge. "Participants need to demonstrate strategic thinking, marketing and sales expertise, ethical decision-making, leadership skills and a winning attitude."
In addition to Lindsey, six IBM professionals served as judges for the competition: Samuel Barbera, MBA '83, Cognos account executive; Anthony Carubba, MBA '08, ITS contract financial analyst; Bill Deck, business transformation manager, finance; Christine Mackay, university recruiting and new hire education manager; Erin O'Brien, MBA '00, open infrastructure offering, business development executive; and Rachel Weissfeld, software sales specialist.
The top two teams prepared presentations documenting team dynamics, strategic thoughts, leverage of competitive positioning and adaptive techniques used during the simulation. The overall winner was selected based on presentation content, quality and effectiveness.