Insights...

News about faculty and their research
New faculty 2010-11

Ru
The School of Management added three new faculty members to its accomplished team in August.
Jun Ru joined the school as an assistant professor in the Operations Management and Strategy Department. He has a doctorate in operations management and a master's in supply chain management from the School of Management at the University of Texas-Dallas. He also has a master's in operational research from the School of Management at Lancaster University, UK, and a bachelor's in mechanical and power engineering from Shanghai Jiao Tong University in China.
Ru has extensive interest in researching and teaching supply chain management. His current research focuses on new business practices in the retail industry, such as consignment, vendor-managed inventory, store brand introduction, direct marketing and e-business. In particular, he has investigated the impacts of inventory decision-making, supply chain contract, and customers' store loyalty on supply chain performance.

Sanborn
Robert H. Sanborn is an associate professor in the Accounting and Law Department. He has a doctoral degree from the University of Georgia, an MBA from Boston University and a bachelor's degree from Johns Hopkins University. He also attended the University at Buffalo for 30 credits of accounting coursework.
Prior to joining UB, Sanborn served on the faculty of the Robins School of Business at the University of Richmond since 1992 as an assistant professor and associate professor. He held visiting associate professor roles at Massey University in New Zealand in 1995 and the University at Buffalo in 2001-02. From 1988-92, he was an assistant professor in the McIntire School of Commerce at the University of Virginia. He also worked from 1973-77 as a staff accountant at P.G. Bixby & Co. (now Deloitte & Touche).

Wu
Chunchi Wu joined the school as the M&T Professor of Banking and Finance in the Department of Finance and Managerial Economics. Wu has a doctoral degree from the University of Illinois at Urbana-Champaign, a master's degree from Western Illinois University and a bachelor's degree from National Chengchi University. He also attended the Graduate School of Business Administration at National Chengchi University for a time before coming to the U.S.
Wu's research interests are in fixed income analysis, asset pricing and market microstructure. His teaching interests are in investments, empirical finance and fixed income analysis.
Wu's extensive experience includes positions as professor, associate professor and assistant professor of finance at Syracuse University from 1982-2007. He was director of the Ballentine Center for the Study of Securities Markets from 1993-2003 and chair of the Finance Department, Syracuse University, from 1987-90. He also served as a consultant from 1988-2002 at the World Bank Economic Development Institute.
Corporate bailouts
Do corporate bailouts actually work? According to a recent study, some bailouts work better than others, depending on the conditions surrounding them.
In a study of post-bailout performance of 104 corporate bailouts in 21 countries between 1987 and 2005, researchers found that in certain circumstances, bailed-out firms eventually recover to a point where their post-bailout performance is at least as good as before the bailout.

Kim
Kenneth Kim, associate professor, and Zhan Jiang, assistant professor, both in the School of Management, and Hao Zhang, assistant professor at the Rochester Institute of Technology, were somewhat surprised by their findings, because, "bailouts imply rescuing a firm that capital markets are unwilling to serve." But closer investigation revealed the degree to which firms recovered depended upon several factors.
Firms with the best recovery were those that experienced declines in performance less than a year before their bailout. These "sudden decliners" experienced a recovery of about 117 percent. Firms that had more prolonged declines (one to three years) before being bailed out only recovered to about 93 percent of their previous value.
Kim and his colleagues contend that sudden decliners probably experienced some type of external shock beyond the firm's control, such as a change in the industry, the 9/11 terrorist attack or the Asian financial crisis.
"This means that it makes more sense to rescue firms that have been otherwise strong than to keep afloat 'prolonged decliner' firms that have been weak or inefficient for some time," says Kim.
In addition, bailed-out firms that were distressed primarily because they had problems servicing their debt recovered better than bailed-out firms that were distressed because they were unprofitable.

Jiang
"Again, this makes sense," says Kim. "The former were profitable; they just needed a hand."
How companies were bailed out and who bailed them out also impacted bailout success.
Companies bailed out through debt relief had recovery that was 16.7 percent greater than companies that were bailed out with cash injections. The researchers speculate that this is because cash is easier to mismanage. In fact, the researchers found that in the year after a cash bailout, executive and employee compensation increased.
"Essentially, this suggests that executives of firms that receive cash as part of their bailout almost immediately give their employees and themselves raises," says Kim.
Finally, firms can be bailed out by governments, shareholders and, in bank-centered economies such as Germany and Japan, banks can bail out their client firms. Kim and his fellow researchers found that firms recovered more fully from nongovernmental bailouts. They offer three explanations for this finding. First, governments don't monitor firms post-bailout as closely as large shareholders and banks. Second, governments may bail out a firm to keep people employed or to keep the economy going, regardless of the firm's performance. And third, governments are more inclined to bail out firms with government connections.
These findings, the researchers say, provide important considerations for the public and policy-makers.
Ramesh recognized for contributions to international education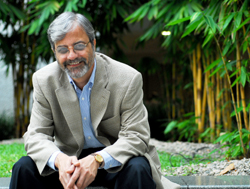 Ramaswamy Ramesh, professor and chair of the School of Management's Department of Management Science and Systems, was among five UB faculty members recognized by the UB Council on International Studies and Programs (CISP), which presented its 2010 Awards for Outstanding Contributions to International Education during its annual awards luncheon in December. Ramesh and the other four recipients were honored for their exceptional contributions to UB's international studies and programs, including study abroad, area studies, international research and outreach, services and support to international students and scholars and institutional affiliations overseas.
Talukdar promoted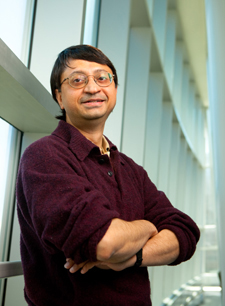 Talukdar
Debabrata (Debu) Talukdar was promoted in September to full professor in the School of Management's Marketing Department.
An award-winning scholar, Talukdar has worked extensively as a business strategy and public policy expert in both private and public sector multinational organizations. His primary research interests lie with quantitative modeling and empirical analyses of issues related to economic development and marketing of both private and public goods to consumers.
Talukdar recently received one of four research fellowships for 2010-11 through the University at Buffalo's Civic Engagement and Public Policy Strategic Initiative (CEPP). In partnership with the World Bank's African division, he is conducting a systematic empirical study of slum dwellers in several cities across sub-Saharan Africa.
Talukdar has presented his research at various international conferences, and his work has been published in leading journals such as the Journal of Public Policy and Marketing, Marketing Science, Journal of Consumer Research and Journal of Marketing Research.
He has a doctorate in marketing and applied economics from the University of Rochester, a master's degree in international development from the Massachusetts Institute of Technology and a bachelor's degree in mechanical engineering from Jadavpur University, India.
Savino cherishes adjunct role

Savino
For more than 30 years, William F. Savino has shared a wealth of real-world experience in his role as an adjunct instructor in the School of Management. Savino, a senior partner at Damon Morey LLP, has taught business law to undergraduate students since 1979.
"I find that teaching reinforces my knowledge of legal areas that I may not use on a daily basis," Savino says. "It also reinforces a critical skill needed for litigation, which is to be persuasive. When you teach, you must persuade. The students seem very appreciative of someone coming back from the real world to tell them what to expect."
Savino is chair of the Business Litigation and Insolvency Department at Damon Morey. He is admitted to practice in New York (including all four districts of its federal courts) and Ohio, as well as the Second and Eleventh Circuit Courts, and has served as chair of the Bar Association of Erie County's commercial law and bankruptcy committee. He recently was selected by his peers for inclusion in The Best Lawyers in America 2010 in the fields of both creditor-debtor rights law/commercial litigation and bankruptcy, and has been named to Business First of Buffalo's "Who's Who in Law" list for the past six years.
In addition to teaching in the School of Management, Savino teaches commercial litigation in the UB Law School, his alma mater.
"Bill has provided a great opportunity for our undergraduate students to interact with one of the most qualified professionals in the Buffalo law community," says Kate Ferguson, associate dean of academic programs. "This real-world exposure offers our students an excellent class experience that will serve them well over time."
Mastering new products
Intense, hands-on trial periods are the best way for consumers to learn how to use new products, according to a new study in the Journal of Consumer Research. In addition, this type of learning increases consumers' enjoyment of the product, which can lead to higher customer loyalty.

Lakshmanan
The research was conducted by Arun Lakshmanan and Charles D. Lindsey, both assistant professors of marketing in the School of Management, and H. Shanker Krishnan, professor of marketing and Whirlpool Faculty Fellow in the Kelley School of Business at Indiana University.
"With the proliferation of consumer devices such as the iPhone, Wii, digital cameras and various kinds of software applications, consumers face the challenge of learning to use new products," according to the authors.
"It is commonly thought that if you break up learning sessions and distribute them over time, better learning is achieved," Lakshmanan says. "But we found that when it comes to learning new skills, such as those to use electronic devices, it is better to have intense learning in one session."
Through clinical trials, the researchers found that subjects who had one intense session of trial with a new product learned to use it better than those who had three trials spaced over time.
Lindsey
"Not only that, we also found that people who learned how to use it in one sitting tended to like the product more," Lakshmanan says.
This increased enjoyment can have long-range benefits to the companies that make the devices.
"Nowadays, you are not just buying a product, you are buying a platform," Lakshmanan says. "When you purchase an Xbox, for example, you are also in the market to buy more games and add-ons to the system.
"If the customer learns how to use the original system in a way that fosters enjoyment of the product, the company can have a customer for life," Lakshmanan says.
Dean's Fellowship for Teaching Excellence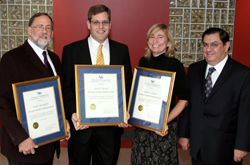 Three School of Management faculty members received the Dean's Fellowship for Teaching Excellence in recognition of their exceptional work in the classroom. From left: Frank Krzystofiak, associate professor of organization and human resources (2009 recipient); David Murray, associate professor of management science and systems (2010 recipient); Natalie Simpson, associate professor of operations management and strategy (2010 recipient); and Arjang Assad, dean of the School of Management, who presented the awards at the fall faculty meeting.