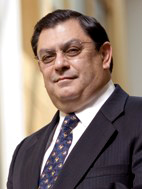 A Message from the Dean
A World of Change
It is a great honor to be writing to you as dean of the University at Buffalo School of Management. In the short period since the start of my appointment on August 1, I have already been impressed with what I have learned about our caring and actively engaged alumni. From volunteers for MBA Advantage, our award-winning orientation and professional development program, to student mentoring, to advisory boards and councils, it is wonderful to see so many strong and productive ties to the school among our 29,000 alumni.
In my short time here, I also have been impressed with the superb dedication of our faculty and staff. It is a tribute to them and to the leadership of John M. Thomas that the School of Management has fared so well. With the strong foundation that is already in place, I am confident that the School of Management is poised to move to an even higher standing among business schools.
As we begin a new academic year, I look forward to gaining a greater understanding of the school, the university and the wider community and exploring the many possibilities for collaboration and success. I will be looking for ways to substantially enhance our existing strengths, but will also seek new initiatives and paths of success. As the School of Management embarks on this journey, I will need your thoughts, guidance and support as the key stakeholders in the continuing success of the school.
As you read this issue of Buffalo Business, you will find many examples of the exciting initiatives under way at the School of Management. Winners of our spring competitions are featured in Start-Ups as is our recent collaboration with Fisher-Price and EDS for our e-commerce class. Our faculty are demonstrating thought leadership through timely and innovative research, which you will see highlighted in Insights and NewsBites.
The success of our community outreach efforts is evident in our Stepping Up and Community Impact sections. And our cover story focuses on how several of our alumni are blazing the trail in their efforts to offer alternative energy to the masses.
In our next issue, I will share with you some of my goals and objectives for the School of Management, and in the meantime, I welcome your thoughts and ideas.
Sincerely,
Arjang A. Assad
Dean