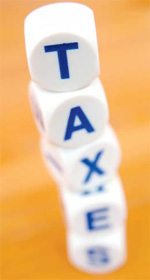 Stepping Up...

celebrating those who make a difference to the School of Management
Students Devote Hundreds of Hours to Volunteer Tax Preparation
How did you spend your weekends as a college student?
Studying? (Maybe.)
Hanging out with friends? (Sure!)
Maybe going to a party or two? (We'll never tell.)
How about spending some quality time with a few dozen 1040 forms? No?
Believe it or not, more than 100 accounting students from the School of Management chose to do just that, spending their precious weekend free time last spring preparing tax returns through the Volunteer Income Tax Assistance (VITA) program.
Members of UB's chapter of Beta Alpha Psi, the national honor society for accounting and finance students, led the initiative and racked up some impressive numbers. In total, 138 IRS-certified students provided more than 1,400 hours of service over the course of 16 Saturdays and Sundays in February, March and April. They prepared nearly 400 tax returns for individuals and families with annual incomes below $40,000.
The result? Their efforts brought nearly $235,000 in tax refunds back into the Buffalo community, and many area residents got to know their collegiate neighbors for the friendly, helpful, outstanding students they are.
"We were especially pleased that nearly $44,000 of the total was a result of the Earned Income Credit, which targets low-income families in need of additional financial support," says Michael Steenberge, a junior in the School of Management and co-chair of Beta Alpha Psi's VITA committee. "It means that we helped a number of families who needed it most."
"These students did such a great job and they were incredibly well organized," says Dietra D. Grant, territory manager of the Internal Revenue Service's Stakeholder Partnerships, Education and Communication Office. "We're very appreciative of the successful partnership we've forged with the University at Buffalo and their Beta Alpha Psi chapter over the years."
Steenberge says that providing outstanding customer service was as much of a goal as the actual paperwork on the returns.
"We stressed to our volunteers that the person being served has to feel comfortable with what you are doing," he says. "It can be difficult to break the ice with a complete stranger and get him or her to trust you. We never wanted anyone to feel they had to accept our work if they weren't comfortable."
"It was great to see the hard work of these sharp, dedicated students enhancing the positive reputation the School of Management has earned in our local community."

- Professor Alex Ampadu
Faculty Advisor to Beta Alpha Psi
Overwhelmingly, however, that was not the case. Steenberge recalls one individual who, even though he was told he owed money, felt so confident in the work the students did that he said he would not only return next year, but also recommend the service to his friends.
"The first time I did a return, it was very intimidating," admits junior Theresa Chambers. "After that, you have so much more confidence."
Chambers was pleased to be part of a service that so many people appreciated. "One guy was in medical school and had so much on his mind," she says. "He was really relieved to know that his taxes were being taken care of the right way and that he didn't have to worry."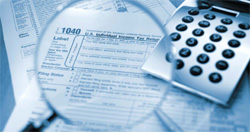 For some people, the news that they would be receiving a tax return was overwhelming.
Marcos Manunta, a sophomore, worked with one individual who, after attempting to do his taxes himself, came in thinking he owed $6,000 to the government. After Manunta finished his paperwork, the client wound up instead receiving a $300 refund.
"The gentleman said, 'Is it okay if I leave and come back? I want to go to my bank so I can give you some money,'" Manunta says. "I had to tell him that we couldn't, under any circumstances, accept gifts for our work."
Manunta served the most hours of any student volunteer, logging 112 hours preparing returns this year. Not surprisingly, he will serve as one of the VITA program's co-chairs next year.
"It was definitely one of my best experiences," Manunta says. "Not only was I able to give back to the community, but this also has opened a lot of doors for me. The experience and confidence I gained helped me walk out having grown as a person."
"The program was an outstanding success," says Professor Alex Ampadu, faculty advisor to Beta Alpha Psi. "It was great to see the hard work of these sharp, dedicated students enhancing the positive reputation the School of Management has earned in our local community. They were extremely proud to be helping the community, and I am equally proud of them."