Insights...

news about faculty and their research
Research studies teens' attitudes about online privacy
Think protecting young teenagers on the Internet is important? Then be sure they think it's important, too, according to a forthcoming article in IEEE Transactions on Professional Communication.

Rao
The study, conducted by H.R. Rao, professor of management science and systems in the School of Management, Sangmi Chai, PhD candidate in the Department of Management Science and Systems, Sharmistha Bagchi-Sen, professor of geography at UB, Claudia Morrell, executive director, Center for Women and Information Technology at the University of Maryland, and Shambhu Upadhyaya, professor of computer science and engineering at UB, was supported by a National Science Foundation grant.
The researchers surveyed 285 preteens and early teenagers, both male and female, to see how important they felt it was to protect their privacy online and if those beliefs affected what actions they took to protect their privacy. Students were asked whether they protected their personal information on the Internet, whether they opened e-mails from unknown senders and whether they downloaded files from unknown people or Web sites.
They found that preteens and early teenagers who were educated on the importance of Internet privacy through school, parents or the media were more likely to practice online safety than those who weren't. Furthermore, among teachers, peers and parents, the researchers found that parents were the most influential.
A surprising result of the study was that experiencing a privacy breach online did not seem to have an effect on improving online safety practices. Students who experience Internet privacy breaches or computer security problems show less protective behavior on the Internet, increasing the chances that they will be victims again in the future.
Another interesting finding was that girls showed more of a tendency to practice protective behavior on the Web. The researchers believe this is because girls consider online privacy more important than boys do.
Newman awarded for fast food article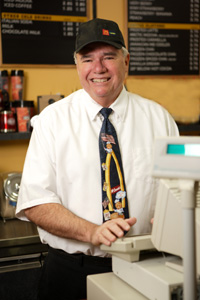 Jerry Newman, chair of the Department of Organization and Human Resources and SUNY Distinguished Teaching Professor, was honored with an award for Best Feature Article by the Society of National Association Publications (SNAP).
The article, "Compensation Lessons from the Fast Food Trenches," appeared in the March 2007 issue of workspan, the monthly magazine of the WorldatWork Association. It was chosen as the best article from magazines with subscriptions (membership) of 20,001 to 50,000.
In the article, Newman describes what he learned while working "undercover" at several fast food restaurants as he conducted research for his book, My Secret Life on the McJob: Lessons from Behind the Counter Guaranteed to Supersize Any Management Style (McGraw Hill).
"If my small study is indicative, it is clear that rewards in low-wage firms don't always closely track practices we discuss in typical compensation texts and articles," Newman wrote. For example, he found that the traditional idea of a "labor market" needs to be rethought in order to understand why fast food workers will accept lower wages from one restaurant when another, perhaps in the same franchise and only a few miles away, offered better wages.
"For blue-collar and office jobs, academics often think about Standard Metropolitan Statistical Areas (SMSAs), or perhaps even cities, as being the competitive market," Newman wrote. "But it appears that low-wage jobs are competitive within micro-labor markets, perhaps as small as a few city or neighborhood blocks." Why? Because many of the workers do not have reliable transportation. "In virtually every store I worked, multiple crew members walked, rode bikes or even skateboarded to work."
Additionally, Newman found that many workers will accept lower wages because the job could offer hours that met their scheduling needs. "Sometimes flexibility trumps cash," he wrote.
Goodwill to all?
Goodwill write-offs are managers' public admission that they overpaid for a company in a merger or acquisition, according to a recent study by Feng Gu, assistant professor of accounting in the School of Management.
Gu and fellow researcher Baruch Lev, Philip Bardes Professor of Accounting and Finance in New York University's Stern School of Business, set out to determine whether goodwill write-offs are a product of good investment decisions or a consequence of bad ones.

Gu
Goodwill is the balance sheet term for the value of certain intangible assets like brand or reputation. Under current accounting rules, companies and their auditors must annually examine stock prices, cash flows and other indicators to verify that the value given to goodwill has decreased. If it has, the value is adjusted downward to more realistically represent its current value. That adjustment is called a goodwill write-off.
The researchers traced the performance of 504 "goodwill-impaired" firms and found that after three years, 20 percent went bankrupt or were acquired. Furthermore, of the firms that made it through the third year after the write-off, the overall stock returns were negative.
Gu and Lev concluded that while many companies view such write-offs as uneventful, overpaying for acquisitions is a losing proposition for shareholders and can have serious consequences.
In addition to a negative market reaction, private and social consequences of such ill-advised acquisitions include massive employee layoffs, plant closings and a decrease in innovation investment.
Trivedi studies role of travel agents in Internet age
With the rising use of the Internet to book hotels, what is the current role of the travel agent? It depends on who is doing the traveling, according to a recently published study in the Journal of Services Marketing.

Trivedi
The study, conducted by Minakshi Trivedi, associate professor of marketing in the School of Management, Kalpesh Kaushik Desai, assistant professor of marketing at Binghamton University, State University of New York, and Michael S. Morgan of Nexus Business Information in Texas, found that a travel agent's role can vary greatly, depending on whether clients are business or vacation travelers.
What business travelers need most is a "good clerk," the researchers say-someone who can access information quickly and book transactions accurately.
"Conversely, vacation travelers interested in amenities such as quality food and recreational facilities, and who engage in vacation travel more often than average, were likely to value the personal experience of the agent, and to involve the agent in the hotel choice decision," the writers stated.
Therefore, different skills are required of agents to service either business or vacation travel, the researchers concluded. They also noted there is strong evidence that agents will often recommend a "safe" choice, such as a specific hotel, in order to ensure customer satisfaction and repeat business.
The study was based on survey results from 198 hotel consumers and the corresponding travel agents used to book hotels during a six-month period.
Balkundi researches friendships within teams
Contrary to popular belief, having a diverse group of people working together is not always the best way to get the job done. What's really important is the level of friendship among the team members-as long as it's the right level, according to a study recently published in the Journal of Organizational Behavior.
Balkundi
The study by Prasad Balkundi, assistant professor of organization and human resources in the School of Management; Martin Kilduff, Kelburg-King Ranch Centennial Professor of Management at the University of Texas at Austin; Zoe I. Barsness, associate professor of management at the University of Washington Tacoma; and Judd J. Michael, associate professor of sustainable enterprises at The Pennsylvania State University, found that whether or not there are gaps between the various friend relationships of members has more of an effect on the team's performance than the amount of ethnic or gender diversity among the members.
Gaps between friend relationships occur when, for example, John is friends with Mary, Mary is friends with Bill, but John is not friends with Bill. The technical term for this in social network analysis is "structural hole."
Teams with a moderate number of structural holes (or gaps in the network of friends) performed better than teams with either very large or very small structural holes among the members, based on a study of 19 work teams at a Fortune 100 manufacturer.
In moderation, structural holes allow for the teams to access the various members' distinct knowledge and also use that knowledge to their advantage because of good communication among the members. "Fewer structural holes, such as in cliques, may have better communication, but can drive out creativity," Balkundi says. "Completely fragmented groups with large gaps between members cannot even get together to function. This is why moderate levels of structural holes are best."
Another interesting finding from the study was that diversity in age does not inhibit friendships among team members and can actually protect a team from fragmenting, even if a team has a significant amount of ethnic or gender diversity. This led the researchers to conclude that managers who desire more cohesive teams may seek to include both older and younger members.
The research was supported by a grant from the U.S. Department of Agriculture's National Research Initiative.
Faculty members honored

Kim
Kenneth Kim, associate professor of finance and managerial economics, was honored with a 2008 State University at New York Chancellor's Award for Excellence in Teaching, which recognizes those who consistently demonstrate superb teaching at the undergraduate, graduate or professional level.
Kim is an expert in corporate governance. His research has been cited in Financial Times, the Chicago Tribune, MSNBC.com and scholarly publications. He is the coauthor of two books, Infectious Greed and Corporate Governance.
Kim received a bachelor's degree from the University of Michigan, an MBA from the University of Detroit and a doctorate from the University of Rhode Island.

Suresh
Nallan Suresh, professor and chair of the Department of Operations Management and Strategy, has been named a UB Distinguished Professor, a rank created by the UB Office of the Provost to honor full professors who are nationally or internationally recognized as leaders in their fields.
Suresh is a leading expert in supply chain management and was instrumental in developing the Master of Science and MBA program option in the field of supply chains at the School of Management. He has previously received the UB Provost's Exceptional Scholar/Sustained Achievement Award.
Suresh received a bachelor's degree from the Indian Institute of Technology, an MBA from McMaster University and a doctorate from the University of Cincinnati.