Start-Ups
CRC, CEL name new directors

Appelbaum
Gwen S. Appelbaum has been appointed assistant dean and director of the School of Management's Frank L. Ciminelli Family Career Resource Center (CRC).
Appelbaum worked at National Fuel Resources for 11 years, most recently as manager of New York sales. Prior to that, she served as a financial analyst at the Federal Reserve Bank of New York in New York City.
She received an MBA from the School of Management in 2001 and also has a bachelor's degree in economics from Hobart and William Smith Colleges. She is a 2007 graduate of Leadership Buffalo.
Thomas R. Ulbrich is the new director of the School of Management's Center for Entrepreneurial Leadership (CEL).

Ulbrich
An entrepreneur, Ulbrich is president and CEO of Ulbrich's Garden Center and Mow More Supplies in Alden. He left the day-to-day operations of his businesses to his general managers after assuming his new role in the CEL.
Ulbrich is a graduate of the School of Management's Executive MBA program, as well as CEL's Core program. He has remained active in CEL, serving as a reactor in the Core program, a coach in the Henry A. Panasci Jr. Technology Entrepreneurship Competition and on CEL's advisory board.
Ulbrich is active in the National Federation of Independent Business and serves as vice chair of its New York State Leadership Council, where he advocates for small businesses and lobbies state and federal legislative branches on small business issues.
Roll call

Sessa
Jill Sessa was appointed assistant director of development in the School of Management last October. A native of Long Island, Sessa is a 1994 graduate of UB and for the past 12 years has owned and operated her own fitness business. An ardent volunteer, she has been involved in donor engagement and solicitation, strategic planning and event planning and implementation for various nonprofit agencies in Buffalo. In her role here, Sessa oversees the continued growth of the school's annual gift program. She also is developing a portfolio of major gift prospects and carries out special assignments in support of the school.

Gardner
Carrie Gardner joined the School of Management in April as the director of credit-bearing internships and projects. Most recently, she served as associate director of on-campus recruitment for UB's Career Services Office. Prior to that, Gardner worked for three years as director of Indiana University's Internship Opportunities Program. She also has worked closely with Western New York companies and human resources professionals and executives as a senior consultant with Right Management Inc. She is now responsible for overall administration of the internship office and assists employers interested in offering credit-bearing internships for School of Management students.
Spring competitions
Case competitions, in which candidates analyze a business situation and develop strategic recommendations, are an outstanding way for our students to hone the teamwork, problem-solving and analytical skills for which our graduates are so well known. At the same time, corporate representatives who sponsor the events get a preview of the best and brightest employment candidates.
Below are the sponsors and winners of last spring's competitions.
Steven C. Verney First-Year MBA Case Competition, sponsored by Steven C. Verney '80, MBA '81:
Liz Blazey, Abhishek Chandan, Adam Mackay, Peter Ruocco and Hui Keow Yeo.
Second-year MBA case competition, sponsored by Columbus McKinnon, Ernst & Young and Moog:
Alexandra Andrianova, Jonathan Davis, David Hansen and Timothy Silverstein.
On Target Undergraduate Case Competition, sponsored by Target Corporation:
Bevano Lianto, Andrew Widjaja, John Willett and Qiliang Yu.
In addition to our case competitions, our students and alumni participate in several business plan competitions. Through these events, participants develop working business plans for the launch of new ventures. Awards may be in the form of start-up capital or scholarships.
Below are the sponsors and winners of the spring business plan competitions.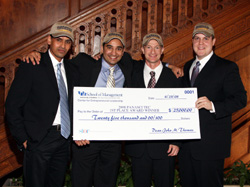 2008 Henry A. Panasci Technology Entrepreneurship Competition winners (from left): Indrajit Roy, Krishnan Chakravarthy, Thomas Sass, MBA '04, and Darren Leskiw, MBA '09.
Henry A. Panasci Jr. Technology Entrepreneurship Competition, funded with a $1 million endowment from the late Henry A. Panasci Jr., UB alumnus and former CEO of Fay's Inc., and sponsored by the UB School of Management and the UB Office of Science, Technology Transfer and Economic Outreach:
Krishnan Chakravarthy, Darren Leskiw, MBA '09, Indrajit Roy and Thomas Sass, MBA '04, won first prize for their proposed business, NanoAxis, a nanotechnology company that will design and manufacture specialized quantum dots for biological applications. The first-prize package included $25,000 in seed funding, one year of legal services from Jaeckle Fleischmann & Mugel, one year of accounting services from Bechtel, Kopin & Company PC and one year of office space supplied by North Forest Office Providers.
Thomas Dougherty Award in Entrepreneurial Studies, a business plan competition sponsored by Roswell Park Cancer Institute (RPCI) Office of Technology Transfer:
Michael Brako-Bismarck, MBA '09, Max Buetow, MBA '09, Scott Eidens, MBA '09, Luke Kankiewicz, MBA '09, and Ezra Staley, JD/MBA '09, won the top prize, $15,000 in tuition reimbursement, to be shared among team members.
The School of Management is deeply grateful to all sponsors, coaches and judges who make these events possible.
E-commerce MBAs present proposals to Fisher-Price
The MBA students in Professor H. Raghav Rao's e-commerce class gained real-world business experience during the spring semester while investigating solutions for corporate e-commerce issues at Fisher-Price.
"We described to the class our e-commerce environment and highlighted a few problem areas and challenges," says Kumar Madurai, director of enterprise architecture at Fisher-Price. The students worked with staff members at Electronic Data Systems (EDS) to formulate proposals that were presented to Fisher-Price in May.
"The students focused on the business partner's IT governance, data warehousing, data management and technical environment while addressing the need for expansion of their e-commerce platforms," says Carl Skompinski, senior consultant - security (IT) at EDS.
"I found UB's MBA students very engaged with this year's business partner, wanting to understand their business needs in order to develop viable solutions," Skompinski says. "The creativity, desire and skills of the graduate students were evident in their proposals and presentations."
Fisher-Price's Madurai concurs. "I was impressed by the diversity of the proposals presented," he says. "It was interesting to observe that some of the ideas and projects the students proposed were already in the works at Fisher-Price.
"These types of courses, with the feedback from industry, definitely help the students address the challenges of anticipating real-world hurdles, how to overcome them, and how to infuse those ideas into the solutions they propose," Madurai says. "The model of having EDS as mentors certainly provides a very good structure to steer the students in the right direction."
Jain establishes awards to honor mentors

Jain
Arun Jain, Samuel P. Capen Professor of Marketing, and his wife, Jean, have generously funded two awards to recognize School of Management students who have made a significant contribution to international understanding. The awards also serve to honor individuals who played a significant role in Jain's personal and professional life.
The Dr. Marcel and Mrs. Kathryn Vinokur Award is named in honor of Jain's host family when he was a student at Stanford University. The award recognizes the non-North American, second-year MBA student who in the eyes of the MBA awards committee has contributed the most to promote global understanding between international and domestic students in the School of Management's MBA program.
The Dr. Jerry and Mrs. Dina Wind Award is named in honor of Jain's doctoral committee co-chair and his wife. The award recognizes the U.S.-born, second-year MBA student who in the eyes of the MBA awards committee has contributed the most to promote the understanding of and friendship towards the U.S. among international students in the MBA program.
The recipients of each award will be announced during commencement exercises and receive a $500 prize.
School of Management partners with U.N. Capital Development Fund to expand microfinance education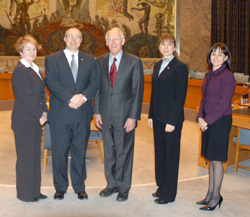 Pictured at the United Nations are (from left) Lynne Rosansky, vice provost, Levin Institute; James Utermark, acting director, SUNY Center for International Development (CID); John M. Thomas, outgoing dean, School of Management; Karen Glenski, deputy director for international operations, CID; and Maryalice Mazzara, special assistant to the provost, Levin Institute.
The UB School of Management, the University at Albany's Center for International Development (CID), the Levin Institute and the United Nations Capital Development Fund (UNCDF) in March signed an agreement to expand a microfinance training program that explores why and how microfinance operations grow to provide financial services to low-income people on a sustainable basis.
Microfinance is focused on providing basic financial services to the poor, including small loans, consumer credit, savings, pensions, insurance and money transfer services.
The Microfinance Distance Learning (MFDL) course, which was developed by UNCDF for Web, distance learning and classroom delivery, brings together advice and best practices from successful microfinance practitioners and institutions around the world, from Latin America to Africa to Asia and the Arab States.
With the signing of the agreement, the State University of New York (SUNY), through the UB School of Management, the CID of the Rockefeller College, University at Albany and the Levin Institute, will further develop and deliver the MFDL to a broad audience.
"The Microfinance Distance Learning program represents a significant innovation for organizations engaged in the critical work of creating opportunities for building entrepreneurship and small business in emerging economies," said outgoing School of Management Dean John M. Thomas.
"It is also a unique opportunity for the School of Management to apply our expertise in management education to this important goal," he added. "We look forward to working with our SUNY partners and the U.N. Capital Development Fund to make this project a long-term, sustainable success."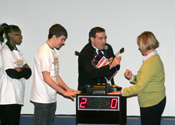 Quizmaster Dennis George leads students and teachers through a lively question-andanswer session.
MoneySKILL Mania
Fourteen high schools registered and more than 70 students participated in "MoneySKILL® Mania," a financial literacy competition sponsored by the School of Management and M&T Bank.
The teenagers answered personal finance questions involving income, money management, spending, credit, saving and investing in a game show-style format hosted by local quizmaster Dennis George.
The event was designed to increase awareness of MoneySKILL, a free, interactive Internet curriculum, designed to educate students to make informed financial decisions.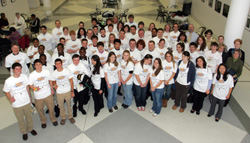 More than 70 students and their teachers enjoyed the "MoneySKILL® Mania" competition held at the UB Center for the Arts.
"We wanted to get the word out to area high school teachers, principals and students and to encourage the use of MoneySKILL in the classroom," says Cynthia Shore, assistant dean of corporate and community relations. "We also wanted to reward students and teachers who were already successfully using the curriculum, and we thought a 'money bee' would be a fun way to do so."
MoneySKILL was developed by Lewis Mandell, professor of finance and managerial economics, in collaboration with the American Financial Services Association Education Foundation.
Financial-literacy scores of high school seniors hover in the low- to mid-50 percent range, according to Mandell, who, since 1997, has conducted a biennial nationwide survey for the Jump$tart Coalition for Personal Financial Literacy to determine how well 12th graders know the basics of personal finance.