Alumni Engagement and External Relations | Join the School of Management Alumni Association
School of Management Alumni Association Sponsors | School of Management Alumni Association Board
Alumni Impact
Connect. Network. Achieve.




Managing Generations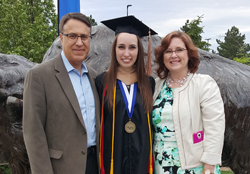 Joseph, Victoria and Pamela Lojacono outside UB's Alumni Arena for Victoria's commencement in May. (Photo: Caroline Lojacono)
When Victoria Lojacono, BS/MBA '15, walked across the stage of UB's Alumni Arena in May, she became the second generation in her family to graduate from the School of Management.
Her parents, Pamela '81, MBA '82, and Joseph '79, MBA '80, met in the basement of Crosby Hall on South Campus when they were students.
Both were active in school clubs: Joe was president of the marketing club and was founder and editor of the school's student newspaper, The Entrepreneur. Pam was the founding president of the school's student chapter of Beta Alpha Psi, which Victoria would be a member of nearly 35 years later.
Joe says that he and Pam didn't pressure their daughter to enroll in the School of Management. Victoria says it was a natural fit and she is proud to carry on the family tradition.
"My parents are supportive of everything I do, so it didn't matter which field I chose," says Victoria. "I have always liked numbers and working with people, and pursuing a business undergraduate degree and an MBA allowed me to do both."
Today, Joe is president of Valmark Associates LLC and Vicar Industries LLC. Pam serves in UB's Office of Policy and Operational Excellence. And following graduation, Victoria joined Ernst & Young in the advisory line as an internal audit staff member on the risk side.
While the Lojaconos' story might seem unusual, a child following in the footsteps of his or her parent through the halls of the School of Management is more common than you may think.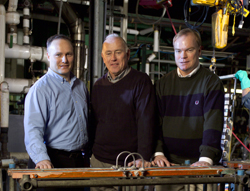 Kevin, Michael and Tim Deakin at Val-Kro Industrial Plating Inc. (Photo: KC Kratt)
Part-time student, full-time dad
Michael Deakin '68 attended the School of Management for eight years, taking courses part time while working full time and raising a family.
Of that family, three of his four children—Kevin '91, Christopher '91 and Daniel, EMBA '03—also eventually became School of Management alumni. Though, like the Lojaconos, Mike says he didn't sway their decision to attend the school.
"The school's reputation, low cost and proximity were the major influences," says Mike, president of Val-Kro Industrial Plating Inc. and Pellets LLC. "Although because of these factors I'm sure I helped lead them along."
Kevin started out in biomedical sciences but switched majors along the way to join his brother Chris in the School of Management, where they ended up in the same accounting class. They graduated together in 1991.
So Kevin, who started out on the path to become a doctor, instead became a CPA and currently serves as CFO of Val-Kro Industrial Plating Inc. and Pellets LLC. And Chris, who started out in business school, is now a psychiatrist. Third brother Dan serves as manager of desktop and mobile services for UB.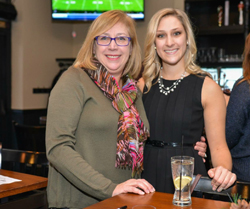 UB mother/daughter engineer MBAs Ann and Jenna Wegrzyn. (Photo: Christopher Eglin)
Mother/daughter engineer MBAs
Jenna Wegrzyn, MBA '14, first discovered the school's MBA program as a freshman in the School of Engineering and Applied Sciences.
Her mother, Ann, MBA '90, also earned her bachelor's from the engineering school and later an MBA from the School of Management. Ann says she researched the MBA with Jenna and they both decided it was the best option.
"I offered my opinion that this was a wonderful opportunity to get her MBA while she was still in 'school mode' and before she started what could be a very demanding work schedule," says Ann.
Ann says the biggest change in the school since her time here is the emphasis on team assignments and programs like LeaderCORET.
Ann serves as vice president at National Fuel Gas Distribution Corp. and Jenna is manufacturing and engineering associate at General Mills Inc.
Jenna says her MBA helped distinguish her from other engineers in the job market.
"When I began working, I understood the importance of a budget, how to work with a team with differing priorities, and my own skills and opportunities," says Jenna. "I gained an appreciation for all aspects of a business."
The top choice
During her college search, Meghan Lafferty '08, MBA '13, applied to nine colleges and was accepted at all of them.
Her dad, Timothy Lafferty '86, had no qualms about persuading her to pick UB and the School of Management.
"I absolutely influenced—or tried to influence—Meg's decision, but she was a good sport about it," says Tim.
"I based my decision on UB's academics and athletics," says Meghan. "Well, that and reviewing my carefully prepared spreadsheets that included projected cost, benefits and a break-even analysis."
Tim is vice president of sales and marketing at JBM Computer Consultants Inc. Meghan is assistant vice president and senior auditor for HSBC Bank USA NA.
Extended family
These are just a few examples of the many families who have carried on the School of Management tradition. In addition, our cover story features Zandra Cunningham, part of a three-generation School of Management family . And, an Alumni Close-Up highlights Luis Cabrera '99, whose father, Antonio, graduated from the school in 1969.
Does your family have multiple generations of School of Management graduates? Share your story (and photos, if you have them) to the School of Management Alumni Facebook page at facebook.com/UBManagementAlumni or on Twitter, tweet them @UB_MgtAlumni.
- Kevin Manne