Startling Upstarts
How nine entrepreneurs turned innovative ideas into thriving businesses
By Matthew Biddle
No matter how you're reading this magazine, you can thank entrepreneurship. From the printing press inventor, Johannes Gutenberg, often considered the world's first tech entrepreneur, to the brilliant minds who built your computer, tablet and smartphone, it's visionary risk-takers who drive our economy and propel innovation.
Today, the entrepreneurial spirit is stronger than ever. The latest Kauffman Index of Entrepreneurial Activity, released in June, reported the largest year-over-year increase in new business creation in the past two decades.
Even more important, the report showed that opportunity entrepreneurs—those who weren't unemployed or searching for a new job before launching their ventures—represented nearly 80 percent of new business owners. In other words, more and more founders are choosing to dive into the crazy, uncertain world of business ownership.
"We often disagree over the definition of entrepreneurship. I argue it includes everything from microenterprises to Main Street businesses to high-potential ventures," says Tom Ulbrich, executive director of the School of Management's Center for Entrepreneurial Leadership (CEL), which offers peer- and mentor-driven programs to guide entrepreneurs of all levels. "Small to medium enterprises are often overlooked, but they are critically important to our economy and provide the fabric that knits communities together."
The nine entrepreneurs featured here represent a sample of the School of Management and CEL alumni worldwide who experience the daily highs and lows of growing a company—and achieve success.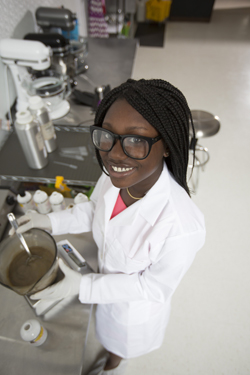 Cunningham mixes a batch of bamboo black soap in her Buffalo-based production studio. (Photo: Tom Wolf)
The Teenage Ambassador
Zandra Cunningham owns a line of 37 natural bath and beauty products, speaks and plans events to empower young girls, and is writing her first book—all while attending 10th grade.
At 9, Cunningham began researching and experimenting with making her own lip balm. By 10, she was selling products at area farmers markets and launched Azariah's Innocence LLC. Today, her company, rebranded as Zandra, ships products nationwide with different inspirational messages for teen girls on every label, like "You're unique and beautiful" and "Be true to who you are."
Mastering the business
In 2013, Cunningham enrolled in the Center for Entrepreneurial Leadership's Allstate Minority and Women Emerging Entrepreneurs program, which her mother and grandmother had both completed in 2007. The program taught the then 13-year-old important business lessons, and her mentor, Merry Constantino, president of ProductLogic, encouraged the successful rebranding.
"I knew how to make the products, but the program taught me about the finances and writing a business plan," Cunningham says. "Now, if I'm going to meet with investors, I know how to present myself because at the end of the program you had to present in front of a panel of judges. That was really scary."
Advocating for her peers
Cunningham uses her success as a platform to raise awareness about the importance of girls' education worldwide. She serves as an ambassador for the Day of the Girl movement and works with Girls Education Collaborative, a nonprofit that's building a school in Tanzania.
On the horizon, she plans to start workshops for budding "teenpreneurs" and launch the Zandra Beauty Ambassador program to give teens a part-time business selling her products.
"I want to inspire people and be a role model who speaks about girl empowerment," she says. "I want to make my products a vehicle for change, so 10 percent of all Zandra's net profits go toward girls' education."
A bright future
With three part-time employees, a growing wholesale business and high school graduation still three years away, Cunningham is planning a long career in business. She's living the messages on her products: "Dream big. Dream wide. Dream tall."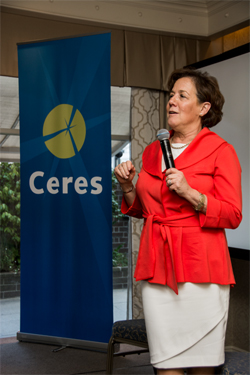 Photo: Rob Scheid
The Social Entrepreneur
As a teenager, Mindy Lubber '75, MBA '77, was disappointed her Long Island community lacked a recycling program—so she created one and convinced the town to adopt it. "I learned you could look at an issue, find a solution and work toward remedying it," she says.
She does the same thing today as president of Ceres, a nonprofit that rallies companies, investors and public interest groups to push for environmentally responsible business practices. Lubber was a founding board member when the organization launched in 1989.
"At Ceres, what we talk about—and why we exist—is integrating sustainability as a fundamental financial issue from the boardroom through the supply chain, through enterprise risk management and budget systems," she says.
Her inspiration
While studying at the School of Management, Lubber's passion for social causes grew after hearing political activist Ralph Nader speak on campus. She joined the New York Public Interest Research Group and, with UB faculty members, researched and lobbied for the Hearing Aid Sales Practice Act, which requires a prescription for hearing aids to prevent consumer fraud.
"Be willing to break the mold," she says to students today. "It's important to think about how to use the skills you're developing to build projects, campaigns, technologies and companies that improve the planet and the economy."
A force for change
Since Lubber was named president in 2003, Ceres has grown its company network to nearly 100 major corporations and launched the Investor Network on Climate Risk, a group of 117 institutional investors worth $13 trillion in assets committed to reducing climate change risks in their portfolios and seizing related economic opportunities.
Under her leadership, Ceres created the Global Reporting Initiative used by more than 6,000 companies worldwide to report their environmental, social and economic impacts. In 2010, Ceres successfully lobbied the Securities and Exchange Commission to mandate that publicly traded companies disclose climate and water risks in their operations.
While she's proud of these triumphs, Lubber says: "We still have a long way to go. We need to further embed sustainability into capital markets, so stock exchanges and rating agencies integrate these issues into their work. We need to reach supply chains and ensure these issues are mandated through compensation systems and the goals set by publicly traded companies."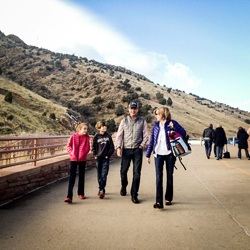 The Godzich family uses a Make Great Days bag in Colorado.
The Idea Man
Tim Godzich '88, MBA '89, studied accounting and finance before turning to entrepreneurship. His first startup, Definity Health, was the nation's first consumer-driven health care plan. When it was acquired in 2004 for $305 million, it served more than 500,000 customers across all 50 states.
Founded in 2007, his next venture, Liazon Corp., attracted national attention for its innovative model for an online health benefits marketplace, now commonplace under the Affordable Care Act. The company ranked No. 132 on the Inc. 500 list of the fastest-growing companies in 2012 and was bought a year later for $215 million.
Now, Godzich is on his next idea: Make Great Days Inc., a Denver-based lifestyle brand that promotes positivity with its products.
The spark
Godzich was carrying a stuffed bag to a pool party when inspiration struck. "It was heavy and bulky. I thought, we should get a backpack beach bag," says Godzich, a married father of two. "I couldn't find one anywhere, so in my crazy entrepreneurial way, I said, 'I'm going to build one.'"
Each bag is made from water-resistant canvas with room for towels and clothing for four people. Plus, it has waterproof, full-zip pockets for cellphones and wallets, padded pockets for tablets, a scratch-resistant pocket for sunglasses and straps for an umbrella or chair.
"It's great getting feedback on who is buying them and knowing that mothers are ecstatic about having a bag they can load up and put on their backs, and still carry their kids," he says.
His lifelong motto
With this venture, Godzich hopes to translate his personal motto, "Make it a great day," into a brand that encourages customers to enjoy each moment. So far, his bags—the first of several products in the pipeline—are available online and at Denver-area shops.
He remains involved in the health care industry as an investor in several health-related startups and an advisor for the University of Colorado's Anschutz Health and Wellness Center. In addition, Godzich meets frequently with other entrepreneurs, offering his perspective on ideas and strategies.
"As an entrepreneur, you should talk to as many people as possible to absorb their knowledge, learn an industry and get feedback on your idea," he says. "Plenty of people will shoot down your ideas, but you have to take the punches and persevere."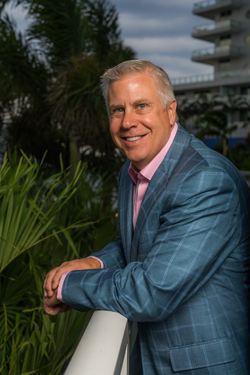 Photo: Rich Fiallo
The Telecom Magnate
Craig Jerabeck '83, MBA '84, is co-founder, president and CEO of 5LINX Enterprises, a direct marketer of telecommunications products, energy services, security systems, wellness products and more for consumers and businesses. The Rochester-based company has made the Inc. 5000 list of the fastest-growing companies consecutively for the past nine years and has rocketed from a bootstrapped startup to a global operation with $135 million in annual sales.
Hard lessons
Back in 1994, Jerabeck founded his first business, Cellular Unlimited, a cellphone retailer that would grow to 23 stores before he sold it in 1997. Success didn't come easy. To raise startup capital, Jerabeck mortgaged his house—but his partner bailed. "I ran out of money two weeks before Christmas and had nothing, no inventory on my shelves and no cash," he says. "That was the first major hurdle—learning that everything that can go wrong would."
A new model
Next, Jerabeck founded @Wireless, a cellphone franchiser that operated 78 stores in 11 states. During this period from 1997 to 2004, 5LINX was born. Constantly searching for new distribution channels, Jerabeck and co-founders Jeb Tyler '96 and Jason Guck decided to start their own.
"The challenge was learning a different business model," says Jerabeck, who was named Entrepreneur of the Year by Ernst & Young in 2003. "This is about trying to get people passionate about joining your business. Getting recruitment to be predictable, stable and measurable was the biggest challenge because it was foreign to me."
Company culture
With 235 employees and 95,000 sales reps in eight countries, Jerabeck says a strong company identity is vital to 5LINX's success. "It's building a sense of family and making people feel like they belong," he says. "We always talk about, 'What's your why?' We want to understand what's driving you to take on a part-time sales business."
The perks aren't bad, either. Top performers earn vacations, Bentleys and other incentives. "One of our most successful people used to drive a bus. Now, he wears $2,500 suits and has written a book," Jerabeck says. "He's an ordinary person, and other people see that. That can be enormously powerful."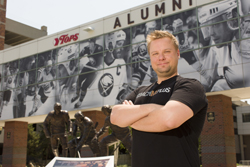 Dawidowicz outside home to his first CoachMePlus client, the Buffalo Sabres. (Photo: Tom Wolf)
The Athletic Trainer
Kevin Dawidowicz, CEL '11, has always loved fitness and grew up brainstorming business ideas around the dinner table. His latest venture, software company CoachMePlus, brings these loves together.
CoachMePlus tracks all aspects of an athlete's performance and body metrics—such as heart rate, hydration, energy exertion and more—by syncing with other devices and integrating data recorded manually by the athlete. Through the system, coaches can customize training programs and manage workflow.
More than 20,000 athletes are monitored through CoachMePlus, including pro football, baseball, hockey and soccer teams, as well as Olympic athletes and 20 university athletic programs or teams.
Help from the CEL
"CoachMePlus would not exist without the CEL Core program," says Dawidowicz, who completed the program in 2011. "Entrepreneurs are scatterbrained by nature. We have a ton of ideas and want to do them all right now. At one point, I was juggling three businesses and was going to put CoachMePlus on the shelf. Through weeks of ongoing practice and working with mentors, we developed a plan that allowed me to focus on this one exclusively."
Launching the company
With the Buffalo Sabres as their first paying customer, Dawidowicz and co-founder Stephen Ostrow went to the NHL Combine and cold pitched coaches they met. The plan worked, and both Edmonton and Columbus came on board. "We had three coaches, with three drastically different views, giving us feedback as we were building a tool that would solve issues for multiple athletes," Dawidowicz says. "We've developed our system the same way since then, by listening to our customers and fine-tuning it to their needs."
A fulfilling career
CoachMePlus completed a $1 million funding round in 2014, and Dawidowicz routinely receives positive feedback from athletes or teams that use his system. "Last year, we had three unrestricted free agents join one NFL team because they were monitored daily and managed through our system," he says. "Another NFL team told me that we save every coach at least an hour a day. Those are the rewarding parts, when I know we're actually helping somebody."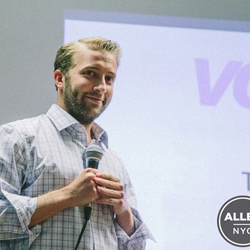 The Tech Freelancer
Max Ringelheim '11 competed three times in UB's Henry A. Panasci Jr. Technology Entrepreneurship Competition. The third time was the charm: He and co-founder Alex Chaplin '12, MS '13, nabbed second place and $10,000 in seed capital for Vonvo, an online news medium that used video conferencing to discuss under-reported issues.
The company got off the ground and launched its first website in 2012. Over the next two years, Ringelheim and his team built two more sites and raised more than $150,000 from angel investors.
However, Vonvo ultimately closed. Today, Ringelheim is a business development freelancer at ListenLoop, a marketing software startup, and PhunkeeDuck, a cross between a Segway and a skateboard that's been featured on "The Tonight Show."
Success and failure
One of Ringelheim's proudest accomplishments is launching Vonvo without any technical background. The site attracted paying users with a feature-rich, well-designed platform, but failed to achieve product/market fit.
"Any entrepreneurial venture is a learning experience; there's no playbook to follow as problems pop up," he says. "For every Facebook, there are thousands of companies that weren't able to achieve that. You need to be comfortable with failing fast, so you can adjust your plan and try again."
Time management
Now juggling two growing startups, Ringelheim works at least 60 hours a week and must prioritize effectively. At ListenLoop, he schedules demonstrations and meetings for prospective clients and investors. For PhunkeeDuck and its parent company, PhunkeeTree, Ringelheim makes sales calls and manages a team of interns.
"When I started at PhunkeeTree/PhunkeeDuck, we didn't have a website for one of our key products and our current website needed improvement," he says. "I understood how to accomplish those things quickly through my experience with Vonvo."
Lasting connections
For Ringelheim, everything has come full circle; his partner on his first two Panasci bids, Matt Waxman '11, co-founded PhunkeeTree/PhunkeeDuck. "The Panasci competition was extremely influential in shaping my development," Ringelheim says. "Pitching in front of those prestigious judges only further stimulated my entrepreneurial fumes."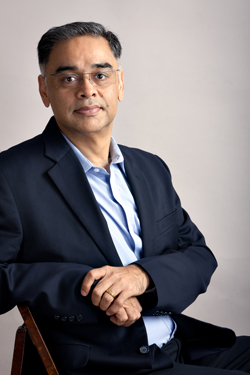 Photo: Anupam Rajawat
The Loyal Innovator
Praphul Misra, MBA '91, joined NetCarrots Loyalty Services as CEO in 2001, amid the dot-com bust. "I felt like a paratrooper landing in a warzone," he says. "You had to hit the ground running and start firing."
The company, which designs and manages customer loyalty programs, was burning cash and had slashed its staff to just nine employees in Delhi, India. Under Misra's direction, however, the company has clawed its way to the top.
A new phase
When Misra came on board, NetCarrots was a business-to-consumer marketing firm; it registered consumers directly and rewarded them with "carrots" for purchases at affiliates like Amazon or Domino's.
By 2003, the company shifted to a B2B model and began creating loyalty programs for companies. Among other innovations, NetCarrots launched India's first loyalty programs for quick-service restaurants, malls, tolls and condominium residents. "The first thing you, as an entrepreneur, have to learn is how to move with the market," he says.
Strength in numbers
Last year, Misra became a founding partner in the Consumer Strategy Network (CSN), an international network of leading practitioners in customer acquisition and retention strategy, who share best practices and business referrals.
"Our biggest challenge is helping clients understand what it takes to even think about a loyalty program, leaving aside actually putting one into the market," Misra says. "Education is the only way to address that. Through this network, my clients have access to the best brains in loyalty."
Pushing forward
Today, NetCarrots is a global player, powering programs for such brands as ACC-Holcim, Preferred Hotels Group and TRW Automotive. In addition, the company is beta testing employee rewards and recognition programs, developing analytics solutions and retooling its technologies for mobile and the cloud.
"Our value proposition has changed from being a vendor to becoming a partner in improving their business," Misra says. "We have to be on our toes, listen to what our clients are seeking and be ahead of the curve."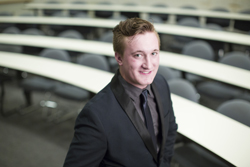 Photo: Tom Wolf
The Student Founder
For an entrepreneur, it's hard to beat the feeling when customers tell you your business "saved" them.
Overwhelmed by the breadth of electives available, Bryan Krajewski, a senior in the School of Management, launched SyllabusRate.com, a tool for students and professors to share course syllabi. In-depth peer reviews help students determine if a course's format and assignments fit their learning style before they enroll, saving time and stress.
Since going live in December 2013, the site has accumulated more than 1,500 syllabi from universities nationwide and about 100,000 syllabi views.
Spreading the word
To market the new site, Krajewski advertised online and in student newspapers, but found face-to-face interactions most effective. He often sets up a table on Upstate New York campuses and launched an internship program that turns students into SyllabusRate representatives for their college. "I do most of the work myself, which can get hectic, being a student, working part-time and running the site at the same time," he says.
Real-world learning
As a business administration major with a marketing concentration, Krajewski says his School of Management coursework has been integral to his success. "It goes hand in hand, whether I'm taking what I learned in the classroom and applying it to my business, or vice versa," he says. "From classes, I know how to manage expenses and use different types of advertising. I also gained experience with Photoshop by making flyers and can use that in my marketing classes."
Helping others
USA Today featured SyllabusRate in a 2014 article, a highlight for the 22-year-old entrepreneur. "I still don't think I'm able to grasp how great that was. That's something I'm truly proud of," he says.
But more rewarding than national recognition, Krajewski says, has been the ability to support his peers' success. "Academic advisors at several schools have told me they reference the site to find classes that will fit a student's interests and skills," he says. "Knowing I have been able to help thousands of students make their college lives less stressful is a great feeling."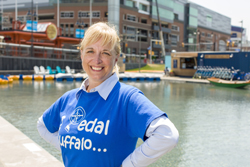 Florczak stands at Buffalo's booming Canalside district. During wintertime, her ice bikes (below) are a regular sight on the frozen canals. (Photo: Tom Wolf)
The Buffalo Inventor
Three years ago, Lisa Florczak '89 was a stay-at-home mom who wanted to contribute to making Buffalo a great place to live. Today, she runs a booming full-time business and has received global recognition for her invention: the ice bike.
Research and development
In 2013, she and her husband, Peter, launched Water Bikes of Buffalo on the city's waterfront, and their bike rentals quickly became a popular seasonal attraction. Last year, as construction began on the Ice at Canalside—a rink on the footprint of the old Erie Canal—Florczak researched, developed and tested her idea for a bicycle that could safely traverse the ice without tearing it up.
With help from General Welding & Fabricating, she devised a frame that attaches to any standard 26-inch coaster bicycle and allows the rider to cruise around the ice.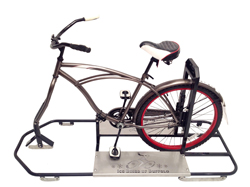 A grand unveiling
"We debuted the ice bikes in December 2014, and I'm telling you—what happened next, nobody could have predicted," she says. "When the Associated Press picked up the story, it literally circled the Earth. Most recently, calls have come from Russia, Dubai and New Zealand inquiring about how to purchase the ice bikes."
By the end of the season, the company's fleet of 15 bikes accommodated more than 3,000 customers.
"I've heard from many people with special needs who can't ice skate for whatever reason, and they love the ice bikes," says Florczak. "It's a beautiful alternative for many people, including me. I never learned how to skate, so I would go and watch my children. Finally, I can participate."
Scaling the business
Florczak's challenge now is to grow her inventory in preparation for worldwide sales, while also managing the day-to-day of her water bike, pedal boat and paddleboat rental operations. No matter how successful it becomes, she promises the company isn't going anywhere.
"I've never been more of a Buffalo booster than I am today," she says. "As long as I own the ice bike patent, this product will be manufactured and distributed from Buffalo."