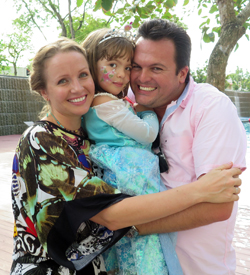 Maxwell and Cabrera celebrate Olivia's fourth birthday in Singapore.
Close-Up: Luis Cabrera and Irina Maxwell
A Global Couple
Cosmopolitan: common to or representative of all or many parts of the world; at home in all countries or places.
Luis Cabrera '99 and Irina Maxwell '06 are cosmopolitan in every sense of the word.
Before studying at the School of Management, Cabrera and Maxwell grew up in Colombia and Russia, respectively. While at UB, they each took advantage of study abroad opportunities to develop their networks, learn new languages and position themselves for international business careers.
"At the School of Management, you have so many opportunities to meet people from all over the world," says Cabrera, who earned bachelor's degrees in business administration and economics in 1999. "We just had dinner with friends from school; they're French and now live in Japan. That's an amazing connection we never would have made if it wasn't for UB."
Another amazing UB connection? Theirs.
While Cabrera was working in the International Sales Department at Rich Products, Maxwell was studying business administration with a management information systems concentration. When he returned to the School of Management to speak about his business experience in Latin America, she was in attendance and approached him afterward for advice on a study abroad experience she was planning to Mexico to learn Spanish.
The couple married five years later, in 2010, and lived in Miami until summer 2014, when they relocated to Singapore with their 4-year-old daughter, Olivia.
"It was a bit challenging to leave the comforts of our life in the United States," says Maxwell. "Olivia probably adapted the fastest. She has a lot of friends and a diverse group in her school who get along and play together in small groups. The best part is that Singapore is so diverse that she has the opportunity to learn about everyone's customs and family life; everyone is her friend, and I love that."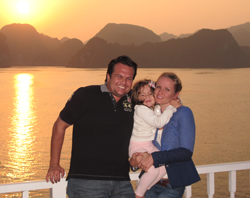 Cabrera, Maxwell and Olivia on a trip to Halong Bay, Vietnam, in January.
Today, Cabrera serves as director of export sales for Asia-Pacific at Mondelez International, overseeing export strategy for the company's many brands, including Halls, Toblerone, Trident, Cadbury and Oreo.
"The complexity of working with multiple distributors, company affiliates, committees, cross-functional teams, direct reports and manufacturing plants across basically every region on the planet is a constant challenge, but also the most exciting part of the job," says Cabrera, whose father, Antonio, graduated from the School of Management in 1969.
As global capability manager at Citi, Maxwell serves as a liaison between corporate clients, the sales team and developers for Citi's Innovation Lab, a customizable application that provides data and solutions to help clients worldwide improve efficiency and performance. A typical day might start with a call from Australia, followed by calls from London or Dublin in the afternoon and New York in the evening.
In addition, Maxwell is involved in mentoring tech startups through a Silicon Valley-based business accelerator program.
"It's a great experience," she says. "These companies are working on some transformational ideas, and I love learning about new trends in the financial industry."
The couple's weekends are packed, too. From biking around the city and attending festivals to visiting neighboring countries such as Cambodia and Vietnam, they're enjoying every cultural opportunity their new home offers.
"For anybody interested in traveling, seeing the world and having a global career, UB gives you great tools for that," Cabrera says. "People who leave their country to go study somewhere else have a special mindset, a special drive. It's not easy—but it's worth it."
- Matthew Biddle