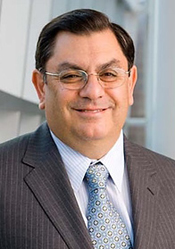 A Message from the Dean
Greetings alumni and friends,
What a pleasure it is to be writing to you at such an exciting time here at the School of Management.
The addition of eight new faculty members in fall 2013 marked the beginning of a plan to grow our faculty substantially-by 30 percent over the next three years. The new roster adds depth and breadth to an already impressive lineup, and this growth will be a key enabler of our success.
"Big data" is at the forefront of business trends and, in our cover story, you can see how our faculty are adding new knowledge to this expanding field.
On the rankings front, the school jumped eight spots in Forbes magazine's ranking of the best business schools based on the return on investment it provides to MBA graduates. And U.S. News and World Report again ranked the School of Management as one of the nation's best undergraduate business programs.
In Stepping Up, we celebrate the significant impact that the Dean's Advisory Council has on the School of Management. This incredible group of individuals comes together from all over the world to advocate for the school and share their expertise.
Our international presence continues to be strong. Professor John Thomas was lauded for his contributions to our China MBA program at the Dalian University of Technology in a ceremony hosted by UB President Satish Tripathi. Edward Dianhui Dong, MBA '91, vice president and general manager of China operations for NDC Infrared Engineering, presented a plaque of appreciation.
Our efforts to bring real-world experiences to our students are paying dividends, as you will see in a story about the New York City trip taken by our student investment group.
You can read in Alumni Impact about one of our most supportive partners-the School of Management Alumni Association-and the many ways the association adds value to the school and enhances the student and alumni experience.
In addition, my personal thanks goes out to the countless alumni and friends who contribute financially to the school, such as the alumni and friends featured in the Honor Roll of Donors.
Thank you for all you do to support the school.
Sincerely,
Arjang A. Assad
Dean