They Can Make it Here, or Anywhere
New York City trips and investment experience pay dividends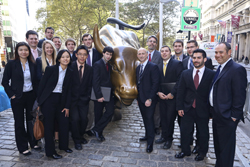 Photos: Robert Adam Mayer
In October, School of Management students from the Terese Kelly Investment Group hit the streets of New York City for a two-day tour of the city's top financial spots.
It was the group's third trip to the city, and just one of many opportunities that School of Management students have to bridge their academics with experience in the real world.
The Terese Kelly Investment Group is the school's student-run, real-money fund designed to educate finance students on the practical aspects of global capital markets, while providing them with real-world learning experiences in investment management.
Gregg Fisher '92, CFA, CFP, founder and chief investment officer of Gerstein Fisher, says it's that experiential learning that motivates him to fund the group's annual trips.
"The New York City trips give students exposure to the financial capital of the world," says Fisher. "From boardroom meetings with top executives to visits to the New York Stock Exchange, it's all about learning by doing."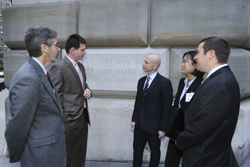 He says that a stop at the Federal Reserve provided an opportunity to explore the history of the Fed, discuss banking crises and see all the different currencies in the museum.
"Then we headed to the gold vault," says Fisher. "I like them to see that even given how complex the world has become, there's still a bunch of gold in a basement."
The fall 2013 trip also included a walk down Wall Street, a stop at Bloomberg and meetings with School of Management alumni at Cerberus Capital Management, Gerstein Fisher, GroupM, Olympus Partners and PineBridge Investments.
Paying dividends
The trip was particularly memorable for two School of Management MS Finance students.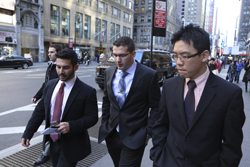 Shortly after arriving at Bloomberg, the first stop of the trip, Benjamin Gunn '12, MS '14, and Adrian Rangl '12, MS '14, received calls that would change their lives. They found out that they both would be getting hired at Goldman Sachs, where they'd interviewed at the company's Salt Lake City offices just two days earlier for positions in the Financial Controller Division.
"I vividly remember walking down the stairs at Bloomberg, talking with Ben about when or how we would be notified," says Rangl. "He told me that if we received a call soon it would most likely be good news."
About 10 minutes later, Gunn's phone rang. It was Goldman Sachs, and he was getting hired.
"I stepped off to the side to take the call and remember feeling overwhelmed," says Gunn. "I wanted the job so bad, and this was the moment everything came together."
Still on the phone, Gunn gave a thumbs-up to the group. "It was hugs, smiles and high fives all around," he says.
Rangl's call came next.
"I started to wonder if Goldman could take more than one person from UB," says Rangl. "But then my phone rang, I showed Ben the number and he says it was Goldman.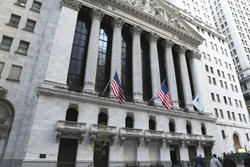 "All I remember is answering questions and feeling like I was on cloud nine during the call—I could not stop smiling. It was a very happy moment for both of us."
Rangl has been involved with the Terese Kelly Investment Group since its inception. He is the current CEO of the group and previously served as COO. Gunn currently serves as chief risk officer and previously served as an analyst.
"I have learned how to analyze detailed metrics to measure risks, the different ways people find high quality investments, how to construct a portfolio, and that you cannot 'time' the market," says Rangl. "But most importantly I have developed the skills to work with 13 other talented School of Management students to make the team a success."
An investment in the future
Brian McCallion '01, CPA, CFA, vice president at Goldman Sachs, is captain of the virtual recruiting strategy for controllers in Salt Lake City-a process that allows the firm to recruit top talent from schools where its on-campus presence is limited. He says that hands-on investment experience stands out during interviews.
"Anytime a candidate is able to step into an interview with real-life experiences they are at an advantage," says McCallion. "And working as part of a real-money investment fund provides practical application to help prepare students for a job in financial services.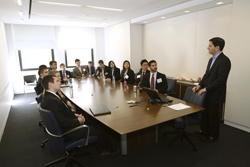 "Our function as controllers at Goldman Sachs requires that we have a strong understanding of the businesses we support," McCallion adds. "Ben and Adrian were able to leverage their experience gained through the Terese Kelly Investment Group to have intelligent conversations about capital markets. The opportunity that Terese Kelly has provided to business students is outstanding." (Read more about McCallion in an Alumni Close-Up.)
Experience in the Terese Kelly Investment Group has paid off for others, too. Recent graduates who were group members have garnered roles at top firms and organizations, including PricewaterhouseCoopers, Deloitte, Bloomberg, Citi and National Fuel.
As the value of the group's portfolio continues to grow, so does the support of UB alumna Terese Kelly '68, MLS '73, whose lead gift enabled the fund to begin in 2011. In 2013, Kelly provided another generous gift to furnish the group's room in the Jacobs Management Center with new office boardroom-style furniture. In addition, the room now houses the school's first Bloomberg Terminal thanks to a gift from the estate of Anita Ranney Thomas '38.
- Kevin Manne
Terese Kelly

The Terese Kelly Investment Group

Real money, real risk

Cosan is a Brazilian conglomerate producing bioethanol, sugar and energy. Jillian Fair is pitching the company to an investment group that will decide whether to buy shares for their portfolio. Growth drivers for Cosan, she says, include long-term demand for ethanol and the company's natural hedge against variation in demand for its products.

Fair and two teammates roll through a slick PowerPoint presentation: industry factors, revenue growth, direct competition comparison, valuation, key ratios and statistics, growth rates, potential risks and, finally, their recommendation to buy 200 shares at the market price ($14.75 earlier that afternoon) and 200 additional shares at $14.25.

The investors have questions: Why is Cosan's debt-to-equity ratio so high? Is the fact that the U.S. market is high a deterrent to buying now? The company is only three years old-is that a risk? (Actually, the company is long-established, but has only been listed on U.S. markets for three years.). The group votes twice, first on whether to invest in Cosan, then, if yes, whether to accept the recommended amount and pricing. The Cosan team gets unanimous support on both.

This is the Terese Kelly Investment Group at work-seven MBA students and six undergraduates, wearing the requisite dark suits for the presentation. Membership is by invitation based on faculty recommendation. The money is real. The investors are serious.

The group has a dedicated office furnished like a boardroom and fitted with a Bloomberg Terminal acquired with proceeds from a bequest to the school. They started investing in 2011 with $129,909. At the end of 2013, they held $129,232 in equities and $34,287 in cash, a gain of nearly 30 percent.

Cosan hasn't been a star: it's only up a few cents. Constellation Brands (up 216 percent) is the top pick in the portfolio. Newmont Mining (down 38 percent) is bringing up the rear.

The biggest winner: the Terese Kelly Investment Group.

- Judson Mead
Development Communications