Startups
School jumps 8 places in Forbes ranking
Forbes magazine has once again ranked the School of Management as one of the best business schools in the world based on the return on investment it provides MBA graduates.
The ranking of No. 40, up eight spots from the last ranking in 2011, places the school solidly in the top 10 percent of more than 680 graduate business programs accredited by AACSB International - The Association to Advance Collegiate Schools of Business. The School of Management is the only business school in the Buffalo Niagara region to be included in the ranking.
According to Forbes, the ranking shows which business schools offer the best return on investment by comparing the cost of attaining an MBA-tuition, plus forgone income-to salaries earned by MBA graduates upon graduation and five years after graduation.
During a visit to UB in August, President Barack Obama applauded the university's commitment to ensuring that students graduate with little or no debt. The School of Management had the third-lowest tuition of the 70 schools Forbes listed. And when measuring the years to pay back, only five schools outperformed the School of Management.
"This ranking demonstrates that our graduates achieve a high level of success in their careers," said Arjang A. Assad, dean of the School of Management. "And it shows that they get an outstanding value for their investment in our MBA program."
Assad said innovative programs like LeaderCORETM, the two-year MBA leadership certification, contribute significantly to the success of the school's graduates. Results are based on a survey of 17,000 MBA graduates worldwide from the class of 2008. Graduates were selected from more than 100 business schools.
O'Brien, Gilson, McNulty, Biddle join ranks

O'Brien
The School of Management welcomed several new staff members this academic year.

Gilson
Erin O'Brien was appointed assistant dean and administrative director of graduate programs in September. She most recently served as director of business relationship management at HealthNow New York Inc. Before that, she spent 14 years at IBM, most recently as a client services executive in the financial services sector. She holds a bachelor's degree from the University at Buffalo and an MBA from the School of Management.

McNulty
Sarah Gilson was named executive director of the school's Center for Leadership and Organizational Effectiveness. She previously served as vice president for organizational development at First Niagara. She holds a bachelor's degree and an MBA from Canisius College.

Biddle
Caitlin McNulty joined the team in October as assistant director of alumni and external relations. In her past role, she served as director of operations and special projects at the Amherst Chamber of Commerce. She holds a bachelor's degree from the University at Buffalo.
In January, Matthew Biddle joined the School of Management as assistant director of communications. He previously served as assistant editor at Western New York Heritage Press Inc. He holds a bachelor's degree in journalism from Ithaca College, with minors in history and politics.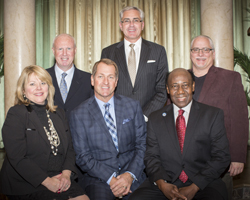 Executives honored at the 64th Annual School of Management Alumni Association Awards Banquet in November. Back row (from left): Richard Floersch, BS/MBA '80; Daniel Penberthy, EMBA '00; Edward Tierney, CEL '08. Front row: Dottie Gallagher-Cohen, EMBA '07; Christopher Koch; Alex Ampadu. Photo: Tom Wolf
Executive of the Year, achievement awards presented
The School of Management named Christopher H. Koch, CEO of New Era Cap Co., the 2013 Buffalo Niagara Executive of the Year. The award was presented before a crowd of more than 400 attendees at the 64th Annual School of Management Alumni Association Awards Banquet on November 6.
Established in 1949, the Buffalo Niagara Executive of the Year award is presented annually to an individual who resides in or has a major impact on the region, and whose career has been distinguished by executive success and civic leadership.
In addition, the school presented awards to Alex Ampadu, associate professor of accounting and law in the School of Management, for alumni engagement; Richard Floersch, BS/MBA '80, executive vice president and chief human resources officer of McDonald's Corp., for industry leadership; Dottie Gallagher-Cohen, EMBA '07, president and CEO of the Buffalo Niagara Partnership, for service to the Western New York community; Daniel Penberthy, EMBA '00, executive vice president and chief financial officer of Rand Capital Corp., for service to the school; and Edward Tierney, CEL '08, partner at BlackDog Strategy and Brand, for contributions to entrepreneurship.
Minority and women entrepreneurs aided by $75,000 Allstate grant
A $75,000 grant from The Allstate Foundation will help support initiatives for minority and women entrepreneurs at the School of Management's Center for Entrepreneurial Leadership (CEL) while also funding a new pilot program.
Since 2005, The Allstate Foundation has helped fund the Allstate Minority and Women Emerging Entrepreneurs program (MWEE), a joint venture by the CEL and the UB Center for Urban Studies. This year's grant includes a $16,000 increase to pilot a new program, which is based on the MWEE principles, but physically transplanted into an economically challenged Buffalo community.
The MWEE program is designed to help participants move their companies to the next stage of development by forging relationships with successful business owners, setting objectives and outcomes for business plans, connecting with existing resources and more. A record 32 business owners have been accepted into the 2013-14 program, up from 18 last year.
"The program helps participants build valuable skills and strengthens the Western New York economy by helping to create viable and sustainable businesses," said Thomas Ulbrich, assistant dean and executive director of the CEL. "The continued support of The Allstate Foundation has enabled more than 170 graduates to become more focused and strategic in their businesses."
The Allstate Foundation, a charitable organization funded by subsidiaries of Allstate Insurance Corp., provides philanthropic grants to nonprofit organizations. With a focus on teen safe driving and building financial independence for domestic violence survivors, The Allstate Foundation also promotes safe and vital communities; tolerance, inclusion and diversity; and economic empowerment.
Undergraduate business program again ranked by U.S. News
The School of Management is again ranked as one of the country's best undergraduate business programs in the 2014 edition of "America's Best Colleges" by U.S. News and World Report.
The school is tied for No. 86, higher than any other business school in the State University of New York system. The ranking positions the school in the top 15 percent of accredited undergraduate business programs.
Based on a survey to deans and senior faculty at accredited schools, the ranking asks participants to rate the quality of all programs they are familiar with on a scale of 1 (marginal) to 5 (distinguished).
For more information on how UB and its programs were ranked, visit http://bit.ly/ubusnews
Thomas lauded for contributions to China program
John M. Thomas, professor of operations management and strategy in the School of Management, was given an award for his significant contributions to UB's China MBA program at the Dalian University of Technology.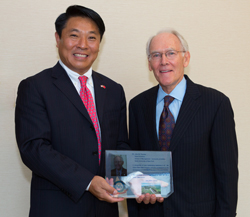 Dong and Thomas
Edward Dianhui Dong, MBA '91, vice president and general manager of China operations for NDC Infrared Engineering, presented Thomas with a plaque of gratitude on behalf of graduates of the School of Management's Dalian MBA program at a ceremony hosted by UB President Satish K. Tripathi on October 3.
Thomas directs the School of Management's HSBC Center for Global Business Leadership, which provides opportunities in international business for management students. He also is dean emeritus and served as associate dean of international programs for the school.
When U.S. President Ronald Reagan announced the creation of the Dalian program during a diplomatic trip to China in 1984, the news made headlines all over the world for being the first U.S. MBA program in China.
Thomas was one of the founding faculty and later became dean of the Dalian program, which graduated more than 200 students before ending in the aftermath of the Tiananmen Square protests of 1989. He championed the School of Management's historic return to China in 1998, collaborating with Renmin University in Beijing, China, to launch China's first Executive MBA program.
The School of Management has been praised by Businessweek as "a pioneer in the Asian market for management education."
"With gratitude, respect and friendship, we Dalian MBA alumni are honored and proud to present this award to Dean Emeritus John Thomas in recognition of his outstanding leadership in UB's Dalian MBA program and his contributions to the development of China MBA education over the past 30 years," said Dong, who is a 2012 China Economy Top 10 Business Leader and serves on the School of Management Dean's Advisory Council. "China is grateful to UB and will remember those who helped China to start MBA education."
What's Trending?
School of Management conversations in social media
Twitter
The Buffalo Niagara Partnership shared a photo of Dottie Gallagher-Cohen, EMBA '07, as she received the Service to the Western New York Community award at the 64th Annual School of Management Alumni Association Awards Banquet:
Achievement Award for Service to the WNY Community goes to @DottieGC at #UB School of Management awards banquet! pic.twitter.com/3u0Gm4rqTR

— BNPartnership (@BNPartnership) November 7, 2013
Several users shared the news about the school's rise in Forbes' ranking of best business schools:
UB School of Management climbs Forbes list of the best business schools - Business - The Buffalo News http://t.co/3GSXXj5Fsn

— Jill (@BuffaloJill) October 11, 2013
http://t.co/EUUDAOdntt Congrats to the University at Buffalo School of Management--a great educational value!

— Larry Zielinski (@LarryZielinski) October 11, 2013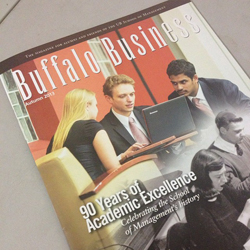 Instagram
Another alumnus shared a photo and message inspired by the fall issue of Buffalo Business:
Someday soon, someday soon I will make you proud UB School of Management and you'll feature me in the mag as a business mogul who came from your ranks. I'll find a way #UB #Buffalo #alum #proud #SOM #business #magazine #management #success
Connect with the School of Management: mgt.buffalo.edu/about/socialmedia