A Message from the School of Management Alumni Association President | Alumni Association Board
Join the School of Management Alumni Association
Alumni News...

Your link to the School of Management Alumni Association
Connect. Network. Achieve.
Social Media-New Ways to Connect
Do you Tweet? Are you LinkedIn for success? In October, the School of Management Alumni Association (SOMAA) sponsored a program entitled "Social Media 101" which discussed the basics of social media and its applications to business. Several SOMAA board members led informational presentations and hands-on demonstrations of the most popular social media tools. Due to unprecedented demand, we reprised the event in November. The social media revolution is changing the way networking and business is conducted. The SOMAA tagline of "Connect. Network. Achieve." is even more meaningful as connections and networking are so easily accomplished using social media. To stay connected to the SOMAA and to expand your network, join our groups on Facebook (UB School of Management Alumni) and LinkedIn (University at Buffalo School of Management). They are works-in-progress as we explore social media to determine the best practices for our alumni.
Career planning
In 2008, SOMAA partnered with CareerBeam, a virtual career "success center," to provide our members with company and industry research tools, access to international databases and lead-generation technology. Due to recent upgrades, these same services are now internally available to our alumni. Click the word "alumni" under the Career Resources tab on the School of Management's Web site and you will find an impressive array of services offered to former students. Alumni can use the new BizLink online recruiting system when searching for a job. (See Stepping Up for more information.) Free access to numerous domestic and international industry and company databases are also available. Explore various avenues to gain information on career choices, jobs or mentoring opportunities through the School of Management's Frank L. Ciminelli Family Career Resource Center. Additionally, alumni may use the university's BullsEye career services system, available at ub-careers.buffalo.edu/alumni. Based on the free availability to alumni of both of these extensive resources, we have decided to not renew our contract with CareerBeam. We encourage our alumni to explore the many career resources available to them.
SOMAA Benefits
One of the many benefits of a School of Management Alumni Association (SOMAA) membership is eligibility for participation in our Member Rewards program, which gives annual grants for education, professional development, entertainment and travel, as well as complimentary tickets to SOMAA networking and social events. Our most popular reward, the education grant, allows members to apply for grants (for themselves or their immediate families) toward UB educational programs. We are pleased to announce the recipients of the 2009 education grants and the course of study they are pursuing: Elizabeth McPartland, Amherst, N.Y., PMBA (daughter of Raymond Orrange '84, MBA '86, and MaryBeth Orrange '72, EdM '75); Kathleen Murphy, Lancaster, N.Y., Master of Education in Higher Education Administration; Marina Oktapodis, Williamsville, N.Y., Bachelor of Science in Biomedical Science (daughter of Dimitris Oktapodas '86, EMBA '02, and Theodora Oktapodas '87); Kristen Ryan, MBA '92, Elma, N.Y., Post-MBA Workforce Management option; and Nancy Wellenzohn, MBA '89, Orchard Park, N.Y., Doctor of Education in Educational Administration. Information on benefits of membership may be found on our Web site at mgt.buffalo.edu/alumni.
If you would like to be eligible for the Member Rewards program, you may join SOMAA at any time of the year and enjoy the combined privileges of both the School of Management and the UB Alumni Associations for only $50. Visit mgt.buffalo.edu/alumni to join and start reaping the benefits today.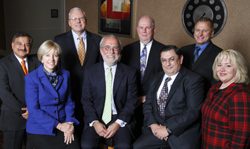 From left: Ajit B. Pendse, Marsha Henderson, UB vice president for external affairs, Robert L. Montgomery Jr., Robert D. Gioia, William A. Hamilton, Arjang Assad, dean of the School of Management, Jeffrey Kryszak and Eileen Connor-Costilow, SOMAA president. (Photo by Tom Wolf)
Annual Awards Banquet
The 60th Annual School of Management Awards Banquet was held November 5, 2009, at the Millennium Airport Hotel Buffalo, honoring Buffalo-Niagara Executive of the Year Robert D. Gioia, chairman, Great Lakes Health, and president, The John R. Oishei Foundation. In addition, achievement awards were presented to William A. Hamilton '68 for his service to the School of Management; Jeffrey Kryszak, CEL '02, for his contributions to entrepreneurship; Robert L. Montgomery Jr. '63, MBA '77, for his service to the community; and Ajit B. Pendse, MBA '85, for his industry leadership in communications technology.
For information on upcoming events, visit mgt.buffalo.edu/alumni.
Student Relations
The School of Management Alumni Association (SOMAA) continued its support of School of Management students in their personal growth as future business leaders by launching the SOMAA Community Service and Leadership Award program for the 2009-10 academic year. Sponsored by the SOMAA, this program is designed to recognize students who are members of School of Management clubs with a monetary award for their superior leadership and/or community service. Members of the SOMAA board of directors will review the applications submitted by the student clubs on behalf of their nominees and choose the winners.
Alumni Opportunities
Would you like to expand your network of local business leaders? Do you feel the desire to give back to the community? Is it time for you to brush up on current topics facing the business world? Then the School of Management Alumni Association can help. Take advantage of networking opportunities at the upcoming Wine Tasting Dinner in April or the Golf Outing in June. Become a telementor or attend a Smart Business Practices seminar. Visit mgt.buffalo.edu/alumni for information on these and other events. Join the School of Management Alumni Association group on Facebook (UB School of Management Alumni) and on LinkedIn (University at Buffalo School of Management).
Welcome New Directors

Maykala Hariharan, MBA '04
Associate Director-Investment Consulting
Rogerscasey

Carly C. Hartmans, MBA '09
Assistant Promotions Manager
The Buffalo News

Thank you to our outgoing board members Angela Adamo, Howard Epstein and Mark Notarius.