Stepping Up...

Celebrating those who make a difference to the School of Management
Career Resource Center rises to the challenge of a tough job market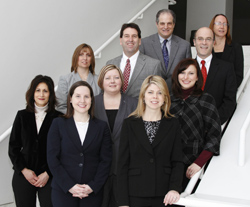 Gwen Appelbaum (front row, right), assistant dean and director of the Career Resource Center, and her staff. (Photo by Tom Wolf)
The School of Management's Frank L. Ciminelli Family Career Resource Center (CRC) has long enjoyed a stellar reputation for career development and outstanding service to both students and employers. In fact, it has twice received recognition by The Wall Street Journal as one of the Top 5 career resource offices in the world.
Now, in the face of a struggling economy and the toughest job market in years, the CRC is "stepping up" to meet the challenge.
"At this time more than ever, we need to make sure we keep improving our services," says Gwen Appelbaum, assistant dean and director of the CRC.
Increased staff and increased programming are just two ways that the CRC is broadening its services. In addition, a new online service, "BizLink," is giving students and alumni a more comprehensive job-search tool.
Engaging students earlier
Recognizing that a tough job market can last years, the CRC is taking proactive measures to give students the lifelong skills that will assist them throughout their careers.
Of course, the CRC has several successful initiatives already in place. The MBA Advantage program has a significant career component and begins even before students attend their first class. Other services, such as the award-winning practice interview program and a required undergraduate course, "Career Strategies, Planning and Management," help students compete in any job market.
But, as Appelbaum notes, "We want to get more students involved earlier in the career development process, even as freshmen and sophomores, so that by the time they start their job search, they are well-prepared."
The addition of a new staff member, Caitlin Logue, is helping the CRC increase opportunities for undergraduates. Logue, an undergraduate program manager, has initiated new programs such as the Coffee Cup Speaker Series, in which small groups of students meet with School of Management alumni for informal, round-table discussions about potential careers.
Another initiative is the Career Ambassadors program. Career Ambassadors are graduate and undergraduate students who work on a peer-to-peer basis to promote the CRC's programs and services. The CRC now offers open office hours on Tuesdays and Wednesdays during which students can stop by without an appointment. The ambassadors staff a table in the Alfiero Center atrium during that time to speak with students and encourage them to visit the CRC. The program is paying off. "We have definitely seen an increase in traffic," Appelbaum says. The ambassadors also engage in other outreach activities, such as visiting classes, to promote the CRC's services.
The Career Road Trip, a weeklong series of career-related seminars, is yet another successful offering by the CRC. Held for the first time last spring and reprised in the fall, the program features more than 15 different workshops, including "Skill Building," "Internships 101" and "How Facebook Can Crash Your Career."
"We saw a dramatic increase in the number of students attending our Career Road Trip this fall," Logue says. "In particular, there was a great presence from our freshmen and sophomores that had been lacking in the past."
Reaching out to employers
Much of the CRC's success in helping graduates find positions is based on maintaining positive relationships with the recruiters who visit from various companies. Fortunately, the fluctuations in the job market have not negatively affected the CRC's relationships with its recruiters. "Our recruiters are very interested in maintaining their ties with us," Appelbaum says.
In order to extend and expand on those relationships, the CRC has added another new staff member, Daniel Wolfe, as employer relations manager.
"What I do is two-pronged," Wolfe says. "First, I work with companies that we have a relationship with, to deepen and broaden that relationship, so that people within the organization who might not have considered the School of Management would do so.
"Second, I'm reaching out to companies who have never considered the UB School of Management as a pool of talent, particularly those outside of New York," he says. One of Wolfe's key strategies is to contact School of Management alumni in those companies. "Our alumni are an incredible source of information on new opportunities that might exist out there," he says.
There is no doubt these are tough times on the employment front. But the CRC is ready to help students and alumni meet the challenge.
For more information, contact the CRC at 716-645-3232 or mgt-crc@buffalo.edu, or visit the CRC's Web site at mgt.buffalo.edu/career. For a full listing of CRC staff members and responsibilities, visit mgt.buffalo.edu/home/career/staff.
BizLink - Linking users to new careers

BizLink is an exciting new career-management system designed to help School of Management students and alumni find jobs and explore new careers. It's easy to use and has many great features to help individuals reach their career goals through a streamlined process.

Users create a personal profile that allows the CRC staff to better understand their career goals. Job seekers can search for employment using multiple criteria such as career interest or geographic location. They can also post résumés, schedule interviews and register for events. In addition to the CRC's job postings, the system features national postings linked through the National Association of Colleges and Employers (NACE).

"Employers from across the country can post to the NACElink network. It has dramatically increased our job listings and has allowed users to become more strategic in their job search," says Gwen Appelbaum, assistant dean and director of the CRC.

BizLink also features ProNet, which houses the school's alumni mentor program for students, and Vault, a source of company and industry research.

School of Management alumni can use BizLink not only to assist with their personal career objectives, but also to post jobs and internships and become mentors to current students. For more information, contact the CRC at 716-645-3232 or mgt-bizlink@buffalo.edu.