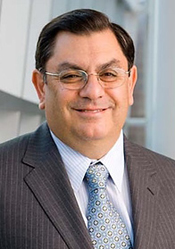 A Message from the Dean
Real-World Learning...
It's not just a catchy phrase that we toss around lightly. Real-world learning is how we do business. Or, more accurately, how we teach business.
Yes, you'll still see text books. And professors. And classrooms. But we take every opportunity to bring the real world into our curriculum, and to take our students into the world. And there are many, many opportunities to do so.
In this issue of Buffalo Business alone, you'll see countless examples of how real-world learning impacts our students. For example, a feature story describes how MBAs in our consulting course take on real projects and learn to identify and resolve a number of business problems, while managing team dynamics, client expectations and resource constraints.
In Start-Ups, you can read about how our undergraduate accounting students applied their tax preparation skills to help area families and brought nearly $1 million back into the Western New York region. You also can read in Insights how our Singapore Executive MBA program is hosting a series of open lectures that feature our faculty members discussing current business issues, such as financial literacy.
Sometimes we bring the real world in-such as having prominent alumna Kathleen Hamm, a securities, derivatives and corporate regulatory expert, speak to students in our "Investment Management" course, or by hosting a panel of health care experts so that our students could explore the real issues surrounding health care reform.
At other times, we send our students out into the world to gain their experience, such as giving our MBAs a real business case -a major plant closing in the nearby village of Wilson, New York-and letting them hone their problem-solving and analytical skills by examining the challenges in that community. And we're flexible enough to seize opportunities that we may not even have anticipated, such as when our Executive MBAs, on a recent trip to Beijing, found themselves at Google's China headquarters on the very day that the company decided to pull out of China due to government censorship.
It is in this vein of real-world learning that I am proud to announce the launch of a new program, LeaderCORE (Certification of Readiness and Excellence). LeaderCORE will enable us to expand on the success of our long-running Leadership PACE course and take our leadership training to a new level. It also will allow us to expand our real-world learning opportunities and to provide our MBAs with a certified credential that will serve both our students and the companies that hire them.
It's a very exciting time for the School of Management and I look forward to sharing more good news with you in the future. As always, I welcome your thoughts and ideas.
Sincerely,
Arjang A. Assad
Dean