Community Impact
Boosting the Economy of Wilson, New York: MBA Case Focuses on Real-Life Challenges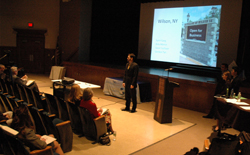 Students make their case before an audience of community members and judges.
Instead of using a stale business case, student finalists in the School of Management's 14th annual MBA case competition applied their problem-solving skills to a real-world situation closer to home: how to boost the economy of the Village of Wilson after the recent closing of the Pfeiffer Salad Dressing plant.
Recommendations were diverse, from making Wilson-a Niagara County community on the shores of Lake Ontario-a Wi-Fi village to processing organic applesauce in the now-vacant manufacturing plant to leveraging tourism opportunities.
Wilson Mayor Patrick Kelahan, a UB MBA alumnus, worked with the School of Management to develop the case. He also served as a judge for the competition, along with School of Management Dean Arjang Assad; Joseph Bell, vice president of acquisition integration, Moog; Karen Howard, vice president of finance and CFO, Columbus McKinnon; and Kathleen Neville, Neville Consultants.
"My goal in reaching out to the School of Management was to leverage the perspective the MBA students gain through their studies by applying their knowledge and creativity to a challenge faced by hundreds of communities in New York: What do we do now that our primary employer has closed or reduced staff?" says Kelahan. "Wilson recognizes that it must embrace diverse ideas and consider other directions if the community is to remain viable. As expected, the depth and breadth of ideas presented in the competition were wonderful-and actionable," he adds.
Judges evaluated participants on the quality of their analyses, the creativity and clarity of their recommendations, the quality and detail of their implementation plans, the quality and style of their oral presentations, and how well the students defended their recommendations in their question-and-answer responses.
Winning the competition, which included cash awards of $300 each and entry into the George Washington University International MBA Case Competition in March, were second-year MBAs Alex Banfai, Chris Bodkin, Alina Cofas and Dave Gordon.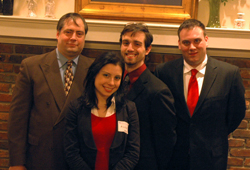 From left: Wilson case competition winners Chris Bodkin, Alina Cofas, Dave Gordon and Alex Banfai.
The winning team offered six recommendations:
Consolidate some governmental operations and functions, including payroll and employee benefits; purchasing; medical insurance; and public works services, such as fleet maintenance and refuse collection.
Build a new wastewater treatment plant.
Make Wilson a "wireless" village.
Build a community-owned and -operated artisan marketplace.
Convert the former Pfeiffer building into a gourmet food incubator.
Build a health center/recreational resort, combining an elective surgery clinic with a hotel, spa and fitness center.
"This type of real-world learning is a key component of the UB MBA experience," says David Frasier, assistant dean and director of the MBA, MS and PhD programs in the School of Management. "And using a real case in which the outcome could have a positive economic impact on a Western New York community makes it ideally suited to UB's mission."
Editor's Note: After this story was written, Wilson Mayor Patrick Kelahan informed us that next time you are in Wilson, you can connect to the Internet via the village's free public Wi-Fi network, which now blankets the Main Street commercial district, thanks to a suggestion from the winning MBA team.
Students Help Community with Aid from PwC

Last spring, with the help of $5,000 from PricewaterhouseCoopers (PwC), School of Management students from Alpha Kappa Psi, Beta Alpha Psi, Delta Sigma Pi, the School of Management Minority Alliance and the UB Accounting Association purchased materials and supplies to renovate areas of Buffalo's VIVE La Casa refugee shelter.

Student volunteers installed drywall and tile flooring and painted the shelter's recreation room, children's area and luggage room. Outdoors, they made improvements to the playground and fencing.

The funding was part of PwC's "Project Make [it] count," an initiative that challenges student organizations in business schools to work together on an issue, cause or project in the community and apply their energy and ideas to make a positive change. The School of Management was one of only 19 schools nationwide to receive the funding. PwC encouraged students to submit proposals that integrated creativity, teamwork, relationship building, high performance and partnerships.

VIVE Inc. provides food, shelter, clothing, health care and legal services to refugees as they await their appointment to enter Canada or their U.S. asylum hearing. It is the largest refugee shelter in the United States and since 1984 has served more than 68,000 asylum seekers from 106 countries.

"When we learned of the need at this facility, we knew it was the project we wanted to tackle," said Jeffrey R. Bassen, then a senior in the School of Management and president of UB's chapter of Beta Alpha Psi, an honors organization for accounting and finance professionals. "Through this project, we are supporting children, teens and adults who are seeking freedom, safety, asylum and the dream of a better life."