Start-Ups
Free tax service brings nearly $1 million back to WNY
Between February and April, 179 IRS-certified accounting students from the School of Management brought $992,000 back into the Buffalo community through the Volunteer Income Tax Assistance (VITA) program. UB's chapter of Beta Alpha Psi, the international honors organization for accounting and finance students and professionals, led the initiative that provided nearly 2,200 hours of tax service, preparing more than 700 tax returns for individuals and families with annual incomes below $49,000.
"We're especially pleased that more than $171,000 of the total was a result of the Earned Income Credit, which targets low-income families in need of additional financial support," said Ryan Linden, a junior in the School of Management and co-chair of Beta Alpha Psi's VITA committee. "It means that we helped a number of families who needed it most."
"We could not be more proud of our students and the impact they have made on the community with this initiative," said Arjang A. Assad, dean of the School of Management. "Despite their class loads and other responsibilities, these students worked virtually every weekend to make this program the outstanding success that it was."
Cumulatively, School of Management student volunteers have brought nearly $2 million in tax refunds back into the Buffalo community over the past three years by preparing more than 1,700 tax returns for low-income families. Approximately $400,000 was from the Earned Income Credit.
EMBAs visit Google's China headquarters during crisis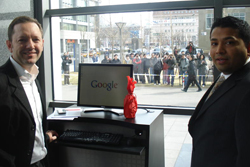 From left: Google China COO Yuri Narciss and EMBA Marouf Ahmed.
Executive MBA students became a part of history this spring as their visit to Google's headquarters in China coincided with the company's decision to pull out of the country due to censorship issues.
The visit had been arranged by Joseph DeVita, EMBA '10, senior search marketing manager for Razorfish, as part of a group project for the "International Business" class taught by Joseph Bell, vice president for acquisition integration for Moog Aircraft Group and adjunct professor of international business.
"Part of the course is to challenge students to set up meetings in China during the annual EMBA international trip," Bell said. "This can be difficult due to time zones, language and cultural differences."
DeVita said the Google visit's agenda was planned a month beforehand and was to cover the state of Internet advertising in China and Google's position, "but the news of the day was much more interesting."
The EMBAs met with Yuri Narciss, Google's chief operating officer in China, just as the news of Google's pullout was breaking.
"The press was everywhere and we were the only people in suits (due to Google's casual corporate culture), so we were bombarded by journalists," DeVita said. "We got information right from the source, so reading all the news and opinions over the next few days was interesting.
"The Google visit proved how difficult doing business in China can be," he said. "Before that, we had only textbook examples."
EMBA Marouf Ahmed, project manager at GEICO Corporation, said that while being "almost chased by media people was a priceless experience," it was not the highlight of the trip. "The most valuable learning experience was hearing about Google's outlook on search censorship straight from their COO," he said.
New development director

Prizner
John Prizner joined UB in May as director of development for the School of Management. Prizner previously served as a development officer at Canisius College, where he was responsible for securing major gifts. In addition, Prizner was executive director of Youth Lifeline America, where he raised capital and operational funding, and has marketing and business development experience from previous positions with the Buffalo Bills and Global Signs and Graphics. Prizner succeeds Jill Sessa, who has begun a new role in the university-wide development office, focusing on the New York City region. Along with Stephen Ebsary, senior director of development, Prizner will be responsible for the cultivation, solicitation and stewardship of major gift prospects and donors to the School of Management.
UB entrepreneurship competition awards $10,000 in seed money
More than $10,000 in cash and services was awarded to the winning team in the University at Buffalo's Henry A. Panasci Jr. Technology Entrepreneurship Competition (Panasci TEC) for its proposal to custom manufacture a new nanomaterial, graphene.
Now in its 10th year, Panasci TEC awards seed money and business services to the team that presents the best plan for launch of a viable new business. Ten local ventures have been started with first-place prize money since the UB competition began, and most are still in business.
From left: 2010 Panasci TEC winners Robert G. Anstey and M. Ali Seeshan. (Photo: Clare O'Leary)
Robert G. Anstey, M. Ali Seeshan, Robert Dennis III and Vincent Lee won for their proposed business, Graphene Devices Ltd. Stronger than carbon fiber, graphene is far less expensive than carbon nanotubing and can be used to enhance plastics, inks and coatings. "For practically anything made with a composite or plastic, we can make it better with graphene," said Anstey. "We've already had interest from auto and aerospace manufacturers."
Graphene was discovered in 2004, but very few companies have been able to produce it commercially. Anstey said that his company's innovative process will allow them to produce graphene at low cost with fewer defects.
In addition to the seed funding, the winning prize package includes in-kind awards for legal services from Jaeckle Fleischmann & Mugel, accounting services from Kopin & Co. and office space from North Forest Office Providers.
The competition was created by the School of Management and the UB Office of Science, Technology Transfer and Economic Outreach, and is designed to bring students from science and technology disciplines together with students or recent graduates from the School of Management to maximize their business and scientific potential and create viable businesses. It is funded with a $1 million endowment from the late Henry A. Panasci Jr., UB alumnus and former CEO of Fay's Inc.
Five teams were selected to present their business plans publicly in the competition's final round on April 26. Other new venture ideas included a bio-services company that designed a targeted drug-delivery system; a Web portal that provides companies with low-cost consumer information; an eco-friendly transportation service designed for the off-campus needs of university populations; and a company that provides a Web browser application that integrates Internet service provider accounts and services.
Hamm shares experience with MBA class

Hamm
Alumni guest lectures are one of the many ways that faculty bring the real world into their classrooms. In March, Professor Kee Chung hosted Kathleen Hamm '85 in his MBA "Investment Management" course. Hamm is a managing director at Promontory Financial Group and heads the firm's Securities Practice Group where she specializes in securities, derivatives and corporate regulatory, compliance and enforcement issues.
Hamm spoke to the class about preventing, detecting and mitigating the risks related to unauthorized or "rogue" trading at financial institutions. She has extensive experience designing, evaluating and managing regulatory, surveillance and compliance systems and programs, conducting internal investigations and providing regulatory analysis and advice on new technology and strategic relationships.
She also has worked for Nasdaq Liffe Markets, and before entering private practice, spent almost 10 years with the Securities and Exchange Commission in its Division of Enforcement.
Hamm graduated summa cum laude from UB with her undergraduate degree in business administration and accounting. She later graduated first in her class from the Georgetown University Law Center with a Master of Laws in securities regulation, and she currently teaches a graduate course at the law center on "Corporate Controls, Compliance and Governance." She earned her law degree with honors from Duke University Law School, where she serves on its Board of Visitors.
MBA students gain real-world e-commerce experience
Teams of MBA students in an e-commerce class gained real-world business experience during the spring semester while developing website recommendations for Fire Science, a custom fire pit company. The class was taught by H. Raghav Rao, SUNY Distinguished Service Professor of management science and systems. Staff members from HP provided guidance on the student projects that were presented to Fire Science in May.
"We knew our Internet presence was pretty poor," said Kent Keating, president, Fire Science. "We thought it would be really valuable to seek solutions from people who understand the technology and have more hands-on experience in areas such as social media."
"The students focused on increasing brand awareness, improving customer relationship management practices and maximizing ad dollars using social media and search engine technologies," said Carl Skompinski, senior business consultant, HP.
"For the short period of time the students worked on the client's business issues, they developed a solid understanding of the business processes in play and provided cost-effective solutions that will be deployed by the client," he said.
Keating said it was a great experience. "Five teams of students presented us with proposals, and we are accumulating certain ideas from each of them in our new website plans," he said. "The students identified new sites and social networks we had never even heard of that could be new audiences for our products."
"The partnership between the School of Management's e-commerce course and local business is a jewel in the MBA program," Skompinski said. "Participating clients are rewarded with innovative ideas and proposals."