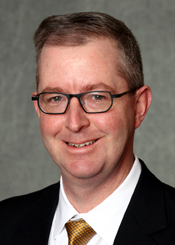 A Message from the School of Management Alumni Association President
New beginnings...
My term as president of the School of Management Alumni Association began in January during some very exciting times for the school and UB. The significant momentum of the school is evident on many fronts, including some notable achievements in the rankings (see Start-Ups). While we celebrate these rankings and other recognition from outside observers, I would like to share my personal observations.
Through my work with both the alumni association and Citi, I am fortunate to have regular interaction with current students and recent alumni. For those of you who, like me, may have graduated more than a couple of years ago, UB and the School of Management have changed dramatically from the "commuter campus" many of us knew, and it is a wonderful transformation. There is an enormous amount of energy in the school that flows from its world-class faculty, staff and students. I can confidently say that, as alumni, you can be extremely proud of your affiliation with the school. I encourage you to demonstrate your pride and, if so inclined, get involved or offer your support.
The pride that current students have in their university is readily apparent when you set foot on campus and see UB Blue everywhere. While recently partnering with a management student group for a community service activity, I was struck by how nearly every student was wearing UB attire. When I inquired if this was a special show of spirit for the off-campus activity, the students explained that it was not a conscious effort-their closets were full of UB attire! I encourage all alumni and friends to "talk more UB," and consider buying and wearing that UB hat or shirt (alumni.buffalo.edu/iloveub), or place a UB sticker on your car as so many alumni of other "big time" schools do.
If you wish to experience firsthand all of the positive things happening in the School of Management, your best bet is to get involved. To learn how, visit mgt.buffalo.edu/alumni/opportunities.
Sincerely,
Tom Cogan
School of Management Alumni Association President