A Message from the School of Management Alumni Association President | Alumni Association Board
Join the School of Management Alumni Association
Alumni News...

Your link to the School of Management Alumni Association
Connect. Network. Achieve.
School of Management alumni gather at the Getty Center in Los Angeles.



To L.A., Singapore and Beyond... Alumni Making Connections
Our more than 33,000 School of Management alumni form a powerful global network. Staying connected both in person and electronically has resulted in new relationships, friendships and stronger networks based on a common theme: UB. We look forward to hearing and sharing more stories like those below.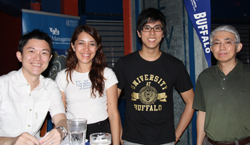 From left: Ng Soon Guan, SEMBA '09, Grace Chew, SEMBA '07, Ong Zi Xing, current student, and Patrick Lee, SEMBA '07, at the Singapore alumni event.
Moving cross-country from Buffalo to Los Angeles ended the physical connection School of Management alumnus Vince LoRusso '07 had to UB. Determined to stay linked to his alma mater, and with the assistance of the alumni association, LoRusso located alumni in the L.A. area and organized a UB reunion. Fifteen alumni gathered at L.A.'s Getty Center to share stories and reminisce about their UB days. A "Taste of Buffalo in L.A." picnic in February for 40 alumni featured hometown foods and, in April, a movie screening was held at the L.A. County Museum of Art. These L.A. alumni continue to connect with increasing numbers of UB graduates in ways that interest them.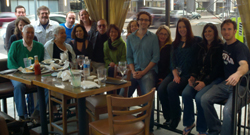 Alumni event at the L.A. County Museum of Art.
Reaching across the globe, an enthusiastic group of more than 80 alumni and students attended a unique networking event in Singapore featuring a Buffalo-themed menu. Arjang Assad, dean of the School of Management, "attended" via Skype and spoke of the important role international alumni play in the school. He also highlighted the school's increased rankings and thanked alumni for their support of and connection to the School of Management. Easter Weiss, program director for the EMBA program in Singapore, also offered remarks and shared with the group exciting plans for the newly ranked Singapore program. New connections were created and old acquaintances were rekindled by those in attendance. "This was a fantastic event that brought alumni in Singapore together and connected them back to UB using technology," said Cynthia Shore, senior assistant dean of alumni and external relations. "It was a new initiative for our office and the alumni association, and we look forward to increasing our reach and impact with alumni around the world. Stay tuned."
Alumni volunteer opportunities
We encourage alumni to stay involved and connected to our school, students and faculty. To participate in any of the listed activities, contact Thomas McArthur, associate director of alumni and external relations, at tm53@buffalo.edu or 716-645-5211. View a comprehensive list of volunteer opportunities at mgt.buffalo.edu/alumni/opportunities.
Mentor students through MentorLink
Recruit interns and post jobs through BizLink
Organize an alumni networking event in your area
Host a dinner for current or admitted students
Member rewards
Members of the School of Management Alumni Association (SOMAA) are eligible for our exclusive members-only rewards program. An email identifying each quarter's prize or benefit is sent to all alumni with a valid email address. If you would like to be eligible for this program, ensure your email is current at mgt.buffalo.edu/about/business-community.html and become a member of the alumni association.
Some benefits include:
Education grants (minimum award $500)
Professional development/continuing education grants ($250 each)
"Among Friends" dinner grants ($250 each)
Travel grants to come back to campus ($250 each)
Free tickets to events