A Message from the School of Management Alumni Association President | Alumni Association Board
Join the School of Management Alumni Association
Alumni News...

Your link to the School of Management Alumni Association
Connect. Network. Achieve.
Farewell to John Shellum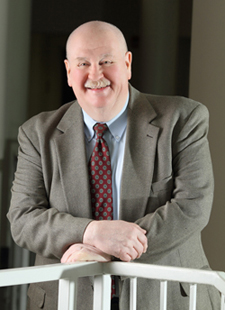 Photo: Tom Wolf
Upon his retirement in August, John H. Shellum, executive director of the School of Management Alumni Association (SOMAA) and an assistant dean in the School of Management, brought to a close decades of service to the school. Known for his dedicated efforts to promote the School of Management within Western New York and beyond, Shellum served the school since 1978, playing a major role in many significant developments during his tenure.
Past alumni association president and longtime friend Bill Hamilton '68 summarized the feelings of many when he said, "For more than 30 years, there have been a number of deans, faculty and staff at the School of Management and a lot of talented board members; but for the School of Management Alumni Association, there has been only one constant-John Shellum."
In 1978, Shellum led the revitalization of the school's alumni association and has directed alumni activities since. In 1985, he coordinated the School of Management's move from Crosby Hall on UB's South Campus to its present location in the Jacobs Management Center. He planned the school's 60th anniversary celebration in 1987 and organized the first graduation ceremony for the school's China MBA program, which featured an appearance by former U.S. Secretary of State Henry Kissinger.
In 2001, the School of Management Alumni Association pledged $150,000 to create a space in Shellum's honor in the Jacobs Management Center. Over a five-year period, 106 Jacobs was renovated into a digital access classroom and also serves as a multipurpose facility for meetings and other events.
At the dedication ceremony of the "John H. Shellum Room" in 2006, Michael Brace, MBA '94, then president of the alumni association, said, "This gift is a tribute to John Shellum's many years of outstanding service as a devoted administrator and ambassador for the School of Management. His work has had a lasting impact on the success of the school and has positively affected all of the school's constituents-students, alumni, faculty, staff and community members."
On a personal note, Brace fondly remembered Shellum's sage advice to him as he prepared his remarks for an Executive of the Year banquet-words that still ring true for him today. "There are only two things that audiences appreciate in a speech: levity and brevity."
Don Griebner, MBA '82, recalled the important role Shellum played in creating a positive environment for student/faculty interaction while Griebner was a student and president of the Graduate Management Association. "John was instrumental in helping us plan activities that really created bonds outside the classroom. He was always there for advice and counseling, and he also provided a strong connection to the business community," Griebner said. "John Shellum was truly an inspiration and role model to us all, and he made sure that students had a fun and rewarding experience during their years at the school."
"John has been the greatest resource at UB for a School of Management board chair or volunteer," said Gerry Murak, EMBA '96, also a past president of the alumni association. "His background knowledge, which has been often referred to by many alumni as 'the world according to Shellum,' has been invaluable."
Shellum and his wife of 37 years, Bonnie, are residents of Wheatfield, New York, and Bay Beach, Ontario, and have three grown children, Julie, Jaci and Lynn. He earned a bachelor's in business and an MBA from the School of Management in 1967 and 1969, respectively. Since then, Shellum has spent his entire career at the university, in various capacities.
A current board member and former chair of the Beechwood/Blocher Foundation, Shellum is also former board chair for Beechwood Continuing Care, former chair and member of the board for the Olmsted Center for Sight, and has been involved with the United Way of Buffalo & Erie County for more than 30 years.
"The School of Management and our alumni association have been most fortunate to have as caring an advocate as John," said Dean Arjang Assad. "To say that John is irreplaceable is surely an understatement."
Cynthia Shore '81, MBA '82, said, "I consider myself blessed to have worked closely with John for many years through the alumni association and on the staff of the School of Management." Shore is senior assistant dean of external relations for the school and a longtime board member and past president of the alumni association. "John brought insight, clarity, warmth and patience to every project he tackled," she added. "It's difficult to express how much he will be missed."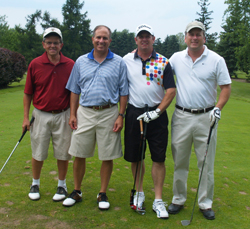 Winning foursome (from left) Dave Budniewski, Greg Ivancic, Bill Grieshober and Bob Rich III shot an 11 under par 61.
2010 Golf Outing
Alumni and friends enjoyed another great day of golf on July 12 at Westwood Country Club, with more than 120 golfers attending the 14th annual School of Management Alumni Association Golf Outing. Proceeds were used to benefit School of Management students and programs.
2010 Wine Tasting and Dinner
The annual Wine Tasting and Dinner, held April 30 at the Millennium Airport Hotel in Cheektowaga, was another great success. Mark Notarius, MBA'01, of Premium Wine & Spirits led guests through an informative and fun evening, tasting wines from the New York State Finger Lakes region donated by Premium Wine & Spirits and Chateau Lafayette Reneau. Join us next year on May 6, 2011, for our most popular event.