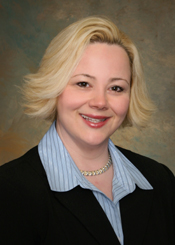 A Message from the School of Management Alumni Association President
How Time Flies.
Nearly two years ago, when I became president of the SOMAA board, I never imagined that I would look back on the time and ask, "Where did it go?" How did these years go by, seemingly in a blink?
So as I sat down to write this-my last letter to you as president-I recalled a poignant moment while putting my 7-year-old son to bed just a few weeks ago. Lying there, he asked (he was whining, really), "Mom, why do the weekends always go by so fast? Why can't school days go this fast?"
I chuckled, remembering my anxiety when I was a child that I would never grow up, because most of the time when you're a kid seems to go by so-o-o slowly. So I explained to him the notion of how "time flies when you're having fun." He looked at me knowingly, as if I were sharing the secret to an ancient mystery, and nodded.
Whether he understood it or not, though, it was a reality check for me, particularly in my role as SOMAA president. I have had so much fun and, thanks to the efforts of the board, its officers and the incredible staff of the School of Management Alumni Relations Office, we have accomplished a lot of great things in two very short years. Some have been evident to our membership (like our Member Rewards program and our successful and well-received programming) and others, not nearly as evident, but necessary and important all the same.
Just like play for the 7-year-old set, the work that our all-volunteer board does is also fun (and meaningful and important) because of those with whom we're fortunate to work. In particular, I have had the privilege of working with John Shellum, assistant dean of alumni relations. With his retirement in August, I am the last president who will benefit from his experience and expertise; I want to sincerely thank him because I couldn't have done this "job" without him. I have always been assured of his belief in me and supported by his tutelage and guidance.
With all of this in mind, I realize that once again, my message for this last president's letter is the same. And that message?
The significance and value of our networks, both personal and professional. Our networks-our friends, families, colleagues, classmates, fellow alumni and even acquaintances-are what make our lives and work meaningful, and yes, even fun.
Thank you, Dean Assad, my fellow board members and the outstanding team of the school's Alumni Relations Office, for a whirlwind of an experience. To all of you, and my fellow alumni, I wish you all great success in the future-and may time fly only because you're having fun.
Sincerely,
Eileen M. Connor-Costilow
School of Management Alumni Association President