A Message from the School of Management Alumni Association President | Alumni Association Board
Join the School of Management Alumni Association
Alumni News...

Your link to the School of Management Alumni Association
Connect. Network. Achieve.
Benefits continue to grow
The benefits of a UB School of Management education continue well beyond graduation. As an alumnus, you have access to a network of more than 29,000 alumni, to career development and networking resources and to a free lifetime e-mail account. By joining the UB School of Management Alumni Association (SOMAA), the benefits multiply. Our association is passionate about providing our students and alumni opportunities for career advancement, serving as a forum to continue friendships and business relationships, and supporting our individual alumni in their pursuit of personal growth and community service.
We have thus developed programs that achieve these goals. In 2008, we partnered with CareerBeam, a virtual career "success center," to give our members the best company and industry research tools, international databases and lead-generation technology available in the market, at no additional cost. As a CareerBeam user, you have access to worldwide company intelligence, including Dun & Bradstreet, job trigger technology and contact management. In addition, you may take advantage of the personalized career report and interactive seminar series with professional résumé and cover letter builders to advance your career.
SOMAA members also are eligible for participation in our Member Rewards program, which gives annual grants for education, professional development, entertainment and travel, as well as complimentary tickets to SOMAA networking and social events. Last June, members were invited to apply for grants (for themselves or their immediate families) toward a UB educational program. Selections from the completed applications were made using a variety of criteria, with the goal of providing monies to applicants pursuing diverse academic programs. We are pleased to announce the recipients of the association's inaugural education grants and the degrees they are pursuing: Aaron Beauregard '06, Tonawanda, N.Y., MBA; Melanie Boron, Lockport, N.Y., Doctor of Pharmacy, (daughter of Michael E. Boron, MBA '99); Myles Kaplan, Edison, N.J., Bachelor of Science in Management, (son of Elliot L. Kaplan '77); Angelica Maier, Williamsville, N.Y., Bachelor of Arts in Art History, (daughter of Stephanie K. Maier '79); and Allie Massaro, Lewiston, N.Y., Doctor of Medicine, (daughter of Dominic P. Massaro, MBA '81).
But the benefits to membership don't stop there. As a member of the SOMAA, you are automatically enrolled in the UB Alumni Association (UBAA), with instant access to their extensive programs and services. If you are planning to visit the zoo, attend a concert at the UB Center for the Arts, shop online, attend a UB Bulls athletic event or take a vacation, the UBAA provides discounts to these and hundreds of other merchandise products and services, along with access to the UB library system and athletic facilities. Visit alumni.buffalo.edu to learn more.
You can join at any time of the year and enjoy the combined privileges of both the School of Management and the UB Alumni Associations for only $50. Visit mgt.buffalo.edu/alumni/association to join and start reaping the benefits today.
Student relations
Our commitment to support our students in their personal growth as future business leaders, as well as to give student clubs the chance to socialize and network with alumni, was displayed at several coffee and donut events over the past few months. Co-sponsored by the SOMAA and several School of Management student clubs, these events are designed to give students the opportunity to interact with alumni and provide exposure for their clubs to the student population. Club presidents are invited to host a table in the Alfiero Center. Members of the SOMAA board of directors volunteer to provide mentoring and networking guidance to the students.
Alumni opportunities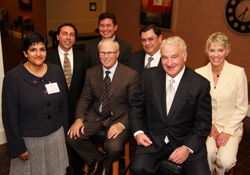 Award winners are pictured with UB President John Simpson, Dean Arjang Assad and outgoing SOMAA President Sujata Yalamanchili. From left, Yalamanchili, David Hore, Simpson, Jay Schwartzkopf, Assad, Tom Golisano and Francine Brooks. (Photo: Tom Wolf)
Would you like to expand your network of local business leaders? Do you feel the desire to give back to the community? Is it time for you to brush up on current topics facing the business world? Then the School of Management Alumni Association can help. Network at the upcoming Golf Outing and Wine Tasting events. Become a telementor or attend a Smart Business Practices seminar. Visit mgt.buffalo.edu/alumni for more information.
Annual awards banquet
The 59th Annual School of Management Awards Banquet was held October 28, 2008, at the Millennium Airport Hotel Buffalo honoring Niagara Frontier Executive of the Year B. Thomas Golisano, chairman of the board and founder of Paychex and owner of the Buffalo Sabres. In addition, achievement awards were presented to Francine Brooks, CEL '99, president of FB Displays & Designs for her contributions to entrepreneurship; David T. Hore '87, co-president of PCB Group for his community service; and Jay J. Schwartzkopf '97, president of Apex Management Group, for his service to the School of Management.
For information on upcoming events, visit mgt.buffalo.edu/alumni/events.
Welcome New Directors

Gregory R. Duval, MBA '99
Vice President - Commercial Banking
HSBC Bank USA, N.A.

Erin K. O'Brien, MBA '00
Business Development Executive
IBM

David J. Uba, MBA '97
Vice President, Strategic Planning and Innovation
BlueCross BlueShield of Western New York

Joost M. Vles, EMBA '00
Parts Build Manager
Moog Inc.

Thank you to our outgoing board members Donald Boyd, Michael Colby and John Shine. A special thank you to outgoing board members Michael Deakin (16 years), Bruce Morlock (7 years) and Charles Swanekamp (15 years) for their extensive years of service and support.