A Message from the School of Management Alumni Association President | Alumni Association Board
Join the School of Management Alumni Association
Alumni News...

Your link to the School of Management Alumni Association
Connect. Network. Achieve.
Connect, Network and Achieve - the social networking way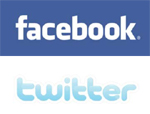 Do you Tweet? How many Facebook friends do you have? What's on your LinkedIn profile? If you can't answer these questions, you are not alone.
Since January, the School of Management Alumni Association (SOMAA) has undertaken several strategic initiatives focused on using technology to enhance communications with and especially between our alumni and the world at large.
While e-mail has been our primary method of communication with alumni, the time is right to explore other avenues. "Social networking is the new way of communication and unless you're a part of it, it will pass you by," said Jennifer VanDewater, MBA '02, SOMAA board member, and director-desserts at Rich Products. "This type of communication isn't just a fad used by young kids. If you are not a part of it, you will never understand or even give consideration to how much it can help you gain speed and efficiency in your personal and professional lives." VanDewater's words resonated with the rest of the SOMAA board and formed the basis for our initiative to use social media. Simply put, social media is people having conversations online. According to a recent article by Chip Hanna at the Forth Worth Business Press, "While [social media] can seem overwhelming, experts say it can add tremendous value to a business or organization by allowing a company to be involved in relevant conversations online. Imagine the best sales person at the world's biggest cocktail party." When the alumni association began exploring this initiative and its uses, we considered the following misconceptions of social networking:
Social networking is only about chatting with friends.
Take the "social" out of the title and you are left with "networking." That's what it's all about—networking.
Social networking is for young people.
Absolutely false. All generations are using this communication style to interact with others. People are using it personally and they are using it for business.
Social networking is difficult to understand and navigate.
Actually, it couldn't be easier. Regardless of the type of site, it takes only a minute to sign up and you can "un-join" at any time. And every site has a help link to assist in its use.
Social networking takes too much time.
Like anything, social networking takes as much time as you wish to put into it. The opportunity exists to gain information from a variety of sources just by being a part of a network. Networking increases efficiency with information gathering and communication due to the volume of people that can be reached.
The School of Management Alumni Association is in the process of navigating the waters of social media. Plans are under way to present a social networking program this fall, open to anyone curious about this phenomenon and its application to traditional networking. Stay tuned for developments and an update in the next issue. In the meantime, explore our LinkedIn group, University at Buffalo School of Management, and our Facebook group, UB School of Management Alumni, to connect and communicate with your fellow alumni.
2009 Golf Outing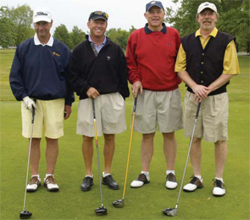 Winning foursome (from left) Rick Mason, Ed Duch, Ed Schneider and Jack Barrett shot an eight under par 64.
Alumni and friends enjoyed another great day of golf at Westwood Country Club with more than 100 golfers attending the 13th annual School of Management Alumni Association Golf Outing. All proceeds were used to benefit School of Management students and programs.
2009 Wine Tasting and Dinner
The annual Wine Tasting and Dinner, held this year at the Millennium Airport Hotel Cheektowaga, was another great success with more than 200 people attending. Mark Notarius, MBA '01, of Premium Wine & Spirits led guests through an informative and fun evening, tasting wines from Italy donated by Premium Wine & Spirits and Southern Wine and Spirits. Join us on May 7, 2010, for our most popular event.
CareerBeam
CareerBeam is an exciting way for the SOMAA to assist its members in achieving their career goals. CareerBeam is an interactive program complete with a powerful database that allows users to find information on specific companies; search for companies using specific criteria, such as geographic region, industry or size; and identify contacts for networking, including using LinkedIn. All SOMAA members have free access to CareerBeam. .