A Message from the School of Management Alumni Association President | Alumni Association Board
Join the School of Management Alumni Association
Alumni News...

your link to the School of Management Alumni Association
Connect. Network. Achieve.
Member Rewards Program
The School of Management Alumni Association (SOMAA) Member Rewards program is now in its second year and really gaining momentum. The program is a way to give back to you, our members, as well as a great incentive to help you get involved. Members are notified via e-mail about reward opportunities, so be sure we have your current e-mail address on file. You also can find Member Rewards information and join the SOMAA on our Web site at mgt.buffalo.edu/alumni/association.
Below is a list of Member Rewards for this year.
Smart Business Practices Seminar - Lloyd Arakelian '89, Tom Ayers, EMBA'00, Kate Hacker, PhD '85, and Jessica Venne '06 received tickets for our professional development breakfast event in March.
Annual Wine Tasting and Dinner - For our most popular event, held in May (see related article), we awarded two tickets each to Katherine Ferguson, MBA '92, and Timothy Stives, CEL '02.
"Salute to Summer" Cruise - Walter Bejger '05, David Oestreicher MBA '92, Kristine Weller, MBA '87, and Sammy Violante '75 received tickets to this popular charter cruise and dinner to be held in September.
UB Scholarship Gala - Thomas J. Dixon, MBA '73, James Eaton, MBA'77 and Jill Kilinskas, MBA '84, received two tickets each to this special campus event to be held in the fall.
Connoisseurs Club - The SOMAA awarded one Connoisseurs Club membership to an alumni association member upon purchase of one ticket at the regular price of $500 for this series of three upscale events at exclusive locations featuring ultra-premium beverages and an extraordinary menu. This year's winner was Bob Monin '71.
Not-for-Profit Grant - Donations were made to not-for-profit organizations in honor of our SOMAA members who serve on their boards of directors. Organizations that received grants were the Chinese Club of Western New York, in honor of Jeff Wang, EMBA '03; Ken-Ton Meals on Wheels, in honor of Patricia Herberger, MBA '85; Family and Children's Services Niagara, in honor of Joe Kuchera, MBA '81; Lynn (Mass.) Community Health Center, in honor of Gary Young, PhD '82; and United Way of Screven County, Ga., in honor of George St. George, MBA '71.
Professional Development/Continuing Education Grants - The SOMAA awarded two grants of up to $250 to pursue continuing education or professional development to Kathy O'Donnell, MBA '78, and Jacqueline Ghosen, MBA '94.
Hosting an "Among Friends Dinner" - The SOMAA funded two grants of up to $250 enabling the winners to host a dinner for ten to 12 School of Management alumni. The dinner can be held in a home or a restaurant and is designed to bring together alumni from a common area to share opportunities and camaraderie. Recipients were Jose Rocha, MBA '93, in Miami, and Jonny Ku '03 in New York City.
Travel Grants/UB Bulls Package - The SOMAA will reimburse the winners up to $250 for travel and lodging to return to Buffalo and attend a UB Bulls football game in the School of Management's box in UB stadium. The winners were Howard Reis '76 from West Nyack, N.Y., and Seth Vogelhut '01 from Hoboken, N.J.
Tuition Grant - This is an exciting new opportunity for SOMAA members this year. You or a family member can apply for a tuition grant of up to $2,000 funded by our Member Rewards program, to be applied toward any University at Buffalo educational program. Information is available on the SOMAA Web site and also will be sent via e-mail to all SOMAA members.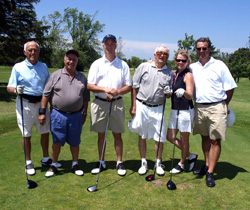 Frank Ciminelli, Fred Hanania, Greg Bauer and Joe Kreuz made up the winning foursome at this year's Golf Outing. They are pictured, from left, with Norm and Cindy Kreuz (second and third from right).
Golf Outing
Alumni and friends enjoyed another great day of golf at Westwood Country Club with 115 golfers attending the 12th Annual School of Management Alumni Association Golf Outing on June 9. All proceeds will be used to benefit School of Management students and programs.
Wine Tasting and Dinner
The annual Wine Tasting and Dinner, held this year at the Millennium Airport Hotel Buffalo, was another great success, with more than 160 people attending. The Premier Group's Mark Notarius, MBA '01, led guests through an informative and fun evening, tasting wines from Chile donated by the Premier Group and Empire Merchants. Join us next year on May 1 for one of our most popular events.
CareerBeam
Introduced this spring, CareerBeam is an exciting way for the SOMAA to assist its members in achieving their career goals. CareerBeam is an interactive program, complete with a powerful database that allows you to find information on specific companies, search for companies using specific criteria, such as geographic region, industry or size, and identify contacts for networking within a company or organization. All SOMAA members have free access. Learn how to receive a hands-on demonstration of CareerBeam by visiting mgt.buffalo.edu/alumni/association for more information.