Alumni Close-Up: Sujata Yalamanchili
Keeping the law in order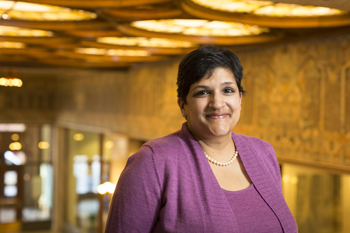 Yalamanchili at the Hodgson Russ offices in Buffalo. Photo: Tom Wolf
Sujata Yalamanchili, BS '88, MBA '89, is a partner at Hodgson Russ LLP, a Buffalo-based law firm that handles a variety of complex issues, including cross-border matters. There, she leads the firm's real estate, finance and bankruptcy practice area.
Since starting at Hodgson Russ in 1999, Yalamanchili has held a number of different roles at the firm, including serving on the board of directors, chairing the recruiting and diversity committee and leading one of five practice areas.
"I've been fortunate to have a dynamic and interesting legal practice representing businesses in many different industries and of varying sizes and complexities," she says.
Prior to joining Hodgson Russ, Yalamanchili served as an associate at legal firms Cummings & Lockwood and Hebb & Gitlin. She began her career as a financial analyst at Harrison Radiator Corp., which later became part of General Motors' Automotive Components group.
She says her experience at the School of Management has helped her understand the issues her clients face.
"My business training permeates almost every aspect of my practice," says Yalamanchili. "At the School of Management, I developed an excellent foundation of core business functions that I use to inform and personalize service for my clients."
While her finance and accounting skills are put to the test every day, she says her education in organizational development and human resources may be the most valuable.
"Those experiences help me manage my practice, impact the business of my law firm and relate to the organizations I represent as an attorney," she says.
Yalamanchili is a devoted advocate of her alma mater, and in 2010 received the Service to the School award from the School of Management Alumni Association in recognition of her exceptional volunteer service. She's also been named to the list of Best Lawyers in America by Real Estate Law and the list of Upstate New York Super Lawyers, among other awards and honors.
She says current students and new graduates should seek out professional mentors to make the most of their careers.
"Mentoring relationships are not always formal and may occur outside your organization or work group," she says. "The most meaningful relationships are the ones you seek out and nurture, not necessarily the ones that are hand-picked for you."
When she's not working, Yalamanchili enjoys traveling, reading and engaging in informal debates. She also spends time volunteering with many nonprofit and community service organizations.
"Finding the time to commit to volunteering isn't always easy, but these experiences have enriched my life, career and connection to the community," she says.
- Kevin Manne