Student Close-Up: Kelsey Barbour
Finding her strength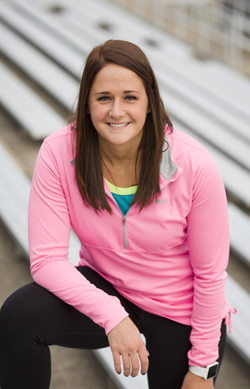 Photo: Tom Wolf
Kelsey Barbour, MPH/MBA '17, was diagnosed with thyroid cancer nearly five years ago at the age of 19. She fought back, completed treatment and was officially cancer-free a year later, in June 2012. But since then, she hasn't stopped fighting.
Through her experiences, she discovered her passion for cancer-related causes and nonprofits. Barbour earned a bachelor's degree in health and human services from UB, and is now enrolled in the dual Master of Public Health/Master of Business Administration program. She also has organized and executed fundraisers, and completed internships with Sisters of Charity Hospital in Buffalo and the American Cancer Society.
"If I had not been diagnosed with cancer, I probably never would have changed my career path or gotten involved with cancer-related organizations at UB," she says. "It led me to figure out what I wanted to do with my career and showed me that I could be really strong."
Last summer, she took her fight to the streets as a participant in the 4K for Cancer, a 4,000-mile team relay across the United States to raise money and awareness for young adults with cancer. Barbour and her teammates started in San Francisco and ran from city to city each day, eventually landing in Baltimore six weeks later.
Each day, she woke up around 4 a.m., gathered her belongings and loaded them into a van, which shuttled everything to the next stop. Then she and a partner ran an average of 10 to 15 miles until the next pair took over.
"It was incredible to see the impact we had," says Barbour, who raised more than $9,000 for the Ulman Cancer Fund for Young Adults before the trip. "We would be on roads for miles and miles where not a soul could see us. But then we'd get to a gas station, and someone would come up to us, donate $20 and say, 'My mom had cancer and this really means a lot to us, so thank you.'"
Along the way, Barbour and her teammates visited cancer centers to set up brunches for patients, deliver "chemo care bags" with blankets and other comforting items, and talk with patients.
"It was great to stop and do those things," she says. "Some of us got caught up in the day-to-day while we were running, so it was nice to remember what we were doing and why we were there."
Barbour ran over the Golden Gate Bridge and through the brutal heat in Nevada, climbed hills in Wyoming, experienced the beauty of Zion National Park and made lifelong friends with her teammates, who hailed from 22 different states across the country. She arrived back on campus this fall with renewed energy and drive.
"It's not every day you can say you ran across the country," she says. "Doing something like that changes your outlook on many things. It helped me redefine my career goals and inspired me to keep setting new goals."
Barbour already set and completed one new goal this year—to run her first marathon—and now has set her sights on securing an internship at a health-related nonprofit or cancer center for the summer.
- Matthew Biddle