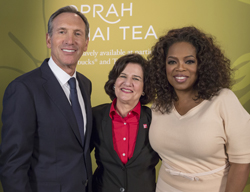 School of Management alumna Judy Vredenburgh, MBA '75, with Starbucks CEO Howard Schultz and media mogul Oprah Winfrey. Photo courtesy of Starbucks Corp.
Conquering the C-Suite
The evolution of women in leadership
By Kevin Manne
Judy Vredenburgh, MBA '75, was part of a 1970s class action lawsuit where Buffalo department stores were sued under the Fair Labor Standards Act for failing to pay women the same salary as men for doing the same job.
"I knew I was being paid less, but I didn't know how much less," says Vredenburgh. "It turned out it was a lot—I got a substantial check in the mail because I agreed to the out-of-court settlement."
Later, when she was living in New York City, she was passed over for a major career advancement when her boss was promoted to president and his position opened up.
"They gave the position to a man they wanted to retain, but who had not achieved the same results I had," she says. "They thought, 'We're never going to lose Judy because she's not geographically mobile; she's married to a long-tenured professor. She'll wait her turn. It'll be fine.'"
But for Vredenburgh it wasn't fine. She got another job and moved on, despite the company's efforts to persuade her to stay. In all, she spent 22 years in the retail industry, including a term as president and CEO of Chess King, before shifting to the nonprofit world in 1993 when she took a senior vice president position at March of Dimes.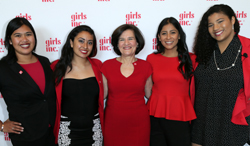 Vredenburgh, center, with three Girls Inc. national scholars and an alumna at the Girls Inc. 2014 Los Angeles Celebration Luncheon. Photo: ABImages
Today, in her role as president and CEO of Girls Inc., Vredenburgh helps girls from low-income communities get access to the resources they need to succeed in situations like these. "Girls Inc. girls grow up to be strong, smart and bold," says Vredenburgh.
"External challenges influence our internal self-perception," she says. "There are a lot of stereotypes that limit women's self concepts and aspirations-we have to fight against those. We have to set high expectations for ourselves and we want our employers to expect the same."
You'll find women who have graduated from the School of Management in leadership roles across a wide array of industries. And while these women, along with many others, have made great strides to shatter the glass ceiling, there remains significant gender inequality in executive suites and boardrooms across the U.S.
But as companies seek a different kind of leader—one who is more collaborative, people-focused and shares power—it's women who may have the advantage in leading the modern business world.
Status quo
If you do a Google image search for "great leaders" you'll see many familiar faces: Martin Luther King Jr., Bill Gates, Abraham Lincoln, Mahatma Gandhi.
What you won't see are many women. In the top 50 search results there is just one: Mother Teresa. There are a few more peppered into the top 100.
"That says a lot about how we view leadership and gender issues," says Jim Lemoine, assistant professor of organization and human resources, who uses this exercise to kick off his presentation, "Lead Like a Woman."
"It's obvious that gender plays a role here," he says. "It's something that women going into the workforce, especially those who want to climb the corporate ladder, need to be aware of."
The numbers back it up. According to a recent CNNMoney analysis, women hold just 14.2 percent of the top five leadership positions at companies in the S&P 500. Of those companies, only 24 are led by female CEOs—a mere 4.8 percent.
And while the pay gap between men and women has narrowed since the 1970s, as of 2014, women working full time in the United States typically were still paid just 79 percent of what men were paid.
Unbreachable
According to a 1995 report from the U.S. Department of Labor, the glass ceiling is "the unseen, yet unbreachable barrier that keeps minorities and women from rising to the upper rungs of the corporate ladder, regardless of their qualifications or achievements."
The American Association of University Women, a nonprofit organization that works to advance equity for women, suggests that changes from companies, individuals and policy makers can help close the wage gap.
The group urges companies to conduct salary audits to monitor and address gender-based pay difference; offers salary negotiation workshops; and is a proponent of the Paycheck Fairness Act, an extension of the Equal Pay Act of 1963, which makes it illegal for employers to pay unequal wages to men and women who perform substantially equal work.



"As we elevate our power and influence in organizations, gaps in compensation will narrow."




Sharon Randaccio, BS '76, MBA '81
President and CEO, Performance Management Partners Inc.
Sharon Randaccio, BS '76, MBA '81, is president and CEO of Performance Management Partners Inc., a Buffalo-based talent management and human resource consulting firm. She's also the founder of Red Siren, a specialty women's boutique at HarborCenter in Buffalo. Randaccio says women are paid less because they're still playing catch-up in the workforce.
"Look at the percentage of female CEOs—we're way behind," says Randaccio. "We're getting paid for the roles we're in. As we elevate our power and influence in organizations, gaps in compensation will narrow."
She also says that baby boomer retirements and the projected talent shortage will provide significant opportunities for women to climb the corporate ladder.
Lemoine says some studies show women hold as many lower, middle and upper-middle management positions as men do (and sometimes more), but there is a huge drop-off when you get to the C-suite.
"The more women we put into senior leadership roles, the more we see women as leaders and the more accepted they are as leaders, the more these differences will fade away," says Lemoine.
Randaccio agrees. "Ten years from now we'll see more women in leadership positions making the money those positions demand," she says.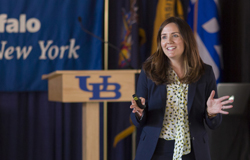 DiMaurizio discusses how to build an adaptive organization at the 2015 Leadership and Networks conference, presented by the School of Management's Center for Leadership and Organizational Effectiveness. Photo: Tom Wolf
Selling success
In her 2013 book, Lean In: Women, Work and the Will to Lead, Facebook COO Sheryl Sandberg encourages women to step forward, succeed professionally and put themselves in the position to ask for what they need and make changes that benefit others. The book has inspired many women to push for power at the office.
Kimberly DiMaurizio, BS '97, MBA '98, is vice president, global talent management at Campbell Soup Co. She says that while her mother raised her to believe that anything is possible and to not bring gender into it, that's easier said than done.
"Women tend to not put themselves out there—it's more natural for most men to go out and speak to their successes," says DiMaurizio. "Women who assert themselves can be perceived as being overly aggressive, but that's something we need to overcome."
Alexandria Maciag, MBA '82, is director of manufacturing in the Automatic Transmission Division at Ford Motor Co. She started at Ford when she was a student at UB, working full time on the assembly line at the company's Buffalo stamping plant.



"I always strive to deliver the best results so I can simply talk about contributions without being pushy or arrogant."




Alexandria Maciag, MBA '82
Director of Manufacturing, Automatic Transmission Division, Ford Motor Co.
She says women don't necessarily have a harder time being recognized for their work, even in the male-dominated automotive industry, but agrees they do need to be more vocal about their ideas and touting the results they've achieved.
"Just achieving the results on paper will not necessarily be recognized unless I can reinforce those accomplishments to show my leadership capabilities and what my team has done to improve the organization overall," says Maciag. "I always strive to deliver the best results so I can simply talk about contributions without being pushy or arrogant."
Shandra Spicer, CEL '12, also knows the challenges of working in a nontraditional career. She was just 18 years old when she launched S&W Contracting of WNY Inc. with her mother. In 2013, she rebranded the business as Spicer Group to reflect the growing portfolio of services provided by the company, where she now serves as president and CEO.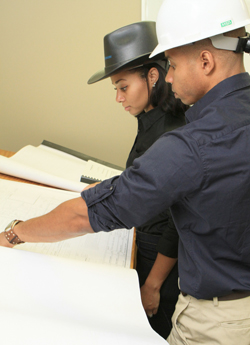 Spicer looks over documents with Najeeb Spicer, OSHA Health and Safety director at Spicer Group. Photo: Tracy Thomas
"The challenge is getting out of your own head," says Spicer. "There have been times when I've been sitting in a boardroom and I'll make a point that appears to be overlooked, and then a few minutes later a man will slightly rephrase what I said and you'll hear 'great idea, we need to implement that.'
"If you're not naturally a pushy person, you have a tendency to second guess yourself about how assertive you should be in those settings to be sure your voice is heard."
Work-life flexibility
When Ann-Marie Slaughter published "Why Women Still Can't Have It All" in The Atlantic in 2012, it ignited a public discussion about women in the workplace that persists to this day.
Margaret McGlynn, MBA '83, turned the focus from work-life balance to work-life flexibility throughout her 26-year career in the pharmaceutical industry at Merck & Co.
"While you must always get the job done, what you have to ask for is the flexibility to prioritize what's most important at any point in time," says McGlynn. "I have two children who are now 24 and 22, and I told them 'I can't be there all the time, but I will always be there when you need me.'"
On one occasion, McGlynn was about to take a cross-country flight for a business meeting when she received a call saying her daughter had an undiagnosed issue with her leg. Rather than waiting a few days to take her daughter in for a scan as she was advised, McGlynn cancelled the trip and took her daughter to the hospital that day. It turned out she needed emergency surgery.



"I have two children who are now 24 and 22, and I told them 'I can't be there all the time, but I will always be there when you need me."




Margaret McGlynn, MBA '83



"I was very glad I set that principle and adhered to it," she says.
Girls Inc. CEO Vredenburgh says her key to managing a meaningful work and family life is having the right companion.
"I was fortunate to marry a guy who is a full partner with me," says Vredenburgh. "As a tenured professor, he has flexibility in his schedule that I don't, and he has a fantastic sense of humor that helps keep perspective on what's important."
Lead like a woman
The classical approach to business and political ethics has been to follow the rules, obey the law and do what society expects.
In the modern world, as businesses respond to pressure from customers, communities and the media to be more socially responsible, there is a call for a new approach to ethics—an ethics of care that focuses on providing the greatest good to the greatest number of people.
Lemoine says this servant leadership fits into our preconceived notions of how women operate differently from men, which puts them at an advantage for future leadership roles.
"By leading in a way that shares power, that is focused on getting to know people and developing them and acting ethically-that may actually be the most effective form of leadership in the modern world," says Lemoine. "And if that's the case, and if women are, in fact, better at it, then that implies that women may be the best leaders of all right now."
How working parents share the load at home

According to a recent study by the Pew Research Center, in 46 percent of two-parent families in the U.S., both mom and dad are now working full time. That's up from 31 percent in 1970.

In about half of these households, the parents say the mother does more when it comes to managing the children's schedules and activities and taking care of the children when they're sick. But most say both parents share tasks equally when it comes to household chores, disciplining and doing activities with the kids.

Either way, 56 percent of parents say it's a challenge to balance their jobs and family obligations. And while this balance can prove to be difficult, 59 percent say the extra duties at home have not interfered with their career advancement, though mothers are twice as likely as fathers to say it's harder to advance in their career.

For more analysis of the Pew study, visit bitly.com/pewparentstudy.

- Kevin Manne
The 2015 class of the Emerging Women's Leadership Group.

Enhancing women's leadership skills

The School of Management's Center for Leadership and Organizational Effectiveness offers two programs to help women improve their leadership skills: the Women's Leadership Group and, for entry-level professionals, the Emerging Women's Leadership Group.

In both groups, women from all backgrounds and industries discuss work-related issues, celebrate successes, learn about themselves as leaders, advance leadership skills, learn about emerging leadership research, build their networks and give back to the community.

Key activities include a personality assessment, values exercises, review and discussion of articles and books, guest speakers and leadership research presentations and discussion.

The programs consist of one two-hour session each month from January through December.

To learn more, visit mgt.buffalo.edu/cloe.

- Kevin Manne