Off the Clock
By Matthew Biddle
The School of Management's faculty are outstanding educators and leading scholars who bring real-world international business experience into the classroom every day. Outside of work, they—like all of us—lead full lives, with growing families, diverse hobbies and fulfilling passions. In a new recurring feature, we spotlight our faculty members and what they do "off the clock."
Striking a balance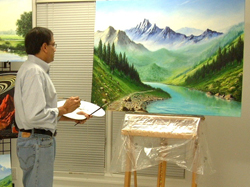 Suresh paints in his art studio, which overlooks the woods behind his home.
Nallan Suresh, UB Distinguished Professor and chair of operations management and strategy, discovered his love for drawing and astronomy as a child growing up in India.
"When I was 8 years old, somebody showed me Jupiter through a telescope, and I was hooked for life," he says. "Astronomy became an obsession. I had one corner in my room where I would grind my own lenses for telescopes."
Art and astronomy have remained vital pursuits for Suresh ever since. He discovered his natural talent for painting 15 years ago during a sabbatical in the Netherlands. As a visiting professor at the University of Groningen, Suresh and his colleagues rented a studio, where they would gather to paint on some Friday afternoons.
In 2005, he returned to Groningen for his first exhibition, held at a local bar frequented by artists.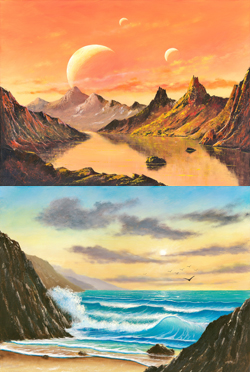 "I was excited and nervous because art is so subjective," he says. "I wasn't sure how people would react to my art, but I quickly sold four or five paintings and was really pleasantly surprised."
Suresh strives for realism in his paintings and often finds inspiration in his travels to Asia and Europe, as well as in the natural beauty throughout Western New York and the Finger Lakes region. His continuing fascination with astronomy inspires his spacescapes—vibrant scenes of galaxies, planets and stars. While he works mostly with oils and acrylics, Suresh likes to pass the time while traveling by "painting" on his iPad.
Suresh has exhibited at the juried Allentown Art Festival in Buffalo for the past four years and plans to participate in more shows in the future.
"Many of us have an innate artistic drive within us, and it's important to find our avenue and pursue it," he says. "Especially as businesspeople, we need an artistic outlet with all of the challenges in the workday and our other obligations. We must find a balance in our lives, and for me, art provides that balance."
Up, up and away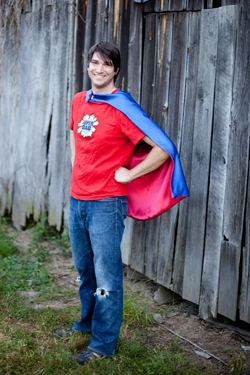 Pip and Bean even sells personalized adult capes, as modeled here by Wolfe.
Over the past six years, Brian Wolfe, assistant professor of finance, and his wife, Alyssa, have created thousands of little superheroes around the world through their business, Pip and Bean.
It began six years ago, when Brian was studying for his PhD in finance at Indiana University. The couple needed a birthday present for a little boy and, short on cash, decided to make one. Alyssa sewed a custom superhero cape the boy loved and later decided to bring several to a local craft fair. The capes sold out, and Pip and Bean was born.
Knowing they could never compete with inexpensive, mass-produced products, the Wolfes carved out a niche in handmade capes, personalized with the individual's name or initials, or customized for special events like weddings (ring bearer or flower girl gifts) and birth announcements (baby's first cape or big brother/sister capes). In addition, they make princess and costume capes, and accessories like masks and armbands.
Alyssa handles daily operations, marketing and customer relations, while Brian oversees finances and human resources. They employ a small team of Buffalo-based, part-time seamstresses and get their kids—Charlotte, 9, Penny, 8, and Harry, 4—involved, too.
"When they were little, their job was to put stickers on the outside of the packaging," Wolfe says. "When we take product pictures, they're the first models. My oldest daughter was learning to sew last summer, so she'd make armbands."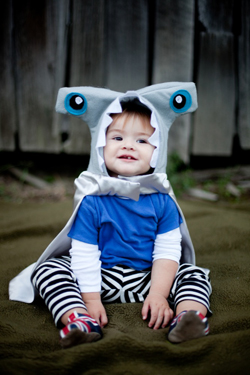 Over the past six years, they've sold through Etsy and the Pip and Bean website to customers on six continents and in more than 25 countries.
"We still pack up all of the orders personally and sign every receipt to say 'thank you' to our customers," Wolfe says. "It's amazing to see something that's going to Amsterdam or France. We're like, 'Somebody in Australia actually bought something we made.' It still blows our minds."
The Wolfes also give back with a buy-one, give-one option, in which customers can donate a cape to regional charities.
"The worst part of having an online business is never getting to see the kids open them or put them on for the first time," Wolfe says. "But then you get a picture of a kid going through a heart transplant, who is wearing his cape walking through the hospital. It melts you a little."
He continues, "Running a business is an incredible amount of work, but whether it's the charitable things we do or the example we set for our kids, it has its own rewards, too."