Stepping Up

Celebrating those who make a difference to the School of Management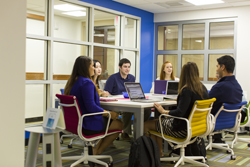 Photos: Tom Wolf
A Place to Thrive
School of Management opens new undergraduate center
For Siddharth Khandelwal, a business administration student, the vibrant colors and advanced technology throughout the School of Management's new Undergraduate Learning and Community Center remind him more of Google's lively offices than any traditional academic setting.
"From the brightly colored walls to the comfortable chairs and couches, everything works together to make this a perfect interactive workspace for students," Khandelwal says. "Because the center is exclusively for School of Management undergraduate students, it gives me a sense of belonging to the school and allows me to share experiences with students from the same field."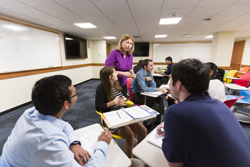 Opened last fall, the Undergraduate Learning and Community Center is a destination for nearly 3,000 undergraduates in the school to connect with their classmates and develop skills for lifelong success. Located in the lower level of the Jacobs Management Center, the 5,800-square-foot space includes tutoring facilities, three classrooms, the glass-walled Learning Hub for group work and study sessions and the Frank and Marilyn Clement Undergraduate Community Hub, named for the center's lead donors.
"The center is a place for our undergraduates to gather and feel at home from the moment they step on campus," says Paul Tesluk, interim dean. "The state-of-the-art center will help attract the best students to the school, further cementing our reputation as one of the best business schools in the world."
Within the center, undergraduates can take advantage of a variety of services to help them meet their academic goals. Center-certified tutors lead one-on-one and group tutoring for several courses and host open work sessions, when students can ask questions or receive assistance on homework. Each tutor must complete a certification course to learn how to support various learning styles and make sure students understand the material.
Step inside the Undergraduate Learning and Community Center.
In addition, the center offers one-on-one and group workshops to help students develop academic skills and understand their learning style. In "Syllabus Mapping," for example, students learn to map out the entire semester in a planner, with homework, reading and projects assigned to each day. The school's academic and career advisors often refer students to the center for specific workshops or services.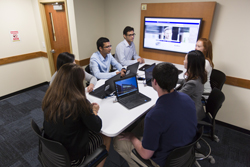 "Every day, we work with a variety of students, including high-achievers who want to maintain a certain GPA, freshmen who need help adjusting to a university setting, and students who are struggling academically but might be uncomfortable asking for help," says Connie Hanel, the center's manager. "We developed these specific services to engage all students and help them become successful, independent learners."
An ESL coach assists international students with their English skills and their adjustment to UB and American culture.
"The support I provide is driven by each student's needs, academically and socially," says Shelby Wilde, a senior business administration student and ESL coach. "Sometimes, I'm just a familiar face to allow students to step out of their comfort zone and initiate new relationships here at UB."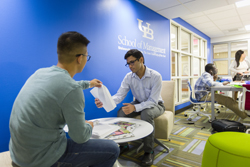 In its first semester alone, the center welcomed nearly 4,300 student visits (see sidebar) and became an integral part of School of Management undergraduate life-a place where students can socialize between classes, meet with professors, work on group projects and study solo.
"The center is welcoming, collaborative and a fantastic work environment," Wilde says. "I love that I can walk into the center at any time and be productive and comfortable, surrounded by friends and classmates who share the same goals as me."
Technology throughout the space enhances the student experience. Charging stations in the Community Hub allow students to charge their laptops and smartphones as they work. In the recitation classrooms, each six-person workstation provides a laptop for every student and is positioned around a flat-screen TV, on which the instructor can broadcast information to all workstations simultaneously.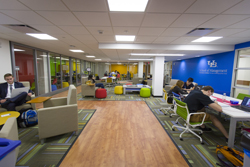 The center was made possible by a $500,000 gift from Frank, BS '66, and Marilyn Clement, with matching funding from the UB Provost's Office and an additional anonymous contribution. Construction began in fall 2014, with Ronald Van Splunder, manager of architectural support, UB Facilities Planning and Design, as the project's lead architect.
"The center is like nothing else on campus," says Rohan Kapoor, a School of Management undergraduate from Long Island. "The furniture, the technology and the color scheme give the center a modern look. It has a professional atmosphere that motivates me to work hard and helps me build connections with my peers."
- Matthew Biddle
Big Numbers, Big Impact

During its first semester, the Undergraduate Learning and Community Center became a vibrant and important part of undergraduate life in the School of Management.

4,291 overall student visits in fall 2015
782 Learning Hub sessions
572 one-on-one tutoring sessions
210 students attended workshops
97% of students said their tutor was right on target on their evaluations
100% of students who used tutoring services would recommend the center to their peers

DATA FROM SEPT. 15 TO DEC. 18, 2015