Insights...

News about faculty and their research
Meet our new faculty
The School of Management welcomed seven individuals to the faculty ranks last fall, adding depth and breadth to an already impressive lineup of world-class scholars.

Lemoine
Jim Lemoine, assistant professor of organization and human resources, earned his doctorate from the Georgia Institute of Technology and a bachelor's from Louisiana State University. His research interests include gender and leadership, leadership and motivation, servant leadership, creativity and innovation, and managing under volatility, uncertainty, complexity and ambiguity.
For fun: Lemoine is a pinball wizard and owns two vintage pinball tables. A transplanted southerner (a Cajun, in fact), he is the first person in his family to try skiing.

Mohr
Liza Mohr is a clinical assistant professor of finance. She completed her master's in economics at the University of Rochester, and a bachelor's in economics and mathematics at Columbia University. She specializes in economics, business intelligence, game theory and political economy.
For fun: Mohr and her husband, Derek (also a School of Management professor), love to travel and have been to six continents together. In her free time, she enjoys photography, and her specialty is wiggly, rambunctious 2-year-olds.

Mulgund
Pavankumar Mulgund, clinical assistant professor of management science and systems, has a master's in management information systems from the UB School of Management and a bachelor's from Visvesvaraya Technological University in India. He is lead author of "Medication Adherence Reminding Motivation and Monitoring System," an award-winning prototype.
For fun: Mulgund is an amateur poet. To read one of his works, visit mgt.buffalo.edu/facultypoets.

Neubert
Bob Neubert is a clinical assistant professor of operations management and strategy. He earned an MBA from St. Joseph's University, as well as bachelor's degrees in management and chemistry from Lebanon Valley College. His expertise includes entrepreneurship, business model development for early-stage companies, entrepreneurial marketing and customer development, and intrapreneurship.
For fun: Neubert helped build the Immersion Science Program at Fox Chase Cancer Center in Philadelphia. The rigorous, hands-on cancer biology program has benefited hundreds of disadvantaged and high-potential high school students.

Nguyen
Thanh (Tim) Nguyen, clinical assistant professor of finance, has an MBA from Northwestern University, master's degrees from Brown, Columbia and Yale, as well as a bachelor's from the University of Houston. Corporate governance, institutional portfolio management, global business, health care quality improvement and social entrepreneurship are among his specialties.
For fun: In fall and winter, Nguyen enjoys driving Percheron horses (Molly, Pete and Queen) by carriage, sleigh and sled through the hills and valleys of Vermont. He is really careful around corners and turns.

Roesch
Dominik Roesch is an assistant professor of finance with a doctorate from Erasmus University in the Netherlands, a master's from SOAS University of London in the UK and Diplom Mathematician from the University of Bonn in Germany. His research is in market microstructure and market quality (arbitrage, liquidity and efficiency) and financial institutions.
For fun: Roesch likes to play board games and has been doing Hatha yoga for 15 years.

Vedantam
Aditya Vedantam, assistant professor of operations management and strategy, has a doctorate from Purdue University, a master's from the University of Michigan, Ann Arbor, and BTech/MTech degrees from the Indian Institute of Technology in India. He brings expertise in supply chains, sustainability, recycling and clean energy.
For fun: Vedantam enjoys writing poetry, especially Haiku, a traditional form of Japanese poetry. Read his poem about writing poetry at mgt.buffalo.edu/facultypoets.
Hiring employees? Look to the NFL draft

Maynes
When NFL teams draft players, the player's willingness to go above and beyond the call of duty is just as important as the number of catches or tackles he makes, according to new School of Management research.
Forthcoming in the Journal of Applied Psychology, the study explored traits that make college athletes successful in the NFL beyond on-field statistics and included "contextual performance"—behaviors such as working harder than necessary, making personal sacrifices that benefit the team and helping co-workers with work-related problems.
"These 'character guys' are better investments for NFL teams," says study co-author Tim Maynes, assistant professor of organization and human resources. "Players who hit the weight room after practice, spend extra time analyzing game film, or help a rookie learn the ropes while in college will be drafted earlier, awarded higher starting salaries and be more successful in the NFL."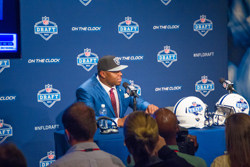 Former UB linebacker Khalil Mack answers questions from the press after being drafted by the Oakland Raiders in the first round of the 2014 NFL Draft. Photo: Jon Fuller
The researchers analyzed 440 college football players—218 wide receivers and 222 linebackers—who were drafted into the NFL between 2006 and 2012. They searched more than 36,000 media sources for articles spanning each player's four-year college career to find instances where they acted as team players.
Maynes says the study's findings are applicable to any workplace involving teams like committees, task forces, product development or client engagement teams.
"Hiring managers need to look beyond just the previous job performance of candidates," says Maynes. "Finding a candidate who will take the time to go the extra mile will benefit the team they're working on and the organization as a whole."
Steve Whiting, assistant professor of management, University of Central Florida College of Business, was the study's co-author.
How to make Web advertising more effective

Lakshmanan
Consumers who see an ad online in which the product changes direction while moving across the screen are more likely to perceive the product as innovative and purchase it, according to new School of Management research published in the Journal of Marketing.
"Psychologically, we don't expect inanimate objects to be able to change directions," says co-author Arun Lakshmanan, assistant professor of marketing. "As a result, when we see something do that in an advertisement, it stands out as atypical and causes us to make judgments instantaneously about the product's novelty, without even thinking about it."
Product novelty is critical for market success. Research shows products perceived as innovative are adopted faster and bring in higher profits.
In a series of studies, more than 740 consumers viewed fictitious ads for such products as tablets, smartphones and cameras.
"We found animated ads are more attention-grabbing than static ads," Lakshmanan says. "But to impact consumer perceptions of product novelty, attracting attention is not enough."
The research, led by PhD student Junghan Kim, showed that ads in which the product changed direction, defined in advertising as kinetic property, influence consumer perceptions of product innovation more than static ads or ads with other moving elements.
In addition, they found the effect of kinetic property on consumer perceptions is strongest in products with small improvements, as opposed to radical innovations, and those in fast-changing industries like technology and fashion.
Conversely, the study found the novelty-enhancing effect of kinetic property is lost when consumers viewed several animated ads in a row or an ad with too many moving elements. The researchers advise marketers to use behavioral targeting to determine when and where to position ads to maximize their effectiveness.
Do we really want to track our food from farm to table?

Kishore
Customers are more likely to purchase food products when grocers use food traceability systems to show where and how the food was produced and shipped, according to new research from the School of Management.
In the wake of major food safety issues such as mad cow disease, consumers concerned about health and safety have demanded to know more about how their food was produced and reached their grocery store.
Published in Information & Management, the study also found that for some shoppers, just having the information available can influence a purchase.
"Simply making this kind of traceability information available for food products will encourage more purchases of those products, and at a higher price, even if the buyer never uses that information," says study co-author Rajiv Kishore, associate professor of management science and systems.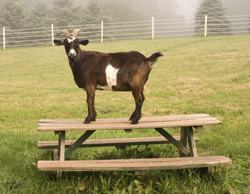 The researchers found that a key factor to increase consumer trust in retailers is effective governmental oversight of this information.
"If the customer believes regulatory authorities are ensuring accurate production information, he or she is more likely to buy food that is tracked using traceability systems, and even less likely to actually use the food traceability information," says Kishore.
The researchers surveyed 245 consumers in Seoul, South Korea, where beef traceability systems are installed in nearly every grocery market.
Further research should collect data from consumers in other parts of the world, with a more representative gender sample, Kishore says. The sample was 83 percent female while 68 percent of grocery shopping is done by women, according to the study.
Kishore collaborated with Chul Woo Yoo, assistant professor of information technology and operations management at the Florida Atlantic University College of Business, and Srikanth Parameswaran, a PhD candidate in the School of Management.
Politicized government investors are bad for business

Fotak
While stock markets tend to react positively to news of any major financial investment, new School of Management research shows the reaction is weaker for investments by most sovereign wealth funds (government-owned investment funds).
Published in the Review of Financial Studies, the research found the lowest returns came from investments made by highly politicized sovereign wealth funds-those under strict government oversight, usually by nondemocratic regimes.
"The worst returns were associated with funds whose governance structure allowed for significant government interference, especially when those funds acquired large or controlling stakes and took a seat on the company's board," says co-author Veljko Fotak, assistant professor of finance.
With assets well over $4 trillion, sovereign wealth funds are a major player in the world economy, with stakes in such major corporations as Microsoft, Google and Apple.
The researchers studied 1,018 sovereign fund investments from 1980 to 2012 and compared them with nearly 6,000 stock purchases from private investors in the same period. They found the average difference between initial returns from sovereign wealth funds and private sector investments is $60 million.
"In contrast to previous research, our results show that, on top of lower short-term returns, most sovereign wealth fund investments also lead to deteriorating long-term operating performance," says Fotak.
As these funds have grown dramatically in recent years, debate over the proper regulatory action has intensified. In the study, investments from Norway's government pension fund were not associated with any negative effects; therefore, Fotak says any policy response must treat sovereign funds individually, rather than as a unit.
"Policy response should be fact-based—not a panicked reaction to rising foreign investments," he says. "Though these funds are often grouped together, we cannot treat Norway's government fund the same as funds from less democratic regimes. We must recognize differences in their behavior and provide incentive for them to act as transparent, conscientious investors."
Fotak's co-authors were Bernardo Bortolotti, associate professor of economics, University of Turin, Italy, and William L. Megginson, professor and Price Chair in Finance, University of Oklahoma.