Alumni Engagement and External Relations | Learn about the School of Management Alumni Association
School of Management Alumni Association Sponsors | School of Management Alumni Association Board
Alumni Impact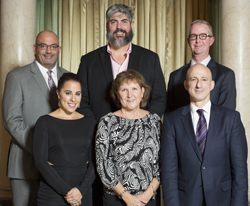 Back row from left: Lomeo, Shatzel, Cogan. Front row: Bonano, Borowiak, Fisher.(Photo: Tom Wolf)
Connect. Network. Achieve.




66th Annual Alumni Association Awards
In November, the School of Management honored alumni and Western New York business leaders who have distinguished themselves professionally or in service to others at the 66th annual School of Management Alumni Association Awards.
If you know someone who deserves to be recognized for their outstanding contributions, work or service to the School of Management, nominate them at mgt.buffalo.edu/alumni/awards.

Buffalo Niagara Executive of the Year
Jody L. Lomeo, BS '91
President and CEO, Kaleida Health and Great Lakes Health System
In his role at Kaleida Health, Jody Lomeo has re-energized the $1.2 billion organization through his style of collaboration and inclusive leadership. He is credited with launching a primary care strategy with Erie County Medical Center (ECMC) and HealthNow, and has strengthened partnerships with UBMD, the Buffalo Medical Group and numerous other community physicians and physician groups, as well as organized labor.
Under Lomeo's leadership, Kaleida Health has increased both its quality outcomes and patient satisfaction scores. In addition, its hospitals and affiliates have increased market share.
In addition, Lomeo provides support and guidance as a volunteer board member to a number of community organizations, and has received recognition and numerous awards for his leadership and dedication to serve.

Service to the School
Thomas P. Cogan, BS '99
Senior Vice President, Citi
Thomas Cogan is a senior vice president at Citi, where he has held roles across a range of disciplines for more than 25 years.
Cogan has spent countless hours personally engaged with students, faculty, staff and alumni. At times, he has practically "camped out" at the school because of overlapping activities.
He has served on the School of Management Alumni Association board since 2008, including a term as president, brought Citi managers and senior leaders to the school to share their expertise, and been vital in building the tremendously successful partnership between Citi and the School of Management, which has resulted in more than 60 internships and more than 120 full-time jobs for students.
Cogan is always there for his alma mater and is a remarkable source of support.

Emerging Alumnus
Samantha Bonano, BS '05
President and CEO, Buffalo Filter
Since graduating from the School of Management, Samantha Bonano has achieved substantial professional growth and exemplified leadership in the workplace.
Bonano has spent more that 15 years in the medical device industry, beginning in pharmaceutical development. She joined Buffalo Filter in 2001, working her way through positions in sales and operations to her role today as president and CEO.
Recognizing the importance of accountability and innovation, Bonano led the company to expand its worldwide presence as a leader in health care environmental safety, launching nearly 50 products, 30 of which have patents issued or pending. Under her direction, Buffalo Filter has experienced more than 120 percent growth in revenue.

Service to the Western New York Community
Marylou Borowiak, BS '87
President and CEO, Food Bank of Western New York
At the Food Bank of Western New York, Marylou Borowiak leads the organization to assist the needy across Cattaraugus, Chautauqua, Erie and Niagara counties.
Borowiak is passionate about the Food Bank's mission—feeding the hungry. She is laser-focused on "doing good by doing it well."
Under her direction, the Food Bank established a planned giving program, created an endowment to help address future needs, improved efficiency with direct delivery to 250 member agencies, and piloted—and later expanded-programs to combat childhood hunger. This winter, the organization received a $500,000 grant from the Ralph C. Wilson Jr. Foundation that will fund capital improvements and increase annual food deliveries by 640,000 pounds.
Her impact at the Food Bank and on many nonprofit and community boards is an inspiration to the community.
Industry Leadership
Gregg S. Fisher, BS '92
President and Chief Investment Officer, Gerstein Fisher
Gregg Fisher is the founder of Gerstein Fisher, an independent money management and advisory firm based in New York City. He is responsible for the management and oversight of the firm's investment process, including portfolio management, trading, risk control and investment strategy development.
Fisher's regular coffee order—seven espressos with ice—will give you an insight into his personality and approach to business: unique and full of passion.
Since starting Gerstein Fisher in 1993, Fisher has been deeply committed to building a company that makes a difference while being different.
In a visionary move, he integrated academic research into the firm's framework from its inception and, in 2009, formalized the company's collaboration with a select circle of noted academics by establishing the Gerstein Fisher Research Center.

Entrepreneurship
Mike Shatzel, CEL '12
Serial Restaurateur
A night on the town in Buffalo has more options thanks to Mike Shatzel. His dining establishments—which include such local favorites as Coles, Blue Monk, Liberty Hound, Allen Burger Venture, Colter Bay Grill and Moor Pat—are unique, varied and ever-expanding. He'll soon branch out into the microbrewing business with a brewpub in the Elmwood Village.
He also co-founded Buffalo Beer Week, a yearly celebration that attracts beer tourism and showcases Buffalo's breweries, restaurants and pubs, and is co-manager of Magnolia Events, the in-house caterer for Marcy Casino at Delaware Park.
Shatzel has garnered more than 30 awards from regional and national publications in categories like best new restaurant, best beer on tap, best beer selection, best bar food and best restaurant with a view.