Close-Up: Laura Xiaojie Shen
Speeding Toward Success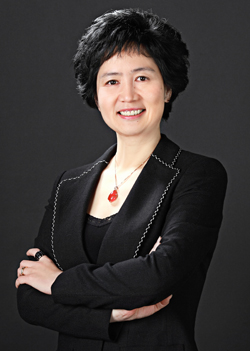 Photo: Chu Cancan
When Laura Xiaojie Shen was offered a position by Ford China in 1995, she hesitated. After 12 successful years in higher education, she was dean of the Foreign Languages Department at the Jiangxi University of Traditional Chinese Medicine in Nanchang, China. Plus, with the Chinese automotive industry in its infancy, Shen knew little about the business.
However, she eventually accepted a job as assistant president at Jiangling Motors, a joint venture with Ford Motor Co., and never looked back.
"I came to the auto industry by accident," Shen says. "When Ford first came to China, it needed people with good English capabilities, so my name popped up. At first, I wasn't interested, but then I thought, 'I can be a good teacher; maybe I can try something else.'"
During her eight years at Jiangling, Shen worked in manufacturing, finance, project management and sales. To further advance her career, she enrolled in the School of Management's Executive MBA program at Renmin University, a joint program conducted in Beijing from 1998 to 2004.
"I had no expertise in statistics or economics because of my educational background," she says. "After years in management positions, I wanted to reflect and put my experiences into perspective."
While earning her Executive MBA, Shen was appointed senior manager, sales, for BMW Brilliance, a joint venture between BMW and Brilliance Auto. She worked on product strategy and pricing, dealer network strategy and sales planning and management. Later, she successfully launched the BMW 3 Series and 5 Series in the Chinese market. In 2004, she completed her Executive MBA.
"I believe learning is lifelong and, even today, I'm very proud of my UB degree," she says.
Shen moved to Volkswagen in 2007 as vice president of sales and marketing for VW Group China and executive vice president for FAW VW Sales Co., responsible for marketing, public relations, dealer development and change management.
In 2009, she took over the managing director position for Volkswagen Import China. Within two years, she boosted sales by 283 percent, increased staff by 250 percent and pushed Volkswagen Import from No. 38 to No. 2 in customer satisfaction on New Car Buyer Study.
But after years in a fast-paced operations role, Shen was ready for a change and recalled a vital lesson from Gerry Murak, one of her MBA instructors and a current member of the school's Dean's Advisory Council.
"He told us to follow our hearts," she says. "Sometimes you have to do something out of responsibility, but there are other moments when you should follow your heart and do what you desire."
In 2012, Shen did just that when she returned to education as head of Volkswagen Academy China, Sales and Service. She manages the academy, gives lectures and is working to become certified to train employees.
"I'm very happy," she says. "This position is ideal because I have the educational and operational experiences, and not too many people have that kind of background."
In addition, Shen serves as vice president of special projects at Volkswagen (China) Investment Co., tasked with developing and implementing key strategic projects, including VW's first budget car for China and improvements to the country's electric car charging infrastructure.
She also continues to support the School of Management, both financially and by mentoring students. During the annual MBA class trip to Asia led by John Thomas, dean emeritus and professor of operations management and strategy, she frequently hosts student visits.
Outside of work, Shen relaxes by making jewelry, doing yoga and going to the opera. In 2008, she ran as a torchbearer for the Beijing Olympics—a thrilling, once-in-a-lifetime experience.
- Matthew Biddle