Alumni Close-Up: Mark Shacket
How to Succeed on Broadway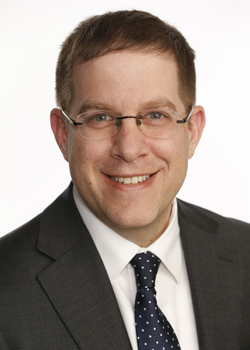 Photos: Joan Marcus
As a student in the School of Management, Mark Shacket '94, MBA '95, originally intended to become a certified public accountant. It was during his first trip to New York with the UB Symphony Orchestra that, standing on 44th Street in a sea of Broadway theaters, the idea of a career in theatrical management first struck him.
Upon returning to Buffalo, he saw "Les MisÚrables" at Shea's Performing Arts Center. Sitting in the balcony, reading the credits in his playbill, he thought, "There's no reason this can't read, 'Company Manager: Mark Shacket.'" Seven years later, it did—Shacket returned to Shea's as company manager on the same tour of "Les Mis."
"No other art form touches its audience the way theater does," Shacket says. "I wanted to be part of it in any way I could. But I'm not a performer—I'm a manager, and I've since discovered that I find the business of this industry endlessly fascinating."
After completing his bachelor's and MBA degrees, Shacket moved to New York to find work on the Great White Way. He quickly landed his first job at a booking agency, tracking ticket sales and monitoring prices for "Les Mis."
Shacket next worked as assistant company manager for "Phantom of the Opera" on Broadway and spent several years on the road as company manager for touring productions of "Cats," "The Producers" and others. For each show, Shacket oversaw daily operations, including payroll, personnel, ticketing and more, to ensure the production ran smoothly.
"I loved touring and if I didn't want to get married and have kids, I'd probably still be out there," says Shacket. "A tour is a really insulated lifestyle, a lot like summer camp. It was just fun."
Shacket returned to New York full-time in early 2004 to marry his wife, Sara, and was named company manager for "The Boy from Oz." His next show, "All Shook Up," brought him back to Alan Wasser Associates, a management firm he previously worked with and where he has been ever since.
In 2007, Shacket was promoted to his current role of general manager. In this position, he oversees the business aspects of many shows in various stages of development, including marketing, budgeting and accounting; securing rehearsal and performance spaces; negotiating rights from authors and contracts with the creative team; and more.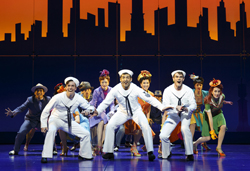 "On the Town"
"Our job is to make it easier for the artists to do their work," says Shacket. "When I've helped a show run smoothly, that benefits the 1,200 people sitting in the theater eight times a week. That's very rewarding."
In the past decade, Shacket has managed every type of production imaginable—from "Thurgood," a one-man play about Supreme Court Justice Thurgood Marshall; to large-scale musicals like "How to Succeed in Business Without Really Trying"; to "Walking With Dinosaurs," an arena spectacle that requires 27 semitrucks to move the production from city to city.
In 2012, Alan Wasser Associates was rebranded as Foresight Theatrical, and Shacket was promoted to partner. This past fall, among other productions running and in development, Foresight managed three shows that opened on Broadway: revivals of the musicals "Side Show" and "On the Town," and the Pulitzer Prize-winning play "Disgraced."
"The University at Buffalo allowed me to get one of the best MBA degrees available anywhere in the country, while at the same time pursuing an interest in the arts by playing in and managing the UB orchestra," Shacket says. "If I wasn't in that kind of supportive environment, I don't know that I would have found this career."
Outside the office, Shacket spends his free time with Sara and their children, 7-year-old Hana and 5-year-old Noah, the next generation of theater lovers.
- Matthew Biddle