A World of Possibility
Study abroad teaches students about business—and life
By Matthew Biddle
As a freshman in the School of Management, Daniel Yanega '14 was already looking to set himself apart for the competitive, post-recession job market. He decided to learn Mandarin and spent three consecutive summers abroad, studying at the Singapore Institute of Management (SIM) and at Capital Normal University in Beijing, China, and later as an intern for the SIM program.
Today, as director of talent acquisition at Mainz, Yanega clearly sees the value of international experience on his résumé.
"As a job seeker, studying abroad will set you apart from others," Yanega says. "People always wanted to know why I studied abroad and learned Mandarin; it's something they were enthusiastic to talk about."
In addition to professional development, Yanega made lasting friendships, saw incredible sites and matured significantly because of his time in Asia.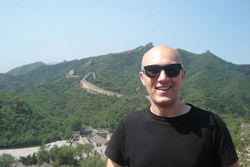 Daniel Yanega '14 at the Great Wall of China in 2012.
"In China, we visited Tiananmen Square," he says, describing a particularly memorable experience. "Seeing the picture of Chairman Mao and standing in that huge square sends a chill down your spine because it's so iconic historically."
Every year, about 90 School of Management students study abroad. And while their experiences are as varied as the destinations to which they travel, a common theme emerges: The trip, whether for a semester or an entire year, can be life-changing as students learn more about themselves, other cultures and the international business market.
"It's an eye-opening experience," Yanega says. "I realized how big and small the world is at the same time-big in the sense that there are so many different places to see, but small in the sense that so much of the world knows what's going on in other countries. You see that, despite certain cultural differences, people are not as different as they're made out to be."
Business abroad
Kayla Festa '10 chose to study in Florence, Italy, for a summer because of her Italian heritage; in fact, she found a plaque with her great-grandfather's name in one of the city's post offices, where he worked for many years.
She also seized the opportunity to intern at Pixel Associazione, an education and training agency, where she organized and managed a client database and helped develop training guides and promotional pamphlets. The position introduced her to the field she now works in full-time.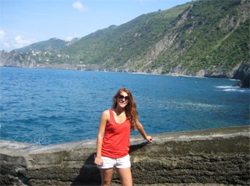 Kayla Festa '10 during a trip to the Cinque Terre in Italy.
"The internship got me interested in the learning and development field, and made me consider a master's in industrial/organizational psychology, which I finished this past May at Baruch College," says Festa, now the learning and leadership development coordinator for Guardian Life Insurance Co.
For Jaclyn Brauth '12, her semester abroad in London and internship with Veldhoven Group, a multinational fashion company, inspired her to complete the Executive Development Program at Macy's after graduation.
"Fashion can make people feel good about themselves, whether they're buying high-end or off the rack, and I like doing that," says Brauth, now a customer experience agent at Yahoo. "The experience made me a more confident person and helped me get more comfortable asking questions in the workplace."
Diving into the international business community was also impactful for Yanega, who took an "Asian Business in the Global Economy" course during his first summer in Singapore. The class explored how Western companies move into Asia and gave him the opportunity to tour major companies like IBM and McCann-Erickson and learn about their operations. His other course that semester, "Beginning Business Chinese," encouraged him to study the language further at UB and during his summer in Beijing.
"Going abroad, you gain a different understanding of the world and can take some of the good things they do over there and apply them to your daily life," he says. "In Singapore, they're very hard workers. I took that work ethic back and applied it to become a much better student."
A life-changing adventure
When Maria Tartaglia '11 returned from her semester abroad in Seville, Spain, she knew she'd return to Europe someday. While she had learned a great deal and had grown to be more self-assured and open-minded, she hadn't accomplished her goal of becoming fluent in Spanish.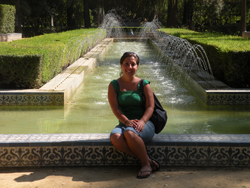 Maria Tartaglia '11 at Parque de María Luisa in Seville, Spain, in 2009.
That feeling of unfinished business led her to enroll in Boston University's dual JD/Master of Law program with Madrid's Universidad Pontificia Comillas.
"When I arrived in Madrid, I was instantly reminded of what it felt like to live abroad," she says. "This clearly had a huge impact on my career goals. I decided not to take the bar exam and began looking for a job that would allow me to stay in Madrid."
Since January 2014, Tartaglia has worked as a junior translator at Sintaxia, a language services firm in Madrid. She specializes in translating legal and financial documents from Spanish to English, a role that marries her degrees in business administration, Spanish and law.
"Living in a foreign country is a constant learning process," she says. "I truly believe that everyone I have met has taught me something and helped me grow as a person, and when you travel you open the door to some truly unique and inspiring people."
To learn more about study abroad opportunities for students, visit buffalo.edu/studyabroad.