Startups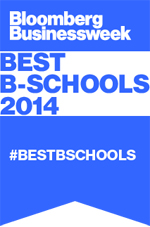 School cracks top 40 in Bloomberg Businessweek, climbs in U.S. News
The School of Management fared exceptionally well in two rankings this past fall.
In November, the school vaulted 18 places in Bloomberg Businessweek's ranking of the nation's best full-time MBA programs, coming in at No. 39, the highest the school has been ranked since the ranking began in 1988.
Among public universities, the School of Management is No. 16 and, in the employer satisfaction component of the survey, the school landed impressively at No. 19.
"In addition to reflecting our student satisfaction, this ranking is a ringing endorsement from recruiters," said Arjang A. Assad, dean of the School of Management. "It shows that we are producing graduates who possess the skills and attributes most valued by businesses throughout the world."
The rankings are based on student satisfaction (45 percent), corporate recruiter satisfaction (45 percent) and an intellectual capital rating (10 percent) based on the number of articles published by each school's faculty in 20 publications. Bloomberg Businessweek also ranks the top non-U.S. schools.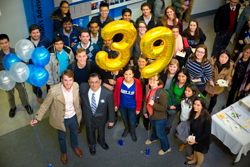 Dean Arjang Assad celebrates the School of Management's top 40 Bloomberg Businessweek MBA ranking with students, faculty and staff at a reception in the Alfiero Center (Photo: Douglas Levere)
The School of Management was the only school in the Buffalo Niagara region to make the list.
In another ranking, U.S. News and World Report in September again ranked the School of Management as one of the country's best undergraduate business programs in the 2015 edition of "America's Best Colleges."
The school tied for No. 79, up seven places from last year and higher than any other business school in the State University of New York system.
The ranking was culled from a list of more than 700 schools accredited by AACSB International, positioning the school in the top 15 percent of accredited undergraduate business programs.
Based on a survey to deans and senior faculty at accredited schools, the ranking asks participants to rate the quality of all programs they are familiar with on a scale of 1 (marginal) to 5 (distinguished).
University-wide, UB was ranked one of the best colleges for veterans at No. 23 by U.S. News.
Survey says…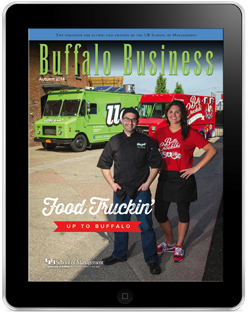 Last fall, we surveyed Buffalo Business readers online to strategically assess whether we are bringing you what you look for in an alumni magazine. Hundreds of you responded, and we are so grateful for your feedback. Here are some highlights of the results:
Who replied
About 52 percent of respondents were BS grads, 42 percent were MBA and MS grads and the remaining 6 percent were doctoral grads, current students and grads of our other programs.
The biggest age group to reply at 21 percent was the 54-62 range, but the distribution was relatively standard on either side of that range.
What you said
By far, readers prioritized two sections of the magazine: School of Management news/success and cover stories/articles about timely business topics with faculty, alumni and school connections.
We were thrilled, then, to learn that these are the same two areas with which you were most satisfied.
School news/success stories

Very or extremely important - 82%
Very or extremely satisfied - 71%

Cover stories/articles

Very or extremely important - 75%
Very or extremely satisfied - 70%
You also gave high importance and satisfaction ratings to alumni stories, alumni bios and Class Notes, with ratings in the 65 percent range.
It was gratifying to learn that nearly 68 percent of you read all or most of Buffalo Business. (For the 28 percent of you who were "skimmers," we still love you.)
Not surprisingly, 86 percent of you prefer hard copy to the e-zine edition, but that number has come down a bit over the years. Maybe someday we'll all read everything online, but not yet!
A whopping 95 percent of you said the font size is fine. On social media, 67 percent of respondents use LinkedIn, 60 percent use Facebook and other platforms trailed distantly. Interestingly, 18 percent don't use social media at all.
Additional comments were overwhelmingly positive, with a number of remarks about particular interest in our international graduates and graduates working in nontraditional roles. Some love the local stories that enable you to keep a Buffalo connection now that you've left the area, and others want to read about alumni in faraway places. We strive to maintain this balance and will continue to do so.
Thank you again for your replies. You are helping to ensure that Buffalo Business remains a publication that you value and keeps you connected to your alma mater. And if you didn't get a chance to reply to the survey, we still welcome your comments. Send them to mgt-editor@buffalo.edu.
Physicians hone business skills in new certificate program
As national leaders grapple with health care reform, an increasing number of physicians and health care administrators are looking to strengthen their business skills to improve the patient experience and the value of care delivered in their organizations.
Fifteen regional health care leaders are acquiring vital business skills and learning how to spur effective change in their organizations, thanks to a new certificate program: Executive Development in Health Care Management.
Launched in September, the nine-month program meets biweekly and is taught by School of Management faculty who draw upon their experience in the health care sector, as well as other regional health care leaders and experts.
Participants examine the challenges and trends facing the health care industry, as well as such topics as budgeting, accounting, marketing, communicating with patients, organizational strategy and design, negotiation and information technology. In addition, they learn to identify their strengths and limitations and to better motivate and manage those around them.
"The dynamic nature of the health care industry demands that physicians, administrators and other clinicians develop a new set of business skills to improve clinical outcomes, make sound financial decisions and effectively manage others," says Arjang Assad, dean of the School of Management.
The program is part of a growing portfolio of health care management offerings in the School of Management that contribute to UB's overall theme of health.
Other school initiatives include a new Accelerated MBA for Medical Residents/Fellows program, several dual and collaborative programs with the UB School of Medicine and Biomedical Sciences, a health care management concentration for full-time and Professional MBA students, and customized corporate programs in health care.
"With this program and other initiatives, the School of Management is helping to address the needs of current and future health care leaders, while contributing significantly to the university's overall vision," Assad says.
Sponsorship propels CEL family business program expansion
Last year, the School of Management's Center for Entrepreneurial Leadership (CEL) successfully launched a sold-out family business program. Now, backing from Wilmington Trust will give the initiative an extra push.
The CEL has received a two-year sponsorship from Wilmington Trust, a subsidiary of M&T Bank, to support the center's family business programming. Demonstrating its commitment to the regional family business community, Wilmington Trust has agreed to serve as presenting sponsor for the eight-week "Growing a Healthy Family Business" course.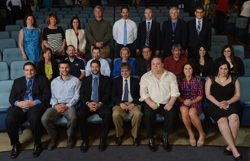 The "Growing a Healthy Family Business" Class of 2014. (Photo: Nancy J. Parisi)
The partnership will enable the CEL to strengthen its current programming for regional family businesses by drawing national and international experts as distinguished guest presenters and speakers for the "Growing a Healthy Family Business" course and Family Business Association workshops.
In addition, the CEL plans to expand its reach beyond Western New York through the development of a nationally recognized advisory board that brings together leading authorities on family business.
The inaugural "Growing a Healthy Family Business" class graduated 45 representatives from 14 Western New York businesses at a ceremony on June 4 at UB's Center for the Arts.
"Growing a Healthy Family Business" is a 10-session course that meets twice a month over five months. It empowers family members to come together to identify and apply solutions to help their businesses thrive for generations to come. Developed collaboratively with family business experts of diverse disciplines, seasoned entrepreneurs and thought leaders in the School of Management, the course delivers practical solutions on topics relevant to family businesses, including communication, interpersonal relationships, conflict resolution, strategic planning and succession and next-generation leadership planning.
For more information, contact the CEL at 716-885-5715 or mgt-cel@buffalo.edu.
Prestigious speakers share insights
Each year, a variety of prominent speakers share their expertise with students, faculty, staff and the general public at events hosted by the School of Management. Fall 2014 was no exception, and four eminent guests visited Buffalo as part of three distinct speaker series.
Lippes Speaker Series

Feinberg
Compensation czar Kenneth Feinberg spoke in Buffalo on October 6 as part of the Gerald S. Lippes Speaker Series, co-sponsored by the UB Law School and the School of Management.
Feinberg, a lecturer at Harvard Law School, is the attorney who oversaw payouts of billions of dollars in compensation funds established on behalf of the victims of the 9/11 World Trade Center attack, the Deepwater Horizon oil spill, the Boston Marathon bombing and several other high-profile mass disasters.
The series is available thanks to the generous support of Gerald S. Lippes. It is part of a larger effort to foster an integrated understanding of the worlds of business and law and to encourage a collaborative dialogue between business and legal professionals.
Sufrin Lectureship in Accounting

Cutler
Two accounting experts spoke at the school on October 20 as part of the Helen and Oscar Sufrin Lectureship.
Debra A. Cutler '78, a CPA with 25 years of experience in forensic accounting and litigation, spoke about the New York State Society of Certified Public Accountants' Code of Ethics.

Munter
Immediately following, Paul Munter, CPA, partner in the Department of Professional Practice - Audit at KPMG, discussed the new revenue recognition standard that was jointly passed last year by the International Accounting Standards Board and the Financial Accounting Standards Board.
The series brings distinguished business professionals to the School of Management to speak about accounting issues. Funding is provided through the generous support of Leslie Sufrin, CPA, and Gerald Sufrin, MD, a longtime UB professor, in honor of their late parents.
CLOE speaker series debuts
Huselid
The School of Management's Center for Leadership and Organizational Effectiveness (CLOE) kicked off a new speaker series on October 31. Award-winning researcher, author and consultant Mark Huselid presented "Big Data and the Three Disruptions of Workforce Strategy."
The CLOE Speaker Series brings distinguished researchers and business professionals to the area to speak about leadership and organizational effectiveness topics.
Gisel, area executives honored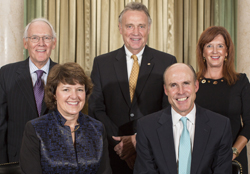 Executives honored at the 65th Annual School of Management Alumni Association Awards Banquet in October. Back row (from left): John M. Thomas; Patrick J. Whalen, CEL '91; Sharon D. Randaccio '76, MBA '81. Front row: Marnie B. LaVigne, William G. Gisel Jr. (Photo: Tom Wolf)
The School of Management named William G. Gisel Jr., president and CEO of Rich Products Corp., the 2014 Buffalo Niagara Executive of the Year.
Gisel accepted the award at the 65th Annual School of Management Alumni Association Awards Banquet on October 28 at the Statler in Buffalo.
Established in 1949, the Buffalo Niagara Executive of the Year award is presented annually to an individual who resides in or has a major impact on the region, and whose career has been distinguished by executive success and civic leadership.
In addition, the school honored Sharon D. Randaccio '76, MBA '81, president, CEO and founder of Performance Management Partners Inc., for service to the school; Patrick J. Whalen, CEL '91, COO of Buffalo Niagara Medical Campus Inc., for service to the Western New York community; Marnie B. LaVigne, president and CEO of Launch NY, for contributions to entrepreneurship; and John M. Thomas, professor of operations management and strategy and dean emeritus in the School of Management, for alumni engagement.
What's Trending?
School of Management conversations in social media
Connect with the School of Management: mgt.buffalo.edu/social