Insights...

News about faculty and their research
School advances plans with addition of new faculty
The School of Management's strategic plan to grow its faculty by 30 percent over three years continues with the addition of nine new faculty members in fall 2014.

Chen
Jing Chen, assistant professor of accounting, earned her doctorate from the Stern School of Business at New York University and a bachelor's in accounting at Renmin University in China. She is teaching financial accounting, and her research centers around firms' voluntary disclosure practices and the influence of financial analysts and institutional investors.

Chiu
Chia-Yen (Chad) Chiu is a postdoctoral research and teaching fellow in the Center for Leadership and Organizational Effectiveness and an instructor in organizational behavior and human resources. He has a doctorate in management from the University at Buffalo School of Management, an MBA from National Sun Yat-sen University in Taiwan and a bachelor's from National Cheng Kung University in Taiwan. His research has focused on leadership in teams, leadership perceptions and social influence.

Chu
Youngeun Chu, adjunct assistant professor of operations management and strategy, received her doctoral degree from the Carlson School of Management at the University of Minnesota, as well as a master's in management and a bachelor's in business administration and economics from Yonsei University in Korea. Chu is teaching strategy, and her research includes executive/board succession and corporate governance; knowledge transfer and innovation; and mergers and acquisitions.

Dambra
Michael Dambra, assistant professor of accounting, has a doctorate in accounting and an MSBA in applied economics from the Simon Business School at the University of Rochester. He also earned an MBA and a bachelor's in accounting from St. Bonaventure University. Dambra's research expertise includes economic consequences of regulatory changes, pension accounting and accounting disclosures. He is teaching courses in accounting and financial statement analysis.

Dutta
Haimonti Dutta, assistant professor of management science and systems, obtained a doctorate in computer science and electrical engineering from the University of Maryland, Baltimore County, a master's in computer and information science from Temple University and a bachelor's in computer science and engineering at Jadavpur University in India. Her teaching and research interests include large-scale analytics and big data analytics, machine learning and distributed computing.

Grijalva
Emily Grijalva, assistant professor of organization and human resources, earned a doctorate and master's degree in industrial and organizational psychology from the University of Illinois at Urbana-Champaign, and a bachelor's in psychology from Saint Louis University. Leadership, narcissism, counterproductive work behavior and gender highlight her research, and teaching interests include human resources and research methods.

Lee
KiYoung Lee, assistant professor of organization and human resources, has a doctorate in business administration from the Carlson School of Management at the University of Minnesota, as well as a master's and bachelor's in business administration from the College of Business Administration at Seoul National University in Korea. His research is focused on affect and emotions, interpersonal aggression and unethical behavior. Lee's teaching interest is organizational behavior.

Wei
Mike Mingcheng Wei, assistant professor of operations management and strategy, earned his doctoral degree in operations and manufacturing management from Washington University in St. Louis, a master's in industrial engineering and operations research from The Pennsylvania State University and a BBA in information management and information systems from Fudan University in China. Research interests include supply chain management; revenue management and dynamic pricing; consumer-oriented operations model; social networks and social learning; and congestion pricing and transportation networks.

Wolfe
Brian Wolfe, assistant professor of finance and managerial economics, received his doctorate in finance from the Kelley School of Business at Indiana University. In addition, he earned an MBA with a finance concentration from the Williams School of Business at Xavier University and a bachelor's in chemical engineering from the University of Cincinnati. Corporate finance, banking and lending, and market microstructure make up his teaching and research interests.
Cloud computing research earns NSF grant
A UB project that aims to significantly advance the state-of-the-art in cloud computing research has received a $400,000 grant from the National Science Foundation (NSF).

Smith
The award, given by the NSF's Division of Computer and Network Systems in the Computer and Information Science and Engineering program, will fund a two-year study into the availability, performance and reliability of cloud computing-software applications and services delivered via the Internet. Research began in September.
"Services like Google Apps, Dropbox and Hootsuite are transforming the landscape of the IT industry and increasing business and personal productivity on a grand scale," says Sanjukta Das Smith, associate professor of management science and systems in the School of Management. "But for them to be truly valuable in the workplace, they need to be secure and available at all times. Otherwise, productivity grinds to a halt."
Ramesh
Smith, along with Chunming Qiao, professor of computer science and engineering in the School of Engineering and Applied Sciences, and Ram Ramesh, professor and chair of management science and systems in the School of Management, will perform this research. Thomas Furlani, director of UB's Center for Computational Research, and Gregor von Laszewski, assistant director of the Community Grids Lab at Indiana University, will provide the data and test beds for validating the research models.
The study's findings could lead to improvements in cloud service availability, performance and resource allocation while minimizing costs and reducing losses in revenue due to service outages. The research also could aid in the development of all-new cloud-based services and applications.
Startups should seek quality—not quantity—in partnerships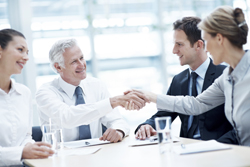 When partnering with larger companies, startups with a small number of carefully chosen alliances will reap the most benefits, according to new research from the School of Management.
Forthcoming in Organization Science, the study found that by aligning with established companies, a young firm gains valuable access to additional resources and markets. However, as a startup adds more outside partners, eventually the firm's internal capability will weaken and the cost of maintaining its alliances will exceed any remaining benefits.
"Partnerships offer many mutual benefits, but more is not necessarily better," says study co-author Ramin Vandaie, assistant professor of operations management and strategy. "We found the benefits of alliances with larger companies do not increase proportionally with the number of partners, but instead start to level off and turn negative as more partnerships are formed."
The study examined 150 independent film production studios and tracked their partnerships with major studios and performance from 1990 to 2010. Vandaie says the data can be applied to many industries, particularly creative fields like publishing or advertising, and professional services like accounting or law.

Vandaie
In addition, the research revealed that highly specialized firms experience greater benefits from interfirm alliances than more generalist competitors.
"Small, specialized firms that have the opportunity to align with larger firms should put their expansion plans on hold to gain the full benefits of those partnerships," Vandaie recommends. "Later, they can use their newly developed capabilities as a basis for growth."
Vandaie collaborated on the project with Akbar Zaheer, professor and Curtis L. Carlson Chair in Strategic Management at the University of Minnesota.
Tesluk honored at Celebration of Excellence

Tesluk
Paul Tesluk, the Donald S. Carmichael Professor of Organizational Behavior, was honored as part of the 11th annual Celebration of Faculty and Staff Academic Excellence on October 8.
Tesluk received a UB Exceptional Scholar Award for Sustained Achievement. The award recognizes senior scholars based on their body of work over a number of years as recognition for outstanding performance in a recent segment of a scholar's career.
A prolific researcher and leader in his field, Tesluk has focused on strategies to enhance team effectiveness and innovation, the assessment and development of management and leadership talent, and organizational culture and climate in organizations transitioning to high-involvement workplace systems.
While earning doctoral and master's degrees from The Pennsylvania State University, Tesluk majored in industrial/organizational psychology and minored in management and organization. He also has a bachelor's degree from Cornell University, where he majored in industrial and labor relations.
Research could transform how products are designed, tested and manufactured
Three University at Buffalo professors received a $368,000 grant from the National Science Foundation (NSF) to research technology that could revolutionize product engineering by allowing designers to better measure consumer perceptions and customize products accordingly.

Lakshmanan
The investigators for this research are Andrew Olewnik, adjunct assistant professor of mechanical and aerospace engineering, and Kemper Lewis, professor and chair of the Department of Mechanical and Aerospace Engineering, both in the School of Engineering and Applied Sciences; and Arun Lakshmanan, assistant professor of marketing in the School of Management.
The award will fund a two-year study of cyber-empathic design—the use of embedded sensors in products to provide a quantitative and efficient measure of consumer perceptions and how those opinions correspond to product features.
For example, an office chair with this technology would have sensors to monitor seating position, posture and other biometric data, and automatically adjust pressure mechanisms to provide optimal comfort and support for each individual user.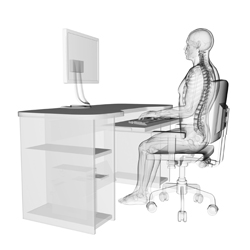 "This project will yield scientific advancements that, together with advances in digital manufacturing and material technologies, could create a world where every product is customizable to every individual," Lewis says.
The team plans to test and verify a generalized framework that can incorporate multiple data sources, including traditional customer surveys and focus groups, and information from cyber-empathic sources like sensors.
"Most current measurements are subjective and conducted when the customer is far removed from actual product usage, offering limited relevance on their own," Lakshmanan says. "The cyber-empathic framework will provide designers a novel and more efficient way to learn about products and systems after they are put in the hands of end-users."