School of Management Alumni Association Sponsors | School of Management Alumni Association Board
Join the School of Management Alumni Association
Alumni Impact...

Your link to the School of Management Alumni Association
Connect. Network. Achieve.




Practically Speaking
Alumni set the stage for student success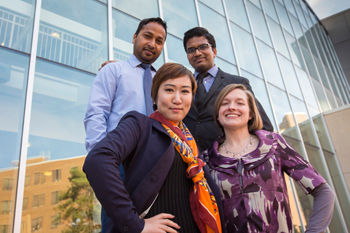 Clockwise from top left: Satish Kumar, Keith Fernandes, Marna Metcalf and Wenfei (Anita) Meng.
This fall, Michael W. Cropp, MD, EMBA '03, president and CEO of Independent Health Corp., stood before students in the "Marketing for Managers" course taught by Arun Jain, Samuel P. Capen Professor of Marketing Research. He discussed how Independent Health strives to provide high-quality service to help clients live healthier and the insurance company save expenses.
For Marna Metcalf, a Master of Social Work/MBA student, Cropp's presentation was enlightening.
"Learning about the nonprofit insurance market was eye-opening for me," she says. "Previously, I held the perception, common in the human services field, that insurance companies are the 'bad guys,' but Dr. Cropp demonstrated how Independent Health serves a public need and values trust with its clients."
Later, at a lunch hosted by Jain, Metcalf gained additional insights from Cropp that will be helpful as she works on the Town Square for Aging, a collaborative project between more than two dozen agencies to provide a one-stop center of services in Amherst for frail elderly.
"Engaging with the school's alumni network has been very helpful in solidifying a career path for me," Metcalf says. "Talking with alumni is also a great way to develop networking skills; the pressure is taken off because alumni don't feel like strangers."
One of the most tangible ways the school's more than 36,000 alumni enhance the educational experience of current students is by visiting campus as guest lecturers. Every year, hundreds of alumni network with students, guide them on projects and offer real-world examples for textbook lessons. Often, these interactions lead to long-lasting connections and even career opportunities.
"The impact of our alumni on the long-term professional success of our students cannot be overstated," says Cynthia Shore, senior assistant dean and director of alumni engagement and external relations. "Through conversations with alumni, students gain a solid understanding of their field and the reality of what it takes to succeed after graduation."
Optimizing Coca-Cola
This fall, Satish Kumar, a master's student in management information systems, attended an in-class lecture about the role of information technology in business by James Cottrell '90, supply and demand manager at Coca-Cola Co. Afterward, Kumar and eight other students met with Cottrell, who spoke candidly about his professional experiences.
The presentation and conversation led to a long-term project in which the students are working to address such challenges as on-time delivery reporting and analysis of key performance indicators at Coca-Cola. Using Tableau, an analytical reporting tool, they will generate and present reports to Cottrell based on dummy data and later use actual real-time data to optimize the company's systems and business processes for supply chains.
The assignment began in their "Advanced Data Systems" course with Raj Sharman, associate professor of management science and systems, and continues this spring in their practicum capstone course.
"I am learning how a beverage plant works, and that is going to help me in the future," says Kumar, a native of Delhi, India, who will graduate this spring. "I have worked in segments like oil and gas, manufacturing, logistics and shipping, so this will add another domain and more value to my résumé."
A taste of U.S. culture
In the "Research in Fixed Income Securities" course, students spent the semester learning about and working in The Yield Book, a fixed income analytics system by Citi. To enhance their understanding of the program, Joseph Ogden, professor of finance and managerial economics, invited four Citi executives-including Arnold Nazarian II, MBA '05, vice president at Citi-to class.
"They gave us good insights on Yield Book and how they work with clients using this tool," says Keith Fernandes, who graduated in December with a master's in finance. "They also spoke about two job openings students could consider at Yield Book and what they expect from a candidate."
For international students, presentations like this offer an important introduction to American workplace culture.
"The way business is done in the U.S. is pretty different than the rest of the world," says Fernandes of Mumbai, India. "Conversations with alumni give you cues that you can use to communicate better and be more effective in your job."
Real-world opportunities
In Jain's "Marketing Management" course, students analyzed consumer buying behavior and delivered presentations to two company executives: Brooke Arber '98, PMBA '03, general manager of Mercedes Benz of Buffalo, and Abbas Merchant, group vice president, marketing segments and services at M&T Bank.
After each group presented, the judges offered constructive criticism and shared their marketing expertise.
"Words cannot describe how great that opportunity was," says Wenfei (Anita) Meng, a first-year MBA student from Shanghai. "This presentation created a real-world setting where we stood in front of senior executives to present our findings and solve real problems."
Inspiring students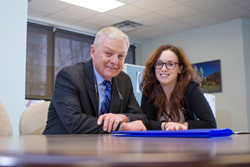 Cara Petrucci at her Catholic Medical Partners internship with UB alumnus Dennis Horrigan, the organization's president and CEO.
Collaboration with UB graduates from other disciplines can also yield great results for School of Management students. In his "Innovators in Health Care" course, Larry Zielinski, MBA '77, adjunct instructor, discussed challenges facing the health care industry and hosted a presentation by Dennis Horrigan, president and CEO of Catholic Medical Partners and an alumnus of both UB's Graduate School of Education and School of Medicine and Biomedical Sciences.
"It's good to meet alumni who have been very successful in their field and still have an interest in the university," says Cara Petrucci, a dual Master of Public Health/MBA student. "It gives you a realistic view of what you could do in your career."
After meeting Horrigan this fall, Petrucci began an internship with Catholic Medical Partners. She is researching community health needs as the organization prepares to apply for the Delivery System Reform Incentive Payment program, a new state grant program designed to restructure the health care delivery system.
"Dennis has given me a lot of responsibility," she says. "It's nice to feel like he respects what I can do. It's inspiring."
- Matthew Biddle